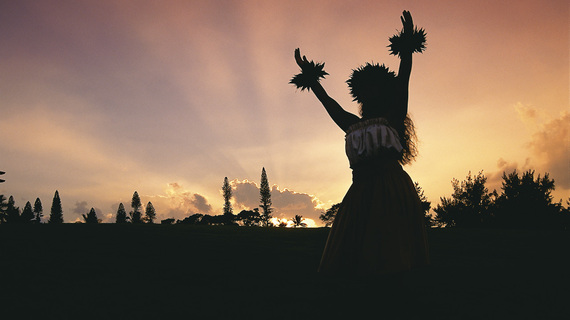 We were moving on to the west side of the island of Maui, to Kapalua and Lahaina, but before we settled in there, we had a day to kill and took a drive just a little northeast of Wailea to Paia, a wonderfully quaint town that has long been one of the top tourists draws on the island. But to my happy surprise, Paia has gone virtually unchanged and uninfluenced by the tourist demand and remains one of the great local towns of the island.
Located just outside the center of town is a restaurant called Mama's Fish House, established by the Christenson family in 1973, after taking a sailing trip across the South Pacific. The Christensons fell madly in love with the Polynesian lifestyle, so they opened a restaurant dedicated to providing true Polynesian cuisine, drawing all their ingredients and fish from local purveyors, to this day their proven business model. They are not in business just to service their guests and to provide great food and genuine top-notch hospitality, they are in business to service their community and to help improve business all around them.
I learned this upon meeting Karen Christensen, the founders' daughter, who is very much at the helm of the business these days, and Perry Bateman, their executive chef. It has been quite some time since I sat down with two more passionate individuals in this industry. After years and years of being present in the kitchen and dining room, these two still exude a high level of excitement and enthusiasm for what they do every day. And that is very rare these days.
They guided me through the hectic kitchen and gave me a close-up look at cooler after cooler of some of the most beautiful specimens of Pacific fish culled from more than 200 different fisherman a year: red snapper, a color of red you can never imagine if you hadn't seen for yourself; silver-skinned mackerel that had the sheen of stainless steel; and yellow fin tuna so fresh it was as if they were looking right back at you. The last time I saw fish this beautiful was at Tsukigi Market in Tokyo.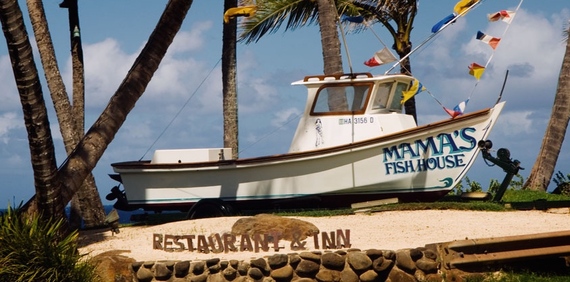 Mama's Fish House's commitment to local produce and fresh fish goes far beyond just buying from the local sources. They have actually funded and anchored a buoy 30 miles off the shore of Maui that helps create a habitat for pelagic species such as tuna, mahi mahi, ono, and billfish, as well as helping to bring the fishing community together by creating a level of sustainability.
Mama's resides on a beach front about 100 yards off the water's edge, where from many of the tables you can stare out to the blue waters and crashing waves as you sip your mai tai or glass of wine and enjoy their exceptional cuisine (below). The design of the restaurant has stayed true to the traditional Polynesian influence that defines everything at Mama's. Dark woods, Polynesian artifacts, colorfully design tablecloths, an abundance of gorgeous orchids, servers in Polynesian patterned dresses and shirts, and nautical objects set the ambiance in the casual setting.
When we sat down for lunch, we started off with cocktails, then settled in and let Chef Bateman do the choosing and cooking. We began with a trio of sashimi ($28), ono, onaga and ahi, each prepared differently. The ono with Finger Limes, Hawaiian sea salt and green miso greens was bright, refreshing and delicious; Onaga (local red snapper) with black sea salt, Hawaiian chili and passion fruit had just the right balance of heat, saltiness and sour from the passion fruit to complement the sweetness of the flesh; and the ahi, rich and fatty, was cut with ponzu and highlighted with fresh miso greens.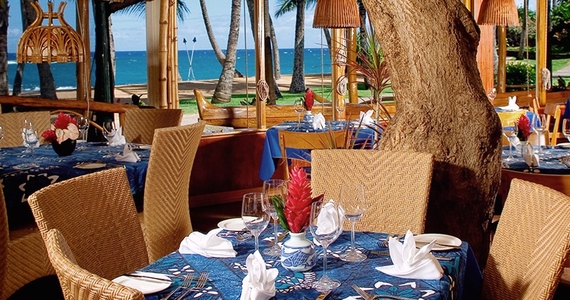 An exceptional starter was the octopus ($24), grilled and served with sweet daikon and bitter, crisp watermelon radish, balanced with sweet kalamanzi citrus. A must-not-miss is the opakapaka collar ($50). Opakapaka is a pink snapper with sweet, delicate white flesh, here fried and served with a traditional dipping sauce of chili, scallion, soy, lime and pickled cucumbers. If this was the only thing I could have eaten all day, I would have been a very happy man.
For entrees, there was onaga ($48), a red snapper steamed and served in a flavorful broth with snow peas and fried ginger, and ahi tuna ($46), which is crusted in a ginger and sesame seed panic and served with a kale pig-fried rice.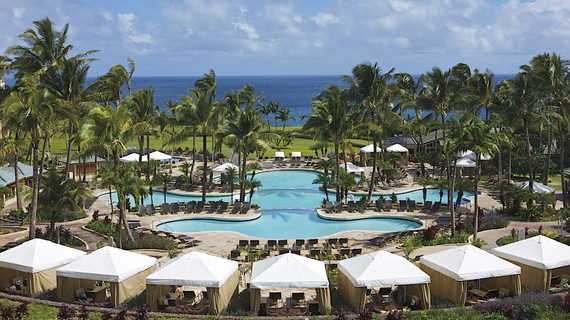 After our lunch, feeling filled and satisfied, we hopped back into our car and headed out to the west coast of the island towards Kapalua, traveling Highway 30 on the coastline that ripples along the Pacific and watching the locals surf the five-foot swells as if it was part of their daily routine. Passing through the very colorful town of Lahaina, on our way to the Ritz Carlton (above), is certainly at the luxury high end of Maui's resorts. The property sits directly on the coast, like many of the other top resorts here on the island, but unlike others, The Ritz also overlooks two PGA Championship golf course--the Plantation Course and the Bay Course, with 16 of its 18 holes overlooking the ocean. (These courses used to be an historic pineapple plantation, but the industry collapsed in the 1960s, with both Dole and Del Monte moving their production out of the islands in 2008.)
The hotel is U-shaped with a multi-tiered pool facility that gradually slopes down and provides separation in the different wading pools. There is full food and beverage service provided at all locations poolside, as well as a tiki bar towards the bottom and more comprehensive full service bar up towards the main portion of the resort, where lunch and drinks can be had at your leisure. Private cabanas are also available, which we spoiled ourselves in, with a full service staff, privacy, couches, television and other great amenities.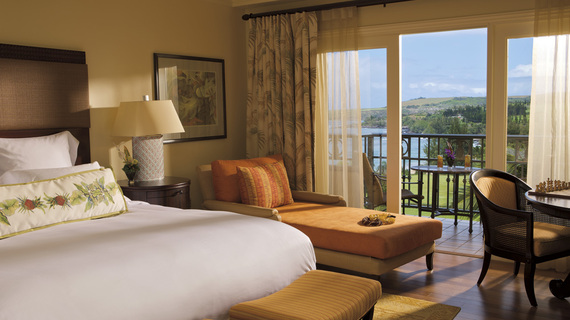 There is wide variety among the resort's 436 rooms, some with Club Level accommodations, but I recommend the Ocean Front Suite. Upon entering, your first introduction into this lap of luxury is a foyer quickly opening on a glorious living room of hardwood floors, plush and elegantly designed furniture, warm beige walls and softly lit lamps. Two swinging doors give entrance to an expansive bedroom with a king-size bed. There is a mahogany coffee table, a large HD television, a powder room and sliding doors that lead you out to your own private terrace overlooking an ocean not more that 200 yards away--a pretty impressive spot from which to watch sunsets.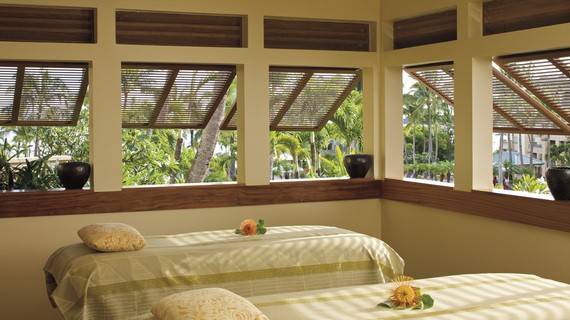 The options are endless at the resort's spa (above), with even special Spa Wedding Packages that require anywhere from two to five hours of devotion and plenty of options ranging from facials, pedicures, couple massages, hot stone treatment and more.
The Ritz has a number of dining options, ranging from more casual dining, such as the The Beach House restaurant, to Kai Sushi and the more refined and formal experience that is The Banyan Tree (below), which is putting out some very creative and delicious cuisine that takes influence from a number of cultures. We had the opportunity to try dishes such as the warm grilled housemade ricotta with preserved lemon, almond and local honey, which sang with flavors of richness, sweetness and balancing tartness from the lemon. Another standout was the Banyan Bouillabaisse with scallops, shrimp, and sea bass in a lemongrass lobster broth. It's remarkable how an ocean breeze can improve the flavor of everything fresh to begin with.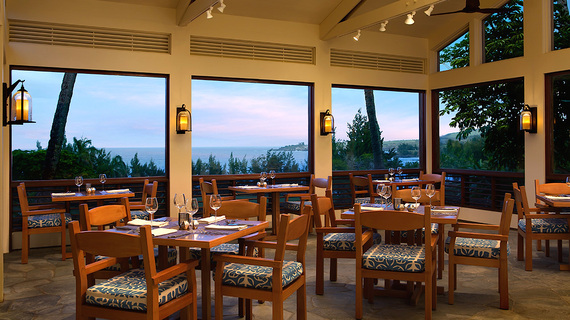 Indeed, the ocean improves just about everything on Maui, and it's difficult not to just chill out for the duration of one's stay. But then you'd miss one of Hawaii's largest nature preserves and two marine sanctuaries, perhaps the Celebration of the Arts Festival, the Kapalua Wine & Food Festival or the PGA Tour's Hyundai Tournament of Champions, depending on when you visit.
Calling all HuffPost superfans!
Sign up for membership to become a founding member and help shape HuffPost's next chapter