Eating the Heart of Darkness: Written on Skin and Hamilton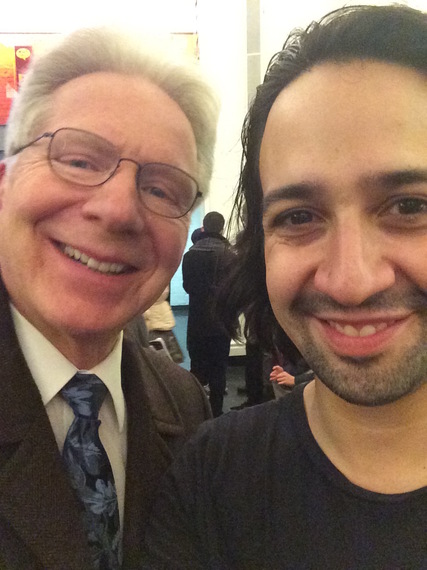 Written in Skin came to Lincoln Center's Mostly Mozart Festival and was quickly crowned the highlight of the festival as well as the greatest new opera in 20 years. I am not sure what happened 21 years ago, but let that pass.
Composer George Benjamin and his librettist Martin Crimp, have created a new opera that takes us into the darkest regions of the human soul--illicit sex, vengeance, brutalization of a woman, cannibalism, and suicide. The universal ecstasy of the critics says a lot about what they want in contemporary opera. The words of the composer quoted in the Lincoln Center program tell us what he wanted. The audience for the last of its three performances at the David H. Koch Theatre gave it a rousing, standing ovation. They clearly got what they wanted, too.
And the performance deserved the standing ovation and the cheers. It would be hard to imagine a better performance by its astounding cast, the brilliant Mahler Chamber Orchestra, and its conductor, Alan Gilbert. The direction of Katie Mitchell and the design work of Vicki Mortimer and Jon Clark were all serving the same dramatic master--the story.
Mr. Benjamin, in an interview with Alain Perroux, seems at pains to distance himself from film music ("I did not want [my music] to be reduced to creating a generalized emotion like in film music.") and avoiding "the 'zigzagging' cliché of much contemporary vocal writing" as well as "a generic response to the text at all times."
And yet Written on Skin is a new version of the operas and movies we all know so well. It celebrates the very thing Benjamin has tried to avoid. That is not a bad thing, but it is what he has actually achieved. Movie music can create a generalized emotion, of course, but Mr. Benjamin's does that from its first notes to the last-- a creepy, other-worldly feeling permeates every note, like Bernard Herrmann's Psycho, only this time with a larger and noisier orchestra. Movie music is frequently required to be quite specific and descriptive, and this, too, is part and parcel of Skin. Sex and violence are described with ear-blasting punctuations. Would it not have been more innovative to have those scenes played to harmonious triadic materials, rather than the same schreck chords we have been hearing for more than a century?
But no. This is Wozzeck, Lulu, Erwartung, Lady Macbeth of Mtsensk, der Protagonist, The Fiery Angel, The Miraculous Mandarin in an opera that wants to be "modern"--the word used by the composer. Don't get me wrong here--George Benjamin is a fabulously talented composer. His orchestrations alone, while making use of most 20th century techniques, have moments of brilliance and control that are breath taking. The DNA of his mentors--the gurus Messiaen and Boulez nestled comfortably with echoes of Benjamin Britten and late Stravinsky -- are everywhere to be heard and register as his bona fides. He also rather likes the hidden shadow-chords that cannot be heard during a highly dense fortissimo and then are exposed once all the brass players put down their instruments and the percussionists start counting rests again. Serge Prokofiev, who invented this brilliant idea in his 1935 score to Romeo and Juliet, would have been pleased that he was still modern a half-century after his death, and in spite of being required to be quite the opposite of that by Joseph Stalin.
And for all the discussion of the modernity of the storytelling, Written on Skin still comes across as that same triangle of discovered adultery and revenge--Pagliacci without arias, but with a scene to disgust the audience--in which we must watch the heroine eat the cooked heart of her murdered lover (with a nice glass of red wine). She even gets to tell us that it is "salty and sweet." Yum. And so, like il Tabarro, there is a horror moment, but we get to savor it, bite by bite, a little like being served Mrs. Lovett's meat pies, but without the pastry, the humor, and the irony.
All of this brings us to what is deemed important and modern in today's classical music world. Written on Skin is new, in that it was composed recently, and it is also really good. It is also enormously complex, though thoroughly accessible. We know this language of creepy horror. We have been hearing it since the early years of the 20th century in the music of Debussy and Schoenberg. We know violence in music ever since Fafner bludgeoned his brother Fasolt with a terrifying riff on the timpani in Wagner's das Rheingold way back in 1854. Mr. Benjamin has taken all of this, and more, and made something of his own, and that something is always captivating.
On the other hand, Hamilton is new, good, and surely the most important work of music theater in at least 20 years. Its DNA is quite different from that of Skin. Composer Lin Manuel-Miranda's [pictured above with this author] musical world is that of an encyclopedic knowledge of both Broadway and Hip-Hop. His achievement, which will be the work by which our time is measured, is equivalent to that of George Gershwin in the 1920s and early 1930s. Whereas Gershwin took Ragtime's and Tin Pan Alley's vernacular and created a language for long-form works--piano concertos (two "rhapsodies" for piano and orchestra and one called "piano concerto"), a tone poem (An American in Paris) and America's greatest opera (Porgy & Bess), Lin Manuel-Miranda has transformed contemporary urban music's basic building blocks so that long form songs, ensembles, and--most important of all--a total music drama is achieved. It is therefore, pace Mr. Benjamin, both contemporary and modern. And, unlike Skin, it is joyous, moving and far more emotionally complex. We even get to learn something about history. With Skin, I did occasionally think that if I had to sit through another story of adultery from the middle ages, I would just choose Tristan und Isolde and call it a night.
Hamilton does for 2015 what West Side Story did for 1957. It is and will be the marker of its time. Written on Skin keeps the post-World War II language of Europe's angry young men alive and well, but only time will tell if it will stay with us, or be replaced by another journey into the heart of darkness by another contemporary classical composer.
We here in New York can rejoice in that we have both Arthur Benjamin and Lin Manuel-Miranda --and so many truly awesome musicians and artists committed to bringing their musical theater alive for us.
Calling all HuffPost superfans!
Sign up for membership to become a founding member and help shape HuffPost's next chapter