A few years ago, a vacation in Northern Michigan wouldn't have even crossed my mind. Though my brother went to college in Grand Rapids and I've visited my husband Brandon's family in Kalamazoo many times, I'd always thought of Michigan as a place to visit people, a place for reunions, not a destination.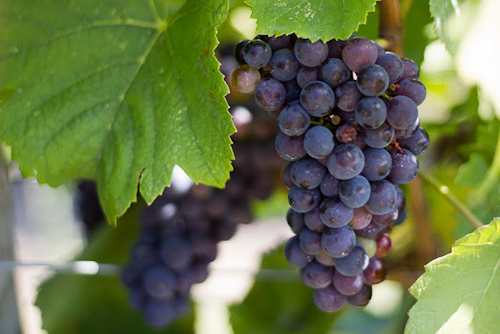 (Photo by Brandon Carl)
But then I started hearing about Traverse City, dubbed an "up-and-coming foodie spot," way up on the mitten on Lake Michigan. I read that Mario Batali had a summer home nearby on Leelanau Peninsula, and I heard that Michael Moore, founder of the Traverse City Film Festival, had moved there. A good friend (and former Traverse City resident) sang the praises of the area's local wines and delicious farm-to-table restaurants. I read about the many lakes and beaches and hiking trails and vineyards (not to mention cherry trees!) and decided: we MUST go.
After enduring months of my hint dropping, Brandon surprised me with an anniversary trip to Traverse City. He booked the flights, the car, and the B&B, and let me do what I do best: plan the meals.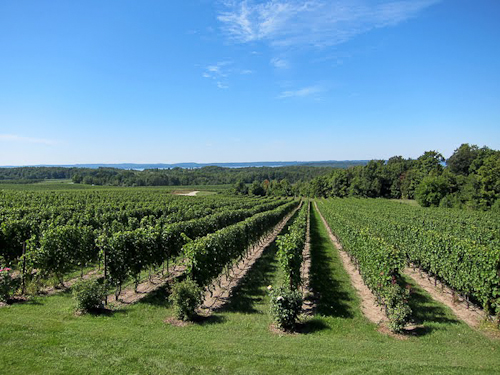 (Photo by Brandon Carl)
We ate a fantastic meal our first night at Cook's House, a cozy 8-table restaurant that has gotten national praise for its ultra-local, sustainable fare. You can try the seasonal five-course tasting menu for $50 with beautifully plated dishes like heirloom tomatoes with warm lobster mushrooms, beet risotto with chocolate shavings, and walleye (a local white fish), served in a delicate miso broth with rapini. For an added cost, they'll pair (mostly local) wines with each course-definitely worth the extra money. Fortunately for us, it was just a couple minutes' walk back to our B&B, the antiques-filled Wellington Inn.
We headed out the next morning to explore Old Mission Pennisula, a skinny, 22-mile-long peninsula that juts out into Lake Michigan's Grand Traverse Bay. Despite its petite size, Old Mission has seven wineries, a brewery, six restaurants, four B&B's, and more farm stands than I've ever seen in my life. We had perfect blue-sky weather all weekend, so with the windows rolled down and old Nirvana tunes blaring from the radio, we meandered along the lake and through the tree-shaded back roads. Not to wax rhapsodic, but the scenery was pretty spectacular. With its rolling hills (covered alternately in vines or forests) and rows and rows of fruit trees (cherries, peaches, apricots, and apples), plus lake views from all sides, we almost felt like we were back on our honeymoon in Waiheke Island, New Zealand.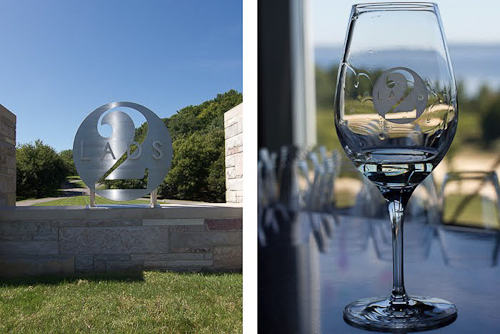 (Photo by Brandon Carl)
Several miles up the road, we visited Two Lads Winery. With its ultra-modern corrugated metal exterior and concrete and steel interiors, the winery is both sleek and functional-and happens to offer the best views in the area. We opted to do their six-wine tasting (along with a little tapas plate) and enjoyed not only sampling the wines, but talking to their knowledgeable staff. Opened in 2008 by the "two lads," South African-born Cornel Olivier and Traverse City-native Chris Baldyga, the winery is the newest in the area, as well as the smallest: they only produce about 4500 cases per year. We were amazed, given the preference for sweeter wines in the area, to taste how dry the Two Lad's wines were. Their Riesling was crisp, with a lively acidity, and the Cabernet Franc rosé was super dry, with a surprisingly peppery finish.
We continued our drive up to the tip of the peninsula to the Old Mission Point Lighthouse. Built in 1870, this beautifully preserved lighthouse sits on a rocky beach, with picnic areas and hiking trails and a cool little museum telling the history of the lighthouse.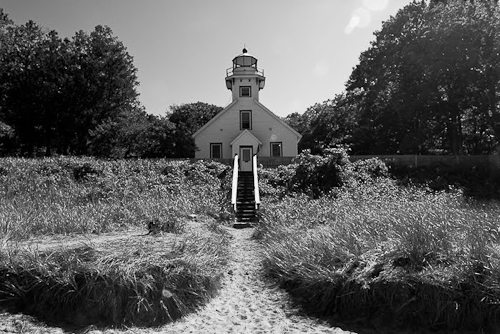 (Photo by Brandon Carl)
After climbing up to the top, and snapping some photos on the beach, we headed back down the peninsula for a late lunch at the Jolly Pumpkin Brewery. Located next door to the upscale Mission Table on the historic Bower's Inn property, Jolly Pumpkin brews all sorts of beers, including some award-winning Belgian-style pale ales. Unexpectedly, we discovered our favorite beer of all time, their Oro de Calabaza, which happened to be on tap for the first (and only) time all year. Neither of us are big beer drinkers, but after tasting this aromatic, slightly spicy Belgian-style golden ale, we were hooked. And apparently, so is Eric Asimov of the New York Times: last year he ranked this beer the #1 Belgian Pale Ale in the world. Lunch was fantastic-crab tots (crab cakes + tater tot shape = genius) with preserved lemon aioli, local whitefish dip, and ribs for Brandon. After a day of exploring, wine tasting, and the late brewery lunch, naps on the beach were definitely in order.
Stay tuned for Eating Traverse City Part II: the best croissants in North America, bubbly tasting on the Leelanau Peninsula, and hiking in the Sleeping Bear Dunes National Park...