For me, there is no better way to start a day than with just-baked croissants, homemade jam, and a piping hot café au lait. Considering that it's hard to find good croissants in Manhattan, I was blown away to find these beauties in Traverse City, Michigan at 9 Bean Rows, a tiny bakery down the street from our B&B.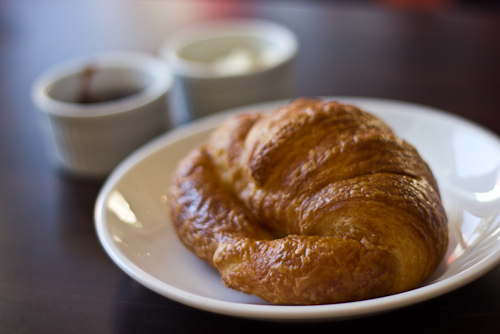 (Photo by Brandon Carl)
We stopped by our second morning, and were greeted by the incredibly friendly owner/baker Jen Welty. The still-warm croissants were cooling on sheet trays behind the counter. Rows of crusty European-style breads, all naturally leavened and baked in a wood-burning oven, lined the shelves alongside beautiful little individual quiches. In addition to a croissant and pain au chocolat-which were by far the best I've ever had outside France-we had to try a goat cheese and spinach quiche.
As the sign above the door, "Artisan Farm and Bakery," indicates, the 9 Bean Rows operation extends far beyond the kitchen. While Jen holds down the fort at the bakery, her husband Nic runs their 11-acre CSA (Community Supported Agriculture) farm at Black Star Farms. They are committed to their mission of providing fresh, local, foods to their community year-round via their CSA boxes. Though they've been farming for years, their bakery storefront just opened last November (Jen had previously sold her baked goods at local farmers markets).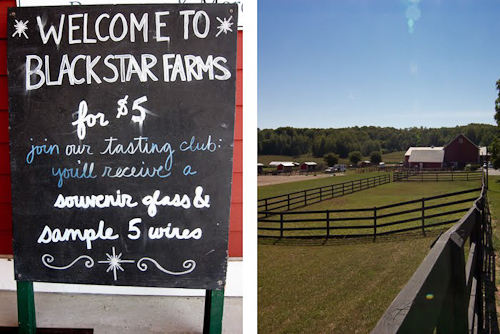 (Photo by Brandon Carl)
After breakfast, we hopped in the car to go explore Leelanau Peninsula, a sprawling area area northeast of Traverse City that stretches from Grand Traverse Bay to Lake Michigan. (It's also where Mario Batali has his summer home, FYI.) Dotted with vineyards and farms like Old Mission Peninsula (only much larger), Leelanau is home to charming little fishing villages like Suttons Bay and Leland, beautiful beaches, and according to ABC's Good Morning America, THE most beautiful place in America-Sleeping Bear Dunes National Park. But more on that later...
Our first stop was Black Star Farms, a sprawling property home not only to Jen and Nic's farm, but also a winery, creamery (called Leelanau Cheese), an inn, and a horse farm. We walked around the property, tasted some wines and some cheese and headed down the road to L. Mawby. This winery was high on my list of things to places to visit because they specialize in my absolute favorite type of wine: sparkling. Sitting out on their back porch overlooking the vines, we sampled a variety of bubblies, from dry to semi-dry, a crémant and a rosé, and their vintage "Talismon" (which had a distinctly smoky flavor).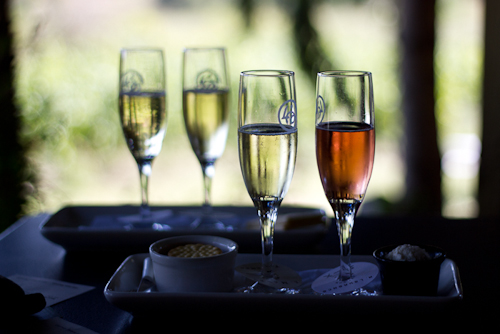 (Photo by Brandon Carl)
We drove up to Sutton's Bay for lunch, and stopped for lunch at Martha's Leelanau Table, an adorable French-style bistro with a garden patio and a bright red facade. The spinach salad with local dried cherries, blue cheese, and warm bacon vinaigrette was out of this world, and came with a little homemade biscuit. Though we didn't try any of their cherry pie, it is rumored to be one of the best in the area.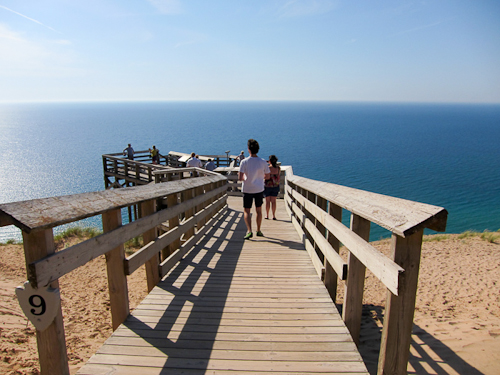 (Photo by Anna Carl)
It's hard to put into words just how pristine, and how awe-inspiring, this area is. I've never seen such a diverse landscape, where one moment you're hiking through the woods, then suddenly the dirt turns to sand, you reach a clearing, and stretching in front of you is water as far as the eye can see. As a Michigan boy, Brandon is used to the sheer size of Lake Michigan, but for me it was incredible. We made it up to Pyramid Point in time for a gorgeous sunset, marveling at our smallness in light of something so majestic.
We headed back the next day to do the Sleeping Bear trail, which involved hiking nearly 3 miles in rather deep sand. There were moments where all we could see was white, and then suddenly we would crest a dune, and there was Lake Michigan shimmering hundreds of feet below. We hiked through "ghost forests," areas of long-dead trees that had created eerie formations in the sand, and eventually made it into the woods and under the welcome shade of trees.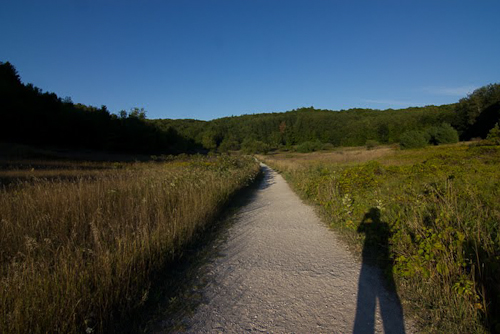 (Photo by Brandon Carl)
Living in the hustle bustle of New York City, it's so important to get out of the city every once in awhile. To go on a hike, to roll down a sand dune and jump in a lake, to feel the grass in your toes. To taste a peach still warm from the sun. To have moments of sheer wonder. To gain inspiration to take back into the city.

Related