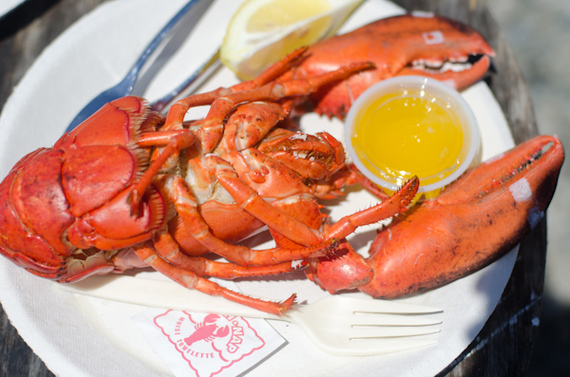 Martha's Vineyard, a lovely island off the coast of Cape Cod, is happily composed of disparate communities, each picturesque in its own way. Posh and architecturally traditional, Edgartown has hoards of blondes parading with sunglasses propped on their heads, wearing horizontally striped tops and something white below. Oak Bluffs has a pastiche of gingerbread houses, a great beach, the country's oldest carousel, and a long-standing African-American community. Chilmark is a laid-back fishing village with celebrities housed in secluded expanses, with an equally great beach. The more remote area of Aquinnah boasts majestic red cliffs, a lighthouse, and an even more interesting nude beach.

I was in Edgartown for a poetry workshop at the literary retreat known as Noepe -- the island's original name. After a week of re-writes and cooking meals - fabulous bluefish, swordfish, island sole - my husband and I trolloped around the island like gastronomads, looking for great things to eat. Some food was expensive and overwrought - and I encountered the worst lobster roll ever -- but mostly we were excited by what we found and continued our search for the sublime.

Port Hunter, in Edgartown, may be the Vineyard's best restaurant. We had sensational littlenecks grilled until just barely opened, dabbed with leeks, peppers and garlic butter; and bluefish cakes with sweet potato hash (a combination we were not prepared to like but did immensely) with chorizo-sherry vinaigrette. Fish-of-the-day changes with the tide: Owners Pat and Ted Courtney are pescatariously scrupulous and their celebrated catch is cooked brilliantly. Executive chef Jeremy Davis deserves an award. Open only for dinner and jammed, deservedly. Stay late for the live music and enjoy another cocktail or two. I would happily hop on a ferry (from Brooklyn!) to hang out with Brice the manager, and Jack Sonni (of Dire Straits), now writer-in-residence at Noepe, and eat fried scup all night long.

Across the street there's an outdoor restaurant called Behind the Bookstore, a garden covered in canvas sails that is, indeed, in the rear of Edgartown Books. Open for all three meals, you order at an indoor counter and someone brings lovely, elegantly fresh food to your table. You want their lamb burger (insist on medium rare) with sumac-inflected labneh and feta, blistered shishitos, arugula, harissa and house-made fries; or roast chicken with duck fat baby turnips, grilled turnip greens and creamy grits. There's an outdoor shellfish and cocktail bar with a knowing assortment of wines by the glass. Two chefs moved here from restaurant GJelina in Venice, Ca., which is why the food sparkles. It's where I had one of the best dishes ever: A single Chilmark oyster.

If you're aching for a mythic lobster roll, get thee to Larsen's Fishmarket on Chilmark's quiet waterfront where they're available chilled with mayonnaise or warm with melted butter. Have a large portion of their daily chowder; neither glutinous nor creamy, it consists of a light broth fragrant with great marine ingredients and a few potato cubes. They'll cook a lobster to order, which you'll eat dockside with lots of paper napkins along with the wine you've brought (since the area is "dry"), or you can carry your trophy to the nearby beach.
Ambiance and ambition go way upscale at Beach Plum Inn & Restaurant (also dry) in nearby Menemsha. The menu, provisioned largely by local farmers and fishermen, is seasonally poetic. We reveled in a thick piece of seared tuna mounted on "summer ratatouille" with saffron aioli. Their steak is seriously good and many guests were ordering a bountiful pasta carbonara as rich as the dazzling sunset over Menemsha Harbor. The ambiance is coolly chic and feels very much like the place to be. We enjoyed sitting at the tiny counter facing the kitchen (well, almost in the kitchen), watching chef Nate Gould choreograph the evening with calm and knowing hands.

You must have breakfast at Art Cliff diner, near the ferry terminal in Vineyard Haven. There's already a line when it opens at 7 a.m. Among a head-spinning range of dishes, we hit upon their Bulls Eye - a "Benedict" of sorts, with a codfish cake, two eggs, arugula, good hollandaise and ribbons of tangy mustard oil. Their pancakes are only for sweet-toothers, and so we direct your attention to daily blackboard specials where culinary creativity seems to run rampant.
Also have breakfast at the restaurant in the Aquinah shops since you're going there anyway to view the spectacular Gay Head Cliffs. Sit on their sky-high deck overlooking the water and order anything that has codfish cakes and grilled linguiça (a smoky, paprika-packed Portuguese sausage rarely seen where we live, in Brooklyn.) After you've explored the gingerbread houses, or lounged on Oak Bluffs' fabulous waterfront greensward, try Red Cat Kitchen where they pack you in like proverbial sardines. Maverick chef Ben Deforest's menu burbles with attitude and creativity ("Big Ass Asparagus" and "Our Fu*kin' Great Crispy Brussels Sprouts" give you the idea). We snagged a perfectly cook slab of striped bass on lobster risotto, so listen carefully to the impeccably fresh daily specials. Good wines by the glass. Porch seating offers more breathing room.
Great food and great poetry co-exist on this island. Justen Ahren, the director of Noepe Literary Center is the Poet Laureate of West Tisbury, one of the island's special enclaves (with a great farmer's market.) And I came home with a treasure: A book of poetry called "Poems from the Pond: The Writings of Peggy Freydberg," one of the island's great women, who died in March 2015, at the beautiful age of 107.

It's easy to love Martha's Vineyard.
Rozanne Gold is a four-time James Beard award-winning chef and author of Eat Fresh Food: Awesome Recipes for Teen Chefs, Healthy 1-2-3, and Radically Simple: Brilliant Flavors with Breathtaking Ease.