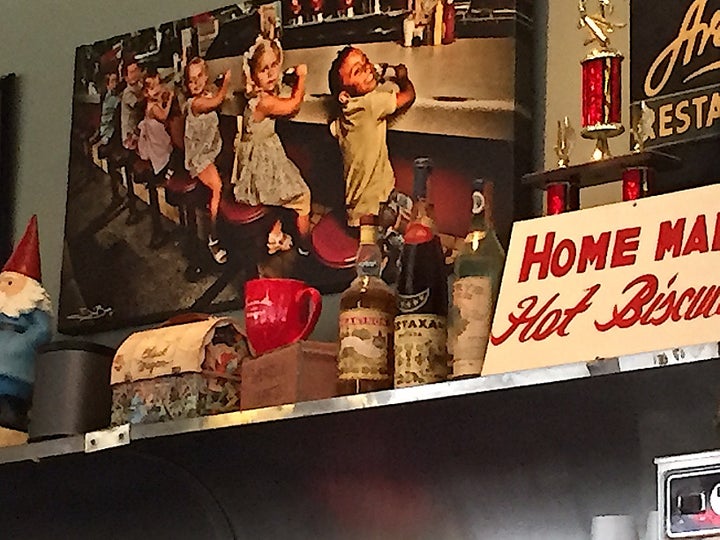 ARCADE RESTAURANT, MEMPHIS
In my last gastro-report on Memphis two years ago, I emphasized that the city has a wide array of restaurants well above the down-home style so often associated with cities in the South. Places like Chez Philippe at The Peabody, River Oaks, Andrew Michael Italian Kitchen and the Majestic Grille can compete with any contemporary upscale restaurants in Atlanta, Nashville or Charleston.
As a matter of fact, I was previously so delighted with a brunch at the twelve-year-old Majestic Grille (below) that I returned recently to have dinner there, not least because I adore the look of the reclaimed 1913 Majestic No. 1 movie house with its mix of Beaux Arts and art deco styles.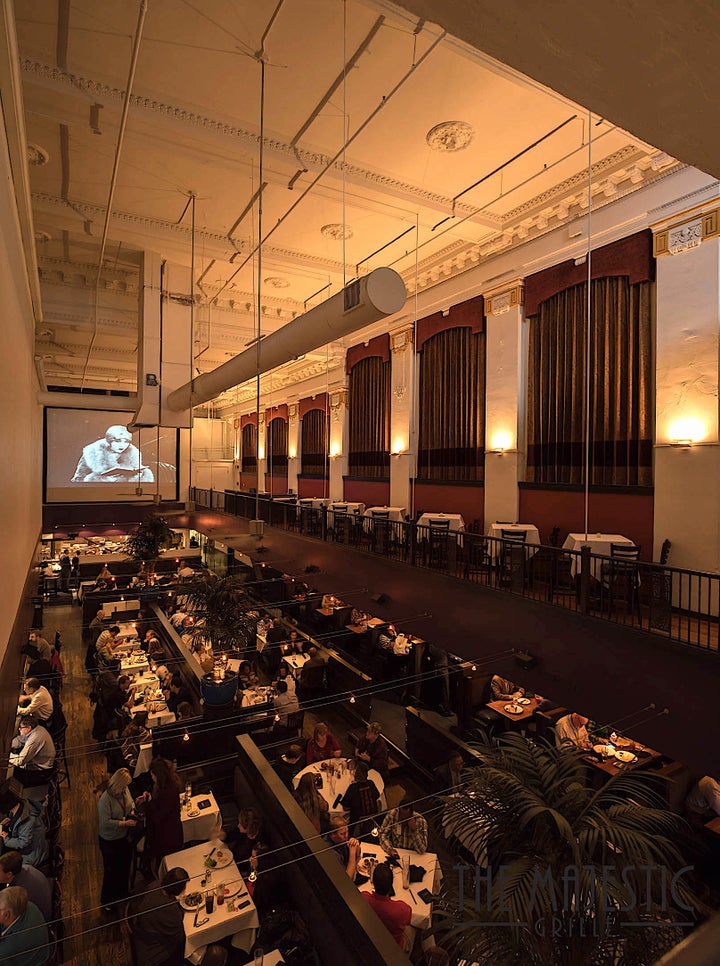 Chef-owner Patrick Reilly and his wife, Deni, have kept the cinematic traditions of the big two-tiered room by having a theater-sized screen showing silent movies throughout the evening. Maybe you could bring your laptop and watch your own, snuggled in a booth.
The menu aims to please all palates, so you might start off with one of the wonderful flatbreads, very thin and crisp, with toppings like pepperoni and sausage with tomato sauce and mozzarella ($11) or smoked salmon, red onion, spinach, capers, garlic oil and mozzarella ($12) with a bottle of wine from a list with categories described by style—"Crisp, Bright Whites," "Aromatic Whites," and so on. I wish the list were longer for a restaurant of this magnanimity, but there are a good number of wines you won't find all over town, all at reasonable prices, with most available by the glass, none over $13.
The Majestic's chili with mozzarella ($4 cup, $6 bowl) is a robust way to begin, and the Cajun chicken eggrolls with corn, cheddar, goat cheese, poblano peppers, onion, cilantro and Creole mustard is a likable dish to share ($9), as is the fabulous stack of fried onion rings with creamy horseradish dipping sauce ($9) as golden crisp and full of sweet onions as I've ever had. I'm sorry that the crabcake with roasted pepper and caper salad in Creole mustard ($12) is composed of shredded crab rather than lump (which would cost a lot more).
There are steaks, of course, including a good one-pound bone-in ribeye with lots of fat marbling ($39), served with terrific garlic mashed potatoes or Parmesan fries. Among the specialties is a tender pork tenderloin with a delicious maple cream, sugar glazed carrots, mashed potatoes and tobacco onions ($22). For dessert I'll go every time with the array of little jars of tiramisù, Key lime filling, carrot cake and chocolate.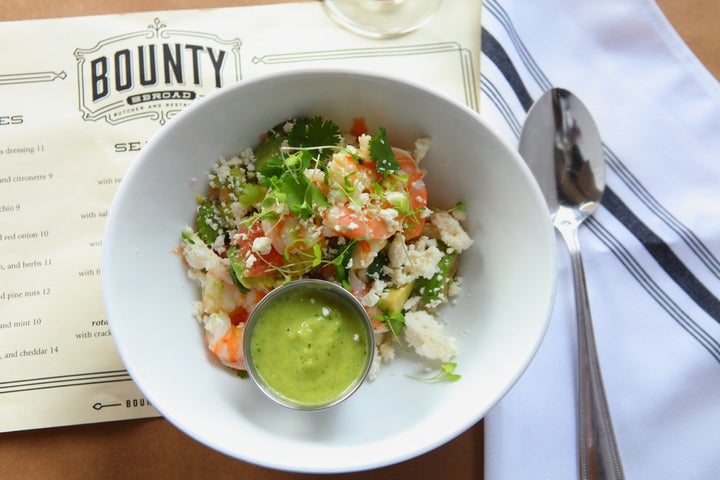 Bounty on Broad in the Arts District is an ambitious new restaurant with a shadowy upstairs dining room and a strong connection to local farms, so Chef-owner Jackson Kramer changes his menu frequently. When asparagus are in season, he gets the very best, which he grills and serves with a lemon foam, truffle, roasted red peppers and shiitake bacon that all add enormously to the fine flavor of the asparagus ($15). Jumbo lump crab meat is lashed with crème fraîche, a touch of Sherry, tangy lemon, scallions, buttery croutons for crunch and brown béarnaise sauce ($24), all components melded beautifully.
Kramer does have a tendency to pile too much stuff on his food, as with his lamb ribs with Moroccan spiced duck fat confit, white beans, Carolina mustard barbecue, and pickle mustard seed ($32), but there's a lot of flavor to all his food, including a quail battered in chickpea flour and fried, with a deep red sauce of Port wine and shallots over mashed potatoes with beet greens and more saucing of sour redeye gravy, all topped with quail eggs ($28). Whew!
All the desserts I tried were freshly made (and a real bargain at $10)—a chocolate "nirvana" flourless cake with Nutella cream and toasted hazelnuts; an apple cobbler with pecan streusel and whiskey gelato, Key lime pie with graham cracker crust and gelato, and a Grand Marnier crème brûlée with warm chocolate cookie.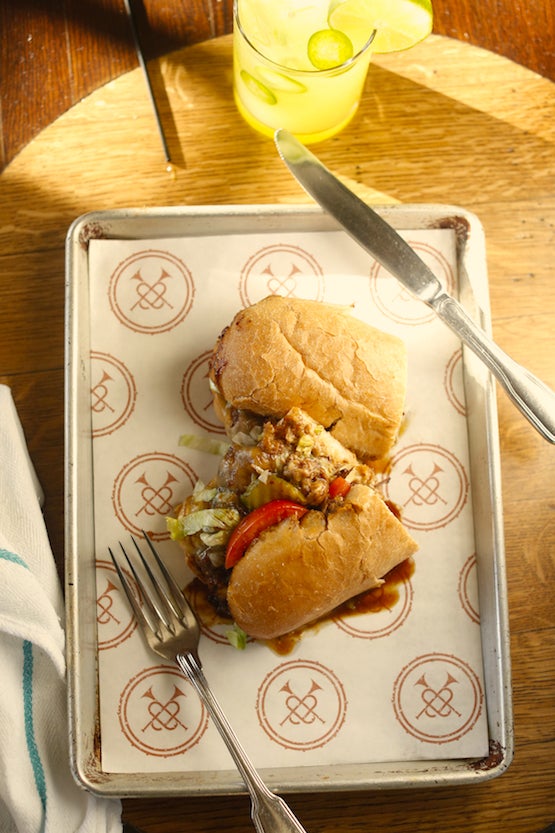 The Second Line (above) is the epitome of down-home cooking as interpreted by a first-rate chef, Kelly English. The place has the look of a pleasantly funky gastro-pub complete with amiably cheeky waitresses. Every dish has been put through a good deal of thought and testing, so the chicken and andouille gumbo ($9) is as good as you'll find in a Louisiana bayou camp, and the Natchitoches meat pies ($10) are authentically spiced. The "original" andouille and crawfish dish with Pimiento cheese fries is kind of a gloppy guilty pleasure ($12), and the po'boy sandwiches—especially "The Verno" of fried chicken with Swiss cheese ($12)—make for great lunch items. Catfish was overcooked to a mushy texture but the sauce piquant made it tasty nonetheless ($15). I like the idea that for five bucks you can add three shrimp or oysters to anything on the menu. And don't miss the superlative "fancy ass" coleslaw for four dollars, a perfect blend of sweet and sour.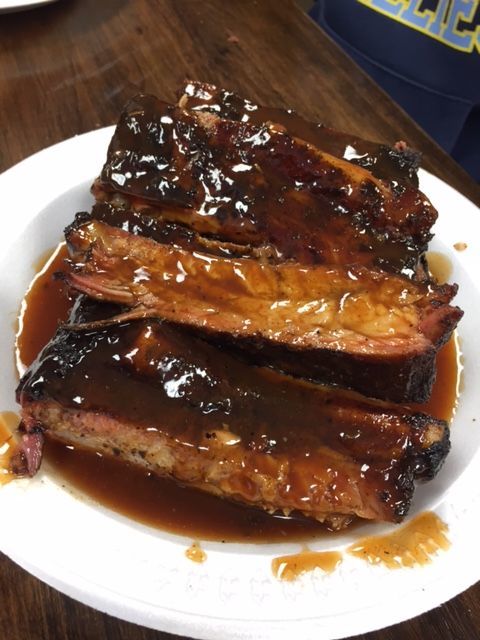 As much as they are over-hyped in the media, Memphis's barbecue joints deserve their applause. This time I tried out the barebones Cozy Corner, opened decades ago by the late Raymond Robinson and still run by his wife, Desiree, who echoes her husband: "He used to say, 'My desire is to serve a few people the best they ever had.'" Well, there's a whole lot more people than a few each day at Cozy Corner, which is packed with folks from all walks of Memphis life. They come for the dinner plates of ribs and wings ($6.75-$11.75), the sandwich plates that include that old Southern favorite, BBQ bologna ($4.95), and desserts like very sweet banana pudding and sweet potato pie ($3.49).
I'd kill for a beer at Cozy Corner but it's a soft drinks only place, so maybe it's best to take the 'cue to your car or truck, where you have a couple of bottles of Wiseacre Brewing's local Tiny Bomb American Pilsner, and enjoy yourself, take a nap, then drive off.
Brother Junipers is another down-home place near the university whose plain décor consists of a folkloric mural of what looks like a monastery where Bro. Juniper was a cook for St. Francis of Assisi centuries ago. The eatery was "born out of a spiritual community in the 1960s. The first coffeehouse opened on Haight Street in San Francisco as an outreach to street people, serving a 5 cent cup of coffee and inexpensive sandwiches." Branches opened across the country and in 1999, Jonathan and Pauline Koplin took over Bro. Juniper's College Inn and opened a bakery next door with a mission of "Baking Bread, Raising Hope."
Like several other places in town, Bro. Juniper's claims to serve the best breakfast in Memphis, but it's no idle boast. No one will leave hungry, not just because of the generous portions but because the food is so good you'll not want to leave any behind, from the cinnamon roll pancakes with cream cheese icing ($8.95) to any of the open-faced omelets like the "San Diego" on a bed of sour cream with home fries, sautéed Portobello mushrooms, tomatoes and green onions, bacon, feta and cheddar cheese ($12.95). All the granola cereals are homemade and the biscuits are really, really good and may be topped with an egg and/or meats ($1.25-$4.95).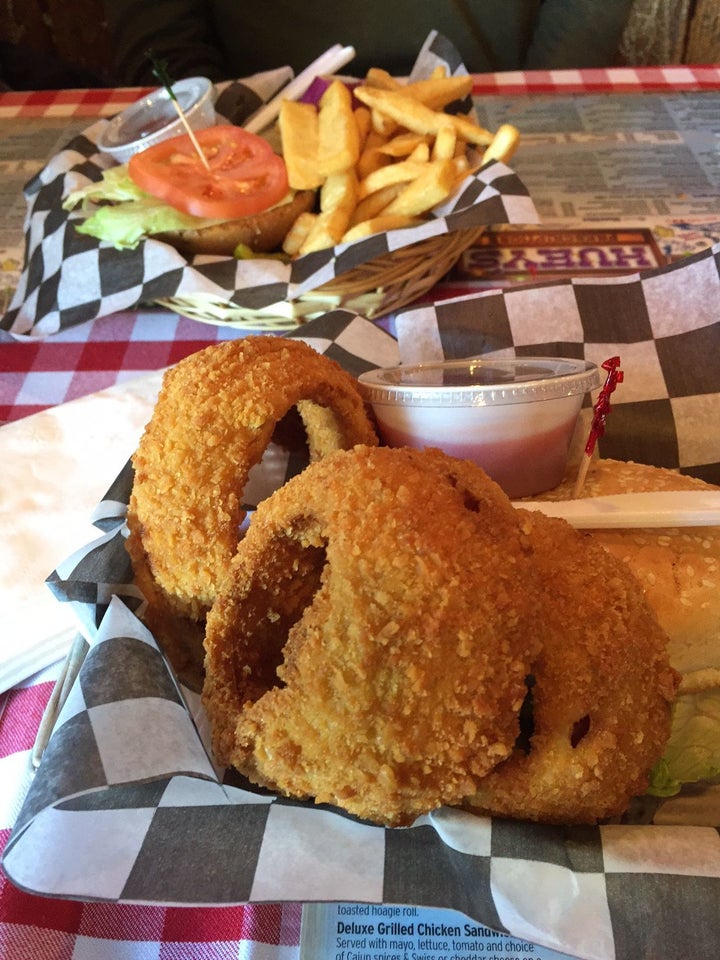 A good amalgam of bar and American café is Huey's—there are three of them around town—with its liquor bottle wall behind the bar, the widescreen TVs ever tuned to sports events, its red-checked tablecloths, and a menu of burgers and onion rings (above) the equal of those at the Majestic Grill. It looks like any of a thousand others in the South. But check out the ceiling, where it's become quite a rite of passage for customers to hurl toothpicks into the cork covering and hope they stick. I suspect it prompts people who fail to keep coming back until they succeed.
Related
Popular in the Community