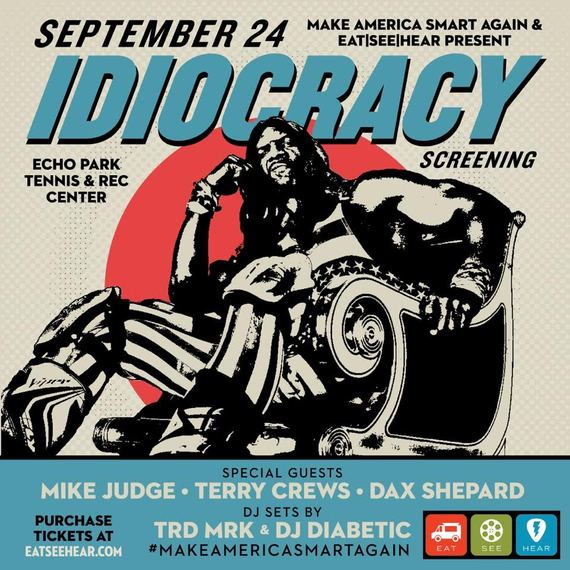 The #MakeAmericaSmartAgain movement is growing and you can get in on the action. A lot is on the line come November 9th. It is no surprise that Mike Judge's cult film Idiocracy is more relevant than ever. I recently had the opportunity to chat with Sharon and Jeff Sperber. The married couple are behind Eat|See|Hear--a premier LA outdoor movie, food truck and live music event company. They explained why the upcoming 10th anniversary screening of Idiocracy on September 24th resonates with the American public.
Hey guys! Thanks for the interview. Can you explain the creative process of the 'Make America Smart Again' campaign?
Jeff Sperber: Shepard's Studio One team approached us about doing a special event screening of Idiocracy at the end of our summer season to support the 'Make America Smart Again' campaign. As fans of Shepard, Idiocracy and supporters of the cause we were excited to craft this very special outdoor event.
Very cool. Why do you think is it important for young people to register to vote?
Sharon Sperber: Too many young people don't understand why voting is important. Education about the issues is key. Only you know what is important to you and it's critical that younger (and older) people know what's at stake, what the key issues and causes are, where each candidate stands and most importantly, no one is perfect. It's rare that you are going to align your personal views 100% with a candidate. You have to know what is most important to you and that your candidate of choice aligns on those issues. It's a very grey area.
I completely agree. How did you get Mike Judge, Dax Shepard and Terry Crews involved with the event?
Jeff Sperber: Dax Shepard and Kristen Bell have been out to a few Eat|See|Hear events in the past, so we reached out to see if he'd be willing to join us. The #MASA team had been in contact with Terry very early on and we're thrilled that Mike Judge was available to make this a great reunion
What is the Library Foundation of LA? Why do you feel strongly about this particular organization?
Jeff Sperber: The Library Foundation of Los Angeles provides critical support to the Los Angeles Public Library resulting in free programs, resources, and services available to the millions of adults, children and youth in Los Angeles. Through fundraising, advocacy and innovative programs, the Library Foundation strengthens the Los Angeles Public Library and promotes greater awareness of its valuable resources.
That's amazing. Education is so important. Before I let you guys go, I have to ask...What do you see for the future of America?
Sharon Sperber: If I could predict the future I would have won Powerball already. What we are sure of is that on November 9th, regardless of who is elected President, we will still be living in a nation with glaring systemic problems that must be improved. Hopefully we will as a nation find our way back to where compromise and pragmatism are more important than ideology and outrage.
You can purchase tickets to the 10th anniversary screening of Idiocracy in LA by clicking here.
REAL LIFE. REAL NEWS. REAL VOICES.
Help us tell more of the stories that matter from voices that too often remain unheard.