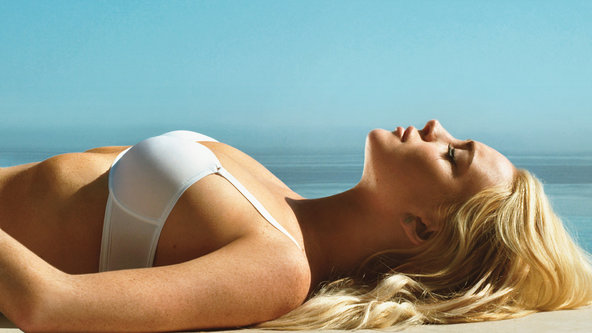 Still from 'Lindsay Lohan.' a film directed by Richard Phillips
Sailing through the busy canals of Venice, Italy next month will be a giant mobile video screen featuring the work of more than 80 artists; the week-long, water-going version of a New York City cab elevated for the biggest and baddest biennial in the world. Presented by Moscow's Garage Center for Contemporary Culture, and running (or sailing) concurrently with the opening week of the 54th Venice Biennale, COMMERICAL BREAK is curated by Neville Wakefield and will include contemporary painting bigwig Richard Phillips' first foray into film, Lindsay Lohan.
The short film, which features the famously-troubled blonde mega-celebrity in all manner of brooding, bikini-clad swimming and sunning scenes; a portrait of the star that vividly evokes the decades-old cinematic tropes of sexy fragrance ads, in keeping with the floating exhibition's theme of navigating commercial and creative combinations. It's also apropos of the setting next month in Venice, when tourists and art-makers share the streets for the Biennale's five-month stretch.
Reminiscent of classic bombshell swimsuit moments -- á la "10" starring Bo Derek -- the film is the quintessence of convention, to the point of banality. (And that's the point). Viewers should expect as much from Phillips' filmic debut as they should from a Calvin Klein Obsession ad, but with a much better soundtrack. San Franciso's Tamaryn provides the score for the minute-and-a-half film, whose epically lush, shoegazey track "Cascades" ripples over each cascading wave caught on film. Lohan is less significant for being a pretty insignificant piece of work, and more so for what it will bring to Wakefield's smart, floating show.
REAL LIFE. REAL NEWS. REAL VOICES.
Help us tell more of the stories that matter from voices that too often remain unheard.