When I was growing up I had an unlikely pen pal in E.B. White, the author of Charlotte's Web, Stuart Little and The Trumpet of the Swan who passed away 30 years ago this week. We were brought together in part by my own initiative, and in part by contingency -- through a coincidence of geography and a horse that shared his name.
The story begins in 1977, when my family moved from Nacogdoches, Texas, to Brewer, Maine. My father moved first, during sub-zero January, to start a new job and buy a house. When school finished, my mother packed up my two older sisters, two ponies, two dogs, and me, and we started our weeks-long trek across the country from Texas to Maine -- a state that is cold as all get out, but beautiful all the same.
We were a horse family so we soon joined the local chapter of the U.S. Pony Club and the three-day eventing popular in Maine at that time -- dressage, cross-country courses and stadium jumping -- became our passion and filled our days.
One afternoon during the weekend of a Puckerbrush Farm three-day event, a neighbor asked me if I would ride a horse that was being shown to potential buyers who wanted to see how good he was with kids (I was around ten-years-old at the time). The horse had previously been called BOB, for "bag of bones" because he was so skinny. A local woman, saddened by his condition, had rescued him from a field, fattened him up, started showing him and renamed him after the author E.B. White, who also lived in Maine.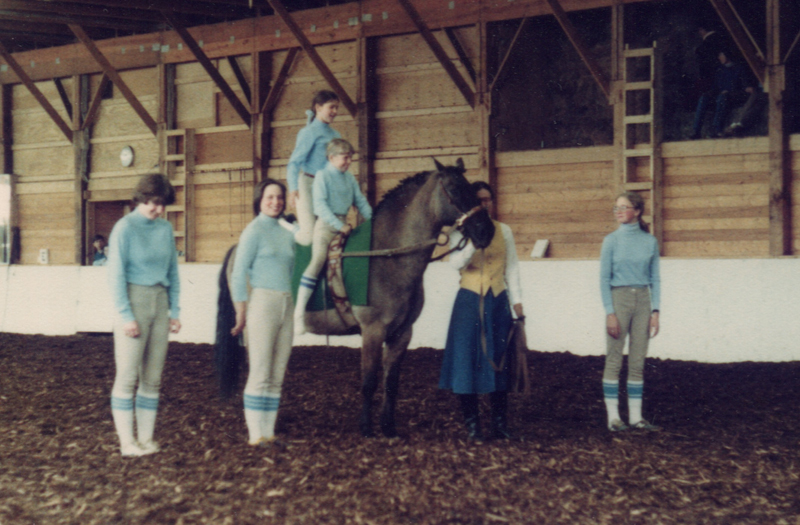 I shared two ponies with my sisters and my parents were definitely not looking to buy another horse at the time, but by the time I got off E.B. that afternoon, I was hooked. He could have never been a true "show pony" because of his numerous conformation faults, thick neck and unknown bloodlines, but he had bright eyes, a sweet and funny disposition and incredible athletic ability (I later saw him jump a paddock fence from a dead stand-still because he was afraid of fly spray).
That afternoon on the way home from the barn, my mother instructed me not to dare bring the subject of buying a new horse up to my father until we finished dinner. I waited and watched as Dad took every bite; when he put his fork down, I launched in and told him about my day. The negotiations (begging) began.
The next day, E.B.'s owner and our vet turned him loose in the indoor dressage arena and we were impressed when he stopped to look at the other horse in the dressage mirror. He cautiously walked up to look at the reflection he saw, then went and looked behind the mirror to find where it was. He was smart! Little did I know that my mother and father had brought their checkbook, and that E.B. White had won them over. To the dismay of the other family that was looking at him, we bought him on the spot for a whopping $800.
E.B. turned out to be quite curious and clever -- a real trickster. He was an escape artist, for one, and learned how to put his head through the gate, lift it off the hinges and let all the other horses out of the paddock. Mr. Gray, the owner of Puckerbrush Farm, would often refer to him as "that G--damn E.B. White," but I know he secretly loved him too.
Around that time is when I first wrote a letter to the author E.B White to tell him about my horse of the same name; and I sent pictures to prove such a horse existed. I invited the famous author to come see our vaulting team perform on E.B. during a benefit for the United States Equestrian Team. To my utter astonishment, Mr. White wrote me right back, and we became pen pals for a while thereafter.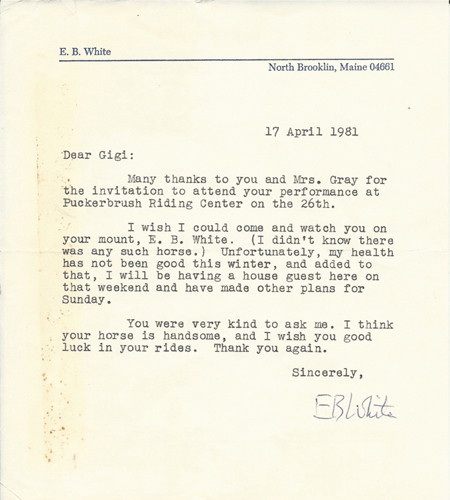 I remembered these exchanges recently when I came across three of his letters while cleaning out my parents' house in Raleigh, NC. In one letter from January of 1982, he wrote, "My initials that you asked about stand for Elwyn Brooks, but you'd better not tell your horse about that." I remember feeling like I had insider information, and straight from the man himself. I wrote to him about our competitions and described how my E.B. had icicles hanging from his chin in winter.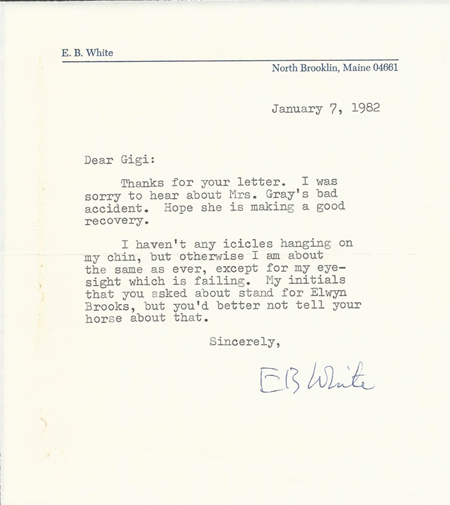 In the last letter I have from Mr. White (October 11, 1982), he wrote "Dear Gigi: Glad to hear your E.B. White is fine. Mine is in the hospital having his heart overhauled." He ended the letter by saying "Congratulations on your awards. I hope you become Pony Hunter Champion of the Year. Don't fall off!"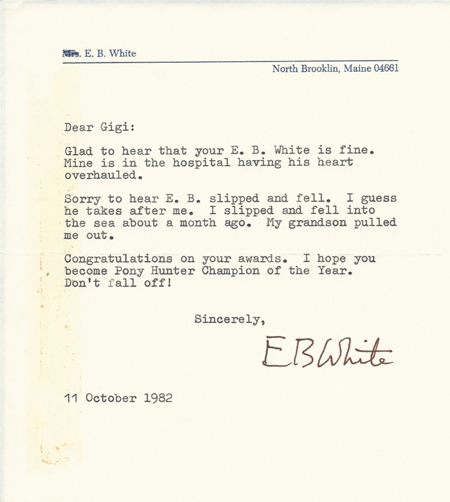 My father's job took us back to Texas seven years after moving to Maine. We had bought two more event horses, but only had one two-horse trailer, so we couldn't take them all. We held a family vote and decided unanimously that we would sell the family piano to pay for E.B.'s passage aboard a polo team's 18-wheel horse trailer, which was heading across the country. E.B. tagged along on the polo circuit (I have to believe he was jealous he was not playing) and eventually arrived in Texas a few months after us.
We continued competing in three-day events and fox hunting in Texas until I headed off to school in North Carolina a few years later. Eventually my family ended back in North Carolina, our original family roots, and of course we brought my E.B. along.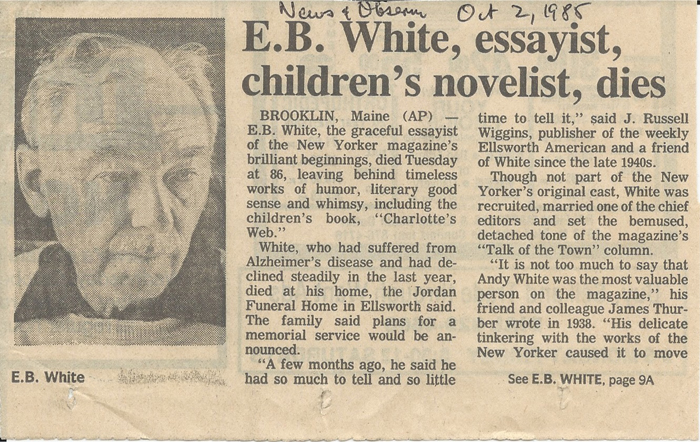 Thirty years ago this week, my father took me out to dinner in Raleigh and brought some newspaper clippings reporting that the author E.B. White had passed away in Maine. I realized then what a special gift it was that White had taken the time to write to me back when I was a little girl. When I look back now and think that he was old and not well, and had recently lost his wife of 48 years, I appreciate even more the thought of him at his typewriter responding to letters from a little kid jabbering on about her horse.
Three years later, while on college vacation with my family, we received a devastating phone call that E.B. and another horse had both been struck and killed by lightning while standing under a tree. There was not really a storm, just an unexpected clap of thunder and lightning and my E.B. was gone. I cried and cried until there were no more tears. It took years for the shock to wear off, but I take comfort knowing that he was gone in an instant, quickly and painlessly; I didn't have to watch him decline into old age.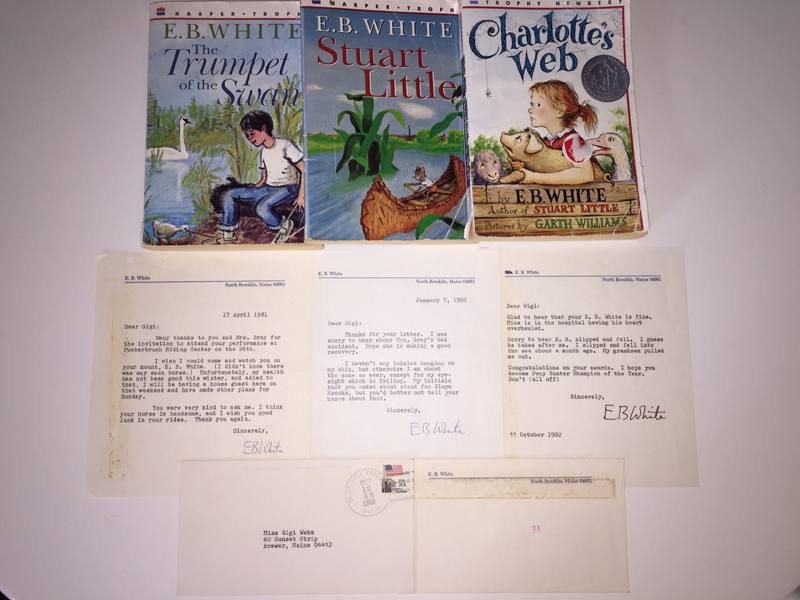 Today, my original and very used copies of Charlotte's Web, Stuart Little and The Trumpet of the Swan are still on our bookshelf. I read them to my daughter, MacRae, many times when she was little, as I read them many times myself those years in Maine. Next to his books are two items: a copy of the first letter he ever wrote to me; and my favorite photograph of my E.B. and me cross-country jumping.
That horse was the first love of my life.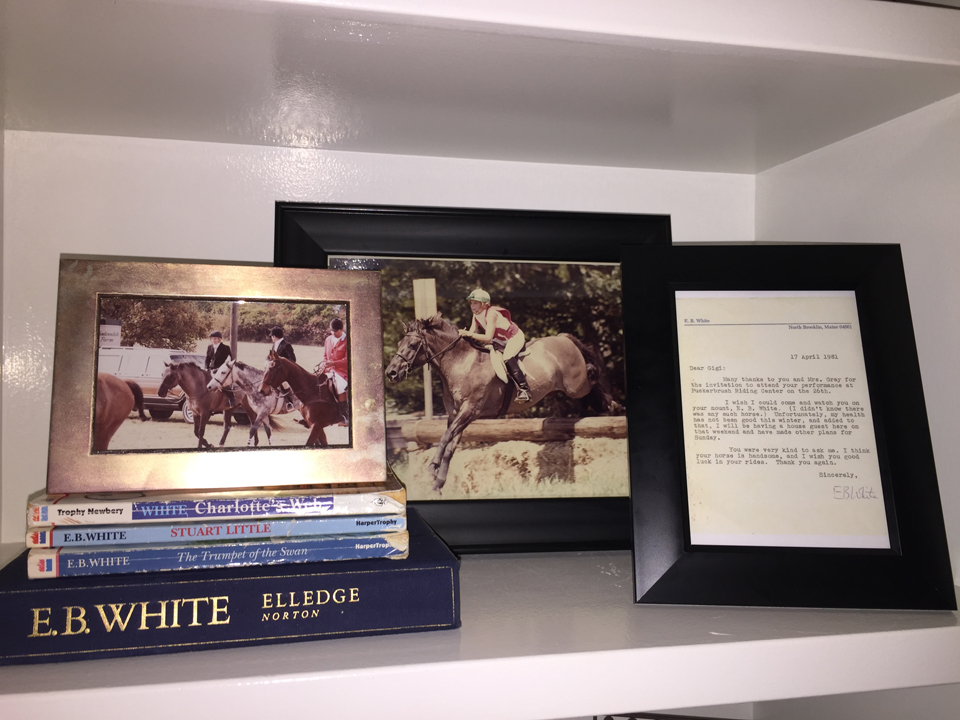 Related
Popular in the Community