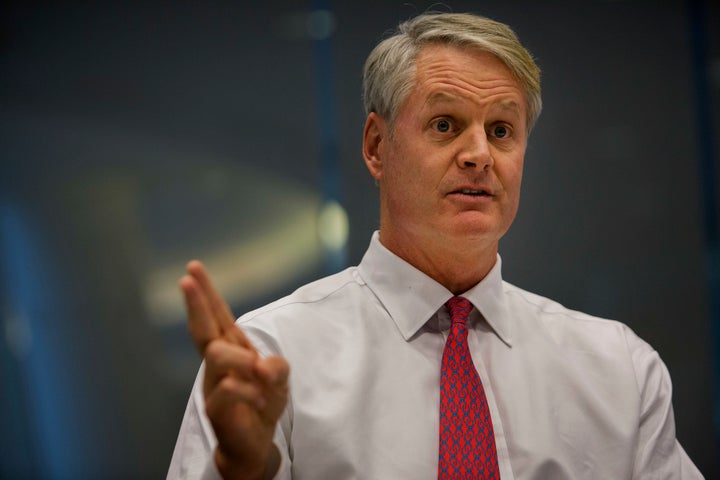 The kind of person who winds up becoming the chief executive officer of a huge public company is not typically the kind of person who wants to be unemployed. Even for a day. Even if that person never needs to work another minute in his or her life.
Yet that's exactly John Donahoe's plan. The 55-year-old stepped down in July after 10 years at eBay, serving for the last seven as the company's president and chief executive.
He's taking the next six months off. He's visiting with family and traveling -- with trips to Greece, Japan and probably Bhutan. For at least nine days, he won't even speak out loud while he attends a silent meditation retreat in California.
"It's going to be healthy to take a little time and decompress," Donahoe told The Huffington Post. "I honestly have no idea what I'm going to do next."
The end of his tenure was pretty tumultuous for Donahoe, even by CEO standards. For four months, he and the eBay board fought a contentious public battle with billionaire investor Carl Icahn, who urged the company to split itself up.
Donahoe won that fight. But the board and Donahoe ultimately decided to go with Icahn's idea, splitting eBay into separate publicly traded companies -- the original e-commerce site and PayPal.
"People may say, oh did you flip-flop?" said Donahoe. He shrugged off the criticism. "I know we were serving our customers," he said, explaining the split was the right thing to do for the company. "It was a challenging period, but guess what? Running and competing in a dynamic Internet is always challenging. That was just a phase."
Donahoe said he would resign as CEO after the breakup, but plans to stay on as the chair of the new PayPal's board. (He also will keep board positions at Intel and Nike.)
He's also walking away with an estimated $23 million exit package, and offers for the next hot thing are coming in. But as he's joked in the past, he's "never been hot" in his life.
His decision to take some time off, though unusual for someone at his level, isn't surprising considering his philosophy on leadership -- or the way Donahoe has conducted himself as a low-profile chief executive (particularly as compared to his predecessor, Meg Whitman). He's outspoken on issues like work-life balance and diversity.
When he was at eBay, Donahoe would take a "thinking day" once every three months, staking out an empty office to brainstorm and map out company strategy. Now he's taking time off to map out his personal strategy. It's all part of a deeply held belief in the power of self-renewal and personal growth.
Earlier this year, Google Chief Financial Officer Patrick Pichette resigned his post and said he would be traveling. He also said he was burned out and ready to finally spend some time with his family -- no really, The New York Times said.
Donahoe, who spent 23 years as president and CEO at the prominent consulting firm Bain & Company before joining eBay, said he's not overworked. "But I do think jobs are very demanding and you get very focused, and you're on seven days a week, 24 hours a day," he said. "It's going to be healthy to decompress, focus on meditation and contemplation or just reading the newspaper. Stimulating other parts of the brain is part of the renewal."
Related
Popular in the Community