Eve Brannon of Upstate Atheists in Spartanburg, South Carolina, came up with a creative way to raise funds for charity, by volunteering to auction off some of her time on eBay with an ad titled, "Take an Atheist Leader to Church," reports Fox Carolina.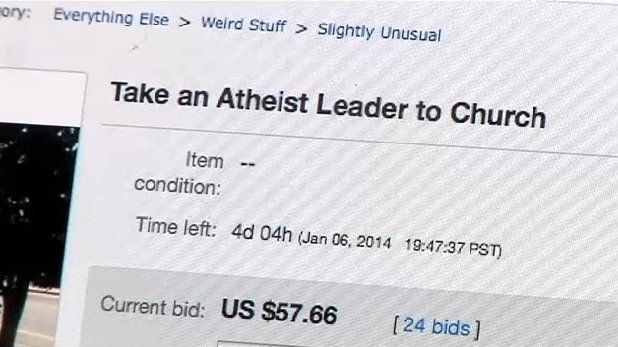 Her quirky offer was met with surprise and enthusiasm from local leaders like Rev. Marcus Buckley of Riverside Baptist Church in Greer, S.C., who bid for the opportunity to host Brannon and her four-year-old daughter as a guest at his church.
Though multiple bidders were competing for her time, Brannon's ad was removed without explanation days after she posted it. She re-listed the ad a second and third time, but in both instances the ad was taken down by eBay. Bidding had reached $255 when it was last removed, with the link now redirecting to the search results for the cd "Take Me to Your Leader" by Christian pop rock group Newsboys, reports The Christian Post.
The ad text was listed under the categories "Everything Else > Weird Stuff > Slightly Unusual" and originally stated:
Your bid is for me and my 4-year-old daughter. She must be able to stay with me at all times. We will attend any church on a Sunday morning. We will listen to the sermon and I agree to be acknowledged as a guest. I will speak to members of the congregation if you wish and what led me to the path I chose. I'm fine with speaking publicly, answering questions, or simply sitting in the crowd. I will NOT question or refute anyone's beliefs. I will be respectful of all members of the church.
Brannon told The Christian Post, "I feel like they [eBay] didn't like the ad so they removed it. Each ad has notes about it for the staff to see. The notes about our ad specifically stated that it violated no policies, yet it was still removed." She even spoke to an eBay staff member who told her that the ad shouldn't have been removed in the first place.
Brannon saw her offer as a learning experience. "I'm curious to see if anything's changed or if it's the same as it was when I was a kid," she said to Fox Carolina. "I'm certainly not trying to infiltrate a church. I'm going with an open mind."
Upstate Atheists has been committed to charitable causes since it was formed in May 2013. In October, they gave out care packages to the homeless, and sponsored 14 foster children for Christmas, reports Go Upstate. They volunteered to help out at a soup kitchen, but were rebuffed by the director of the Christian nonprofit, who told them that she'd rather "resign" than have their assistance.
Brannon wanted to use her ad to help the homeless. In an email to atheist blogger Hemant Mehta, who had previously organized a similar auction, Brannon said, "It is just frustrating. At one point it was up to $255 and we were going to try to provide heat and water to a homeless camp… it was 7 degrees here the other night."
Related
Before You Go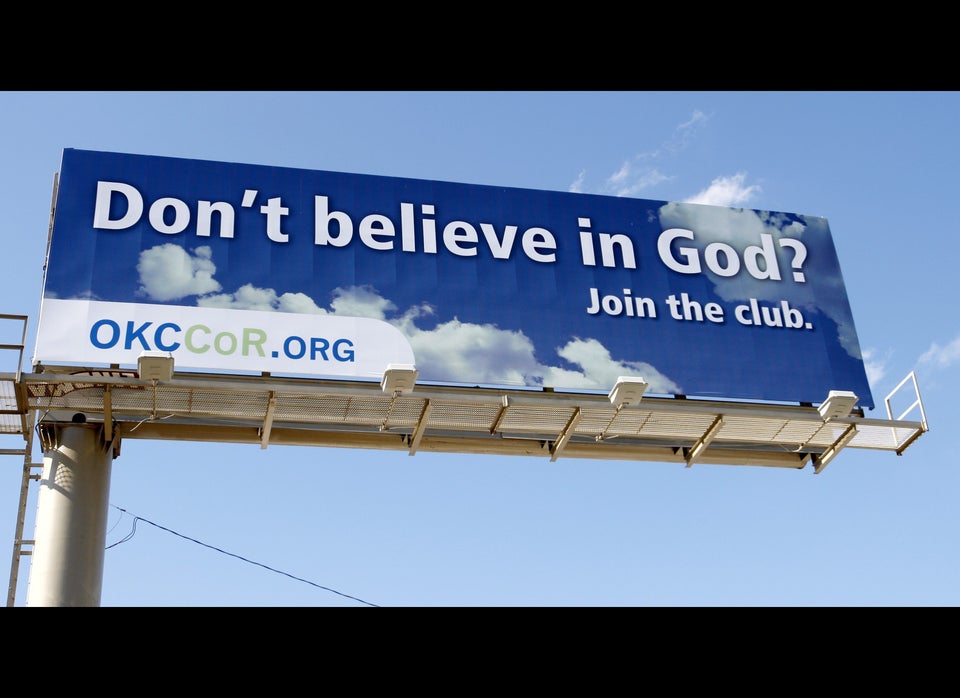 Atheist Billboards
Popular in the Community