eBay's latest app combines two of America's favorite pastimes: shopping and watching TV.
While location-based apps like Glancee, Ban.jo, and Sonar have been stealing the show at this year's South by Southwest Interactive Conference (SXSW) in Austin, Texas, the release of the Watch With eBay iPad app made quite a splash, too.
Originally a feature of the eBay for iPad app, Watch With eBay debuted as a standalone app that will let viewers browse in real time products related to their favorite TV programs. Fashion buffs, for example, will easily be able to find and shop for clothes made by designers featured at a red carpet event airing live on TV.
This unique live viewing experience is made possible by a zip code-based guide embedded within the app, according to Engadget. PCWorld explains further that Watch With eBay syncs up with your area's local cable programming schedules, enabling viewers to become consumers with a tap of a finger. The viewer simply chooses the show she's watching from a list on the app to see available products related to the show.
The new app also offers a feature called Shop Like a Star, which lets TV, film, sports and music fans view and purchase items recommended by their favorite celebrities. Senior manager of corporate communications Richard Brewer-Hay described the feature on eBay's blog, writing,
Through eBay Celebrity -- a unique shopping destination that combines celebrity experiences, memorabilia and merchandise with philanthropic causes -- Shop Like a Star provides an inside look at featured celebrities' favorite items, while eBay curates shopping results related to the celebrity picks and provides the option to donate to a benefiting charity at check out.
According to PCWorld, eBay may eventually want to take the app one step further by selling TV viewers products actually used in whatever show they're watching (or at least ones similar to them), which could be great news for TV watchers and frequent shoppers who are always wondering where that one character got that cute dress or cool gadget.
Check out eBay's Watch With eBay ad (above), and make sure to let us know what you think of this new app! If you're dying to get it on your iPad, you can find it on the Apple store.
Take a look at screenshots from the app (below).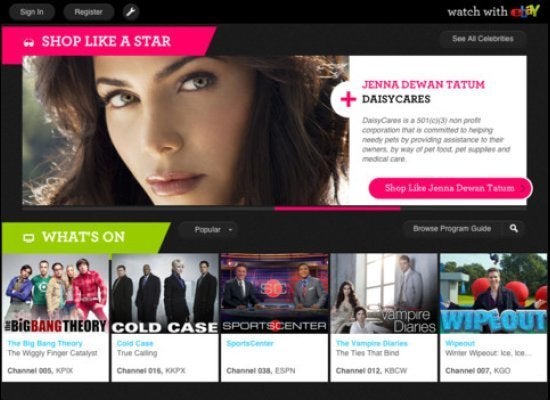 ebay app
Related
Popular in the Community