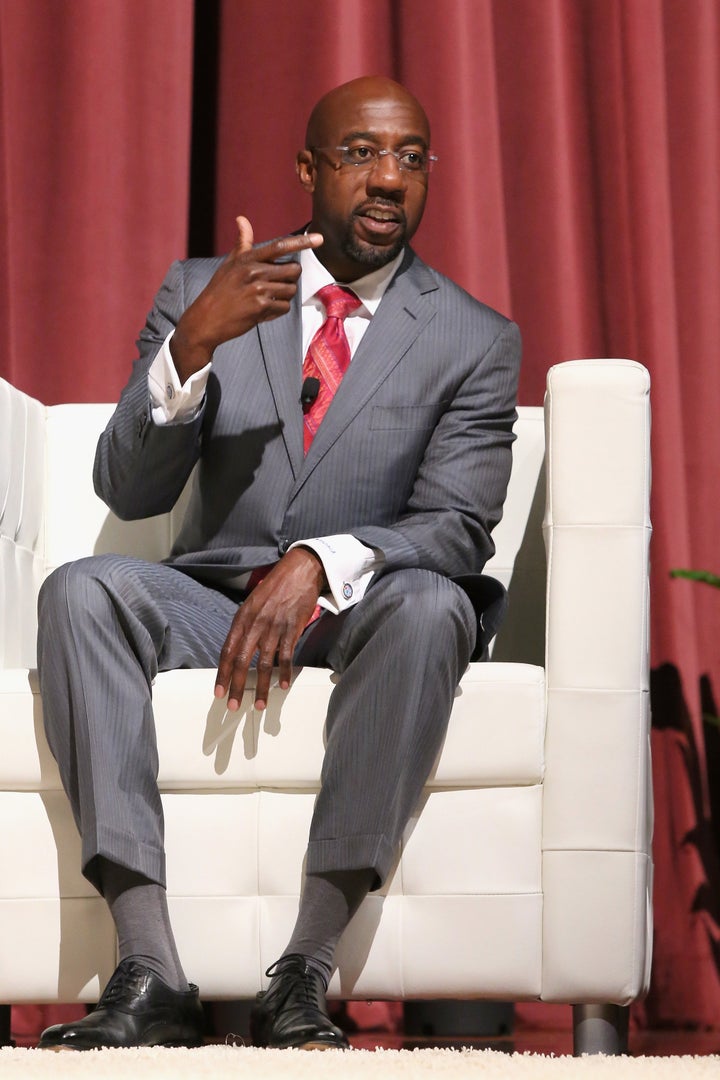 WASHINGTON -- Rev. Raphael Warnock has been arrested while advocating for Medicaid expansion and inspired black parishioners to go to the polls during last year's midterm elections as part of the "Souls to the Polls" movement. Now, he's considering whether to translate his activism to a campaign and seek one of Georgia's Senate seats.
Warnock pastors at the historic Ebenezer Baptist Church in Atlanta, where Dr. Martin Luther King Jr. made his spiritual home. As similar civil rights battles are being waged decades later, Warnock is weighing whether it would be feasible to balance the demands of preaching and partisanship.
Warnock is considering challenging Republican Sen. Johnny Isakson, the Atlanta Journal-Constitution first reported Thursday. The pastor is "wrestling" with the decision, he said during his sermon on Sunday.
"I am committed to Ebenezer Baptist Church and I have no plans to leave Ebenezer under no circumstances. None, whatsoever," he said. "Now, I know that comes with great comfort to some. Preachers all over the country, shaking off their resume. Tell them to hold on to it. We have had five pastors since 1886. I plan to keep up the tradition."
"The question is not whether I'm leaving," he continued. "The question is, can I serve the people of Ebenezer and the people of Georgia as a servant at the same time? Some people say you can't. Some people say you can."
A Warnock bid could be a potential game-changer in Georgia, which hasn't had a Democrat in the Senate since former Republican Sen. Saxby Chambliss unseated Max Cleland in 2002. Republican businessman David Perdue beat Democratic nonprofit executive Michelle Nunn by eight points in last year's midterm elections, even as he made seemingly incriminating missteps. Nunn, who is the daughter of a popular former Democratic senator, ran on a moderate platform and emphasized her willingness to work across the aisle. If Warnock ran, and won, he'd be the first African-American to do so statewide.
One question is whether a Warnock bid could sufficiently energize Democrats in the Peach State, which has remained red despite recent demographic changes. The higher turnout that generally comes with a presidential election could also make for a friendlier electorate: President Barack Obama came within five points of John McCain in 2008.
When contacted by The Huffington Post to discuss the race, Warnock said he wasn't making any press statements beyond what he said Sunday about his decision.
He was arrested during a "Moral Mondays" protest last year as he urged Gov. Nathan Deal (R) to expand Medicaid with federal funds from the Affordable Care Act. The Georgia protesters were inspired by the movement that began under the leadership of the Rev. William Barber II, the leader of the North Carolina NAACP, and other civil rights groups.
Barber said a Warnock bid would be valuable because he would infuse the race with "a moral agenda," rather than the rhetoric of partisanship.
"Dr. Warnock may very well help complete the circle of this reconstruction moment, in which we have the simultaneous activity of leaders who stay with the moral movement energy on the ground and other leaders who build moral engagement within the electoral process," Barber wrote HuffPost in an email.
In November,Warnock encouraged his congregation to join him in traveling from the church to the polls on the Sunday before Election Day to take advantage of the early voting opportunities in Georgia that Republican state legislators have since targeted.
Warnock told NPR in December that he believes it is important for black churches to remain involved in social justice issues since churches like his see "justice-making as central to its Christian identity."
"We pastors have a two-fold role: priestly and prophetic," he added. "On the priestly side, our jobs is comfort the afflicted. On the prophetic side, our job is to afflict the comfortable. And the question becomes how can one remain true to both in this moment."
He showed a willingness to push for more honest conversations about race after two men left Confederate flags outside his church last month.
"To deliver it to the front door of the Ebenezer Baptist Church, the home church of Martin Luther King Jr. is a hateful act and a terroristic threat," he told the Atlanta CBS affiliate. "The FBI director quickly saying, 'I don't know how this can be a terroristic act.' I can't see how it could not. Apparently black folk can't be terrorized. Do you understand what you're saying to us? This is our sanctuary."
Andra Gillespie, a professor of political science at Emory University, noted that "the idea of a preacher running for office is not unusual by any stretch of the imagine," pointing to Floyd Flake and Adam Clayton Powell Jr., both pastors who served as congressmen from New York.
"When you take on the pulpit of Martin Luther King's church, you understand that activism is going to be a part of the job description," she said. "This is someone who has actively been involved in civil rights leadership."
While he wouldn't comment on the specifics of the candidate recruitment process, Democratic Senatorial Campaign Committee spokesman Justin Barasky said national Democrats were optimistic about picking up the seat next year.
"As Georgia's demographics continue to change in our favor, Democrats are excited about running a strong campaign against Sen. Isakson in a presidential election year, and we're confident that this will be one of the most competitive states in the country in 2016," he said.
Georgia's House minority leader, Stacey Abrams, who has attracted similar amounts of buzz, said Warnock "will be a formidable candidate" should he jump into the race. Abrams founded a voter registration group called the New Georgia Project two years ago to reach out to the hundreds of thousands of unregistered voters in a state where African-Americans make up about 30 percent of registered voters. (As Newsweek pointed out, 80 percent of those who moved to Georgia between 2000 and 2010 were nonwhite.)
"Rev. Warnock has a deep commitment to Georgia families and has been a unique, resonant voice on the issues important to Georgia's rapidly diversifying electorate," Abrams said.
Popular in the Community