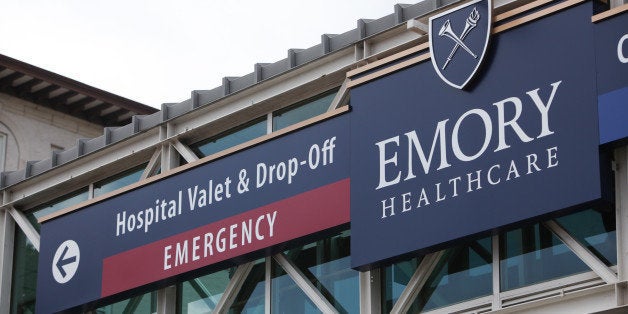 Bringing two American doctors infected with Ebola back to the U.S. has unleashed a firestorm among critics. But those who are actually treating the patients say the U.S. is obligated to take care of its citizens and anyway, those misgivings are completely unfounded.
On Tuesday, the second infected patient joined the first at Emory University Hospital in Atlanta to be treated. But even before the plane touched down, critics -- including such sharp-tongued pundits as Donald Trump and Rush Limbaugh -- slammed the facility for bringing the patients to the U.S. and putting other citizens at risk.
But Susan Mitchell Grant, chief nurse for Emory Healthcare who's on the ground treating the two patients dispelled each of their arguments.
She didn't disclose the patients' names due to the HIPAA Privacy Rule.
"We are caring for these patients because it is the right thing to do," Grant said in a Washington Post op-ed. "These Americans generously went to Africa on a humanitarian mission to help eradicate a disease that is especially deadly in countries without our health-care infrastructure. They deserve the same selflessness from us."
But doing the "right thing" isn't the only reason the U.S. should welcome these infected Americans with open arms.
First off, according to Grant, Emory is confident in its ability to "manage and contain" the virus.
In truth, according to Grant, the U.S. could also potentially benefit from seeing these cases up close.
"Ebola won't become a threat to the general public from their presence in our facility," Grant wrote, "but the insight we gain by caring for them will prepare us to better treat emergent diseases that may confront the United States in the future."
Her thinking has already proven true.
This advancement could prove to have an immeasurable impact on how the disease is treated.
Currently, there is no Ebola vaccine and many advocates say that part of the holdup is the fact that it's a virus that affects low-income countries and pharmaceutical companies see little monetary incentive to try and develop one.
But potential medical advancements and risks aside, medical professionals, like Grant, who have all volunteered to help on these cases, say it's compassion that is their driving force.
"As human beings, we all hope that if we were in need of superior health care, our country and its top doctors would help us get better," Grant wrote. "We can either let our actions be guided by misunderstandings, fear and self-interest, or we can lead by knowledge, science and compassion. We can fear, or we can care."
REAL LIFE. REAL NEWS. REAL VOICES.
Help us tell more of the stories that matter from voices that too often remain unheard.
BEFORE YOU GO
PHOTO GALLERY
Ebola Outbreak