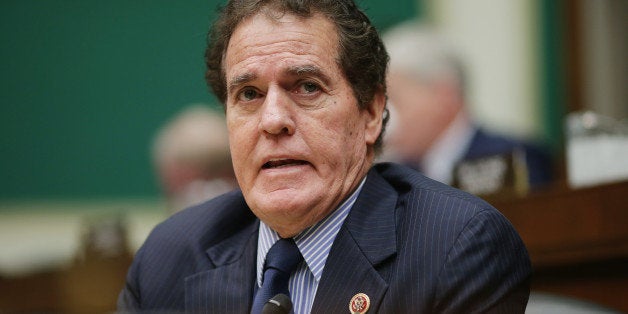 What's hot for August 2014? Basically, August has been terrible, so I'll say that for me, it's been "sheltering in place with a bottle of Xanax and an HBO Go account while hugging loved ones tightly." But elsewhere in these United States, the hot new thing has been "worrying that the Ebola virus is coming over the border."
Now for most people, this would seem a little daft. After all, while the Ebola virus has recently returned as a heightened menace in West Africa, justifiably drawing the concern of the world, the "border" between the United States and the current outbreak is actually this big ol' ocean known as "the Atlantic." And there has never been a case of Ebola in humans that was contracted in the United States. For everyone who read the back cover of The Hot Zone without reading the actual book, you should know that the strain of Ebola documented therein was ultimately proven to be only fatal to monkeys. (The Hot Zone actually took place in my hometown -- Reston, Virginia -- and it was possibly the most exciting thing to ever happen there, unless you count Grant Hill's high school basketball career.)
People who live anywhere other than West Africa should really not worry about contracting Ebola. Seriously. Calm down about that. You have other things to worry about. And people really should not stoke fears that the U.S. is under some imminent threat of an Ebola outbreak.
Unfortunately, it seems to be becoming a go-to source of cheap dread-baiting for politicians, who are taking the very-worthy-of-concern border crisis, and attaching other nightmares to it.
"Reports of illegal migrants carrying deadly diseases such as swine flu, dengue fever, Ebola virus and tuberculosis are particularly concerning. Many of the children who are coming across the border also lack basic vaccinations such as those to prevent chicken pox or measles. This makes those Americans that are not vaccinated -– and especially young children and the elderly –- particularly susceptible," Gingrey, a longtime physician, wrote in the letter.

Gingrey defended his letter Tuesday.

"The border patrol gave us a list of the diseases that they're concerned about, and Ebola was one of those," he told NBC News' Luke Russert. "I can't tell you specifically that there were any cases of Ebola, I don't think there were, but of course tuberculosis, Chagas disease, many –- smallpox, some of the infectious diseases of children, all of these are concerns."
Appearing on WIBC's The Garrison Show, Rep. Todd Rokita (R-Ind.) said he and other members of Indiana's congressional delegation, including heart surgeon Rep. Larry Buschon (R), sent a letter to President Barack Obama asking for more information about the 245 migrant children who had been released to Indiana sponsors this year.

"We sent a letter to the president saying look, first of all, we've have got to know, not from the press, we've got to know ahead of time so we can plan for this," Rokita said. "We did that, Dr. Buschon was helpful... He said, look, we need to know just from a public-health standpoint, with Ebola circulating and everything else -- no, that's my addition to it, not necessarily his -- but he said we need to know the condition of these kids as well."
And now, this malady has spread to the GOP Primary in Arizona's 1st Congressional District, where state Rep. Andy Tobin is facing fellow state Rep. Adam Kwasman and businessman Gary Kiehne. Per the Tucson Weekly:
In the meantime, though, Tobin says he's hearing about worries from constituents that the recent wave of undocumented youth from Central America could cause an Ebola outbreak in the United States.

"Anything's now possible," Tobin said last week. "So if you were to say the Ebola virus has now entered (the country), I don't think anyone would be surprised."
No, no. You absolutely should be super surprised if this happens, as it is so unlikely.
Experts we asked issued a resounding "No."
Why are these scientists so confident, though? Someone should, after all, check to see whether it was plausible for a child or adult entering the U.S. from Central America via Mexico to be infected with the Ebola virus. Oh, wait, what's that Politifact?
We also checked whether it was plausible for a child or adult entering the United States from Central America via Mexico to be infected with the Ebola virus. CDC scientists call it "extremely unlikely," DeNoon said.

Independent experts agreed. "It's very, very, highly unlikely if you are talking about someone from Central America who has not traveled to Africa," Thomas W. Geisbert, a microbiologist and immunologist specializing in Ebola at the University of Texas Medical Branch at Galveston.
"The incubation period is two to 21 days, so theoretically, an African could fly from an infected area, land in a Mexican airport, take a bus toward the border, hire a coyote to take him across and then 'present' with Ebola," said Thomas Fekete, section chief for infectious diseases at the Temple University School of Medicine. "But this presupposes a suicidal person who also has the resources for this kind of travel."

Indeed, the prior, scattered examples of exotic and deadly diseases reaching the U.S. suggest that "the likelihood of an illegal migrant getting infected and introducing the disease to the U.S. is probably less than that of a 'legal' traveler," said Daniel G. Bausch, head of the virology and emerging infections department at the U.S. Naval Medical Research Unit No.6 in Lima, Peru.
From there, this affluent, suicidal, Ebola carrying prankster would have to pull off the feat of convincing people to splash around in his or her body fluids as they succumb to the disease. Or, it could spread to someone who volunteers to bury the body of this rich-guy-with-a-death-wish and then cuts a lot of corners when doing so. Basically, consult Kelly Hills' essential Ebola flowchart:
The communities trying to contain the West African Ebola outbreak are working very hard in some very challenging conditions, so at a minimum, those of us who reside outside those affected areas should adhere to a strict "it's not all about you" policy. Just keep calm, carry on, et cetera. Okay? Great. Good talk, guys.
Calling all HuffPost superfans!
Sign up for membership to become a founding member and help shape HuffPost's next chapter
BEFORE YOU GO
PHOTO GALLERY
Overwhelmed Border Patrol