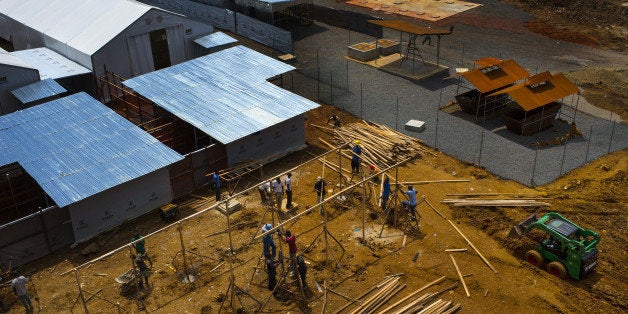 Liberia may be winning its war against Ebola, but ongoing construction on new patient treatment centers has left some discontented.
Sailly, the head of mission for Doctors Without Borders in Liberia, is part of a pool of officials claiming the new centers are and will be inconsequential -- merely reflecting the international community's belated reaction to an epidemic that is now under control. Liberia only detected eight cases of the disease last week -- dramatically down from more than 300 a week in September -- according to the World Health Organization.
The critique hasn't sat well with UNICEF, the humanitarian organization largely responsible for ongoing construction efforts.
"Halting construction now would cause much bigger problems for the community," Sheldon Yett of UNICEF told The Washington Post. "They've agreed to them, they've supported them, and they're employed there."
UNICEF isn't planning on abandoning its long-term strategy because of one fading epidemic, as it aims to prepare the region for future health emergencies. In December, the organization announced expanded efforts in West Africa, costing $500 million, to continue fighting Ebola and strengthen health infrastructures.
Funding for the initiative would help build 300 community care, transit and observation centers, as well as rapid isolation facilities in rural areas, throughout West Africa. It also will provide child protection services for up to 10,000 children whose caregivers have died in the outbreak, among other initiatives.
"It is no coincidence that Ebola has emerged in three countries with fragile health systems," Dr. Peter Salama, UNICEF's global Ebola coordinator, said in a press release. "Public health services in Ebola-affected countries could emerge much stronger if we make the right investments now, in the right places –- above all at the doorstep of the communities where people most need those critical services."
Toward the end of last year, the world scrambled to help West Africa. In September, President Obama announced that nearly 4,000 military personnel would be sent to the hardest-hit regions, the Associated Press reported. The U.S. has allocated about $750 million to combat and contain the epidemic.
The Centers for Disease Control (CDC) predicted that 1.4 million people could be affected by Ebola in Sierra Leone and Liberia by the end of January. Now, the disease has infected 21,724 people and killed 8,641, according to the World Health Organization -- far lower than worse-case scenario estimates.
Those figures could have been much lower, however, if the centers "had been built when we needed them," Moses Massaquoi, the Liberian government's chairman for Ebola case management, told The Washington Post.
And that's why UNICEF says its there to stay -- to better prepare for the next time West Africa is in crisis.
"As we take the fight against Ebola into communities," Salama explained. "We can also seize an opportunity to help build robust primary health care and other social services that will provide long-term benefits for children and families, after Ebola has been defeated."
Calling all HuffPost superfans!
Sign up for membership to become a founding member and help shape HuffPost's next chapter
BEFORE YOU GO