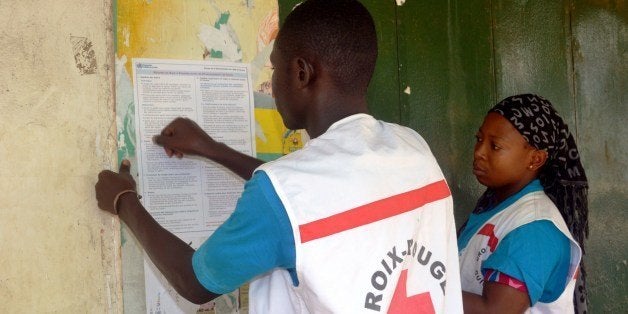 DAKAR, June 4 (Reuters) - At least 21 people died and 37 new cases of suspected Ebola were recorded in Guinea between May 29 and June 1, the World Health Organization said on Wednesday, undermining the government's claims that the number of Ebola deaths was slowing.
The new figures take to 328 the number of cases linked to the disease in Guinea, of which 193 have been confirmed by laboratory tests. In total, 208 deaths have been linked to Ebola, making the outbreak one of the deadliest for years.
More than half of the new deaths in Guinea were in the southern region of Gueckedou, epicenter of the outbreak which began in February, near the Sierra Leone and Liberian borders.
The town is known for its weekly market which attracts traders from the region as well as from neighboring countries.
Sierra Leone recorded three confirmed and 10 suspected new cases over the same period, WHO said, highlighting the threat of the disease taking hold elsewhere in the region.
A Guinean presidential spokesman was not immediately available for comment and a health department spokesman declined to comment.
On April 24, Guinea's health ministry said in a statement that the situation was "more and more under control thanks to measures taken by the government and its partners".
There is no vaccine or cure for Ebola, a haemorrhagic fever with a fatality rate of up to 90 percent.
WHO said it had deployed an extra five experts to the area to help stop the disease spreading and that it was observing about 600 people in the country identified as having possible contact with Ebola. (Writing by David Lewis; Editing by Emma Farge and Louise Ireland)

Related