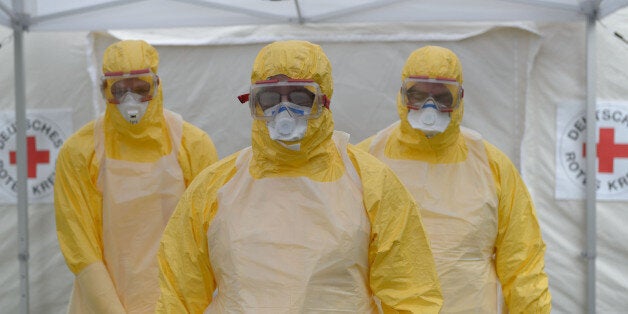 MONROVIA -- About a year ago I cared for Sharon, a 60-year-old woman who had traveled from California's central valley to UC San Francisco for specialized care. For months she and her family had noticed an insidious onset of jaundice. The yellowing spread slowly, but unrelentingly, like mold creeping along the walls of a water-damaged home. One morning Sharon looked in the mirror and startled herself. She no longer recognized her once vibrant visage. A few weeks later, after a CT scan revealed a plum-sized mass in her abdomen, she came to UCSF for a biopsy and diagnosis.
I met her with my team of medical students, interns and residents on a Tuesday morning. By this time Sharon had lost 40 pounds, suffered excruciating abdominal pain, intolerable nausea, and had barely enough energy to stand. We offered the option of palliative care, and worked nonstop to address her symptoms. More importantly, we spent time at her bedside. Every morning after rounds I would swing back to Sharon's room and accompany her through a frightening time for her and her family. For those 10 to 15 minutes a day, I sat beside her, holding her hand as she recounted all the blessings she's received -- her children, her faith, her friends. Even while tears fell from her face, leaving smears on her makeup, she smiled at me, gave my hand a gentle squeeze, and said thank you.
On the morning of her discharge, Sharon put on a bright, flowery sundress and perfected her makeup and hair just in time for our team to bid farewell. I told her, as I often tell my patients, that she was the best patient I had ever taken care of, and that I was a very lucky doctor. With that, she embraced me with warmth and courage, yet also allowing me to share in her pain, fear and hope.
Months later, as I reflected on Sharon's life, and death, I realized that my only significant contributions to her last few weeks were empathy and a loving touch.
IN LIBERIA I arrived in Liberia two weeks ago, and have yet to touch another human being. In the early summer, health care workers began practicing a "no touch" policy on medical provision. That is, all basic medical care, from triage to treatment, must be done without contact with the patient. It's easy to understand why.
Since the start of the Ebola epidemic, over 500 health care workers, including doctors and nurses, have been infected, and over 200 have died. There are numerous heartbreaking stories of physicians being infected when they tended even briefly to a colleague, who unbeknownst to them, was suffering from the virus. Deaths of medical providers led to the shuttering of referral centers like John F. Kennedy Hospital in Monrovia.
Once JFK finally reopened, doctors and nurses have been diagnosing and treating patients without any physical contact unless absolutely necessary. No one wants this: not patients, not nurses, not doctors. While the images of Ebola in the West have focused on Ebola Treatment Units, a story that is not being told often enough is that, for the thousands of Liberians who fall ill everyday from diseases like malaria or typhoid, or cancer, they can expect no one to place a stethoscope on their heart, take their blood pressure, feel their abdomen for masses, or even shake their hand. Last Wednesday I made rounds on the medical wards of a rural hospital in Liberia, a place so remote that the surrounding communities are called "last mile villages." This referral center serves an area of 150,000, yet employs just one full-time Liberian doctor. Before the Ebola outbreak, the hospital typically overflowed with patients waiting for care. We learned that the average census of the hospital dropped dramatically in the last several months. That Wednesday we saw just three patients on the 20-bed male ward.
One patient, 49-year-old Benjamin, lay there quietly as we asked him about his symptoms. Two weeks prior he noticed some abdominal and back pain, then he stopped making urine. A story like that at UCSF would trigger a flurry of blood tests, scans, and specialty consultations and possibly life-saving kidney dialysis. Here, in rural Liberia, where electricity is a precious luxury that patients only enjoyed for a few hours a day, we could only offer Benjamin a few pain pills and a urinary catheter.
Two nights ago, while checking on him, Benjamin uttered words that pierced through the layers of protection that I normally donned to keep sane in an environment of such intense misery. "I'm dying... slowly," he said while looking up at the ceiling. I stopped in my tracks.
In previous deployments to poor settings like Malawi or Rwanda, I cared for countless patients who died entirely from preventable deaths -- deaths that would be unthinkable in the U.S. But while I similarly had little in the way of advanced diagnostic technology or treatments to offer then, what I had done was provide, as in the case of Sharon, a comforting, empathetic touch. Benjamin deserves at least that much.
Ebola's devastation touches every facet of life, and death, here in Liberia. For physicians who practice and treasure the art of medicine with all of its privileges, Ebola is fundamentally altering the doctor-patient relationship.
*Names and other details have been slightly altered to protect patient identities.
Dr. Phuoc Le is an internist and pediatrician at University of California, San Francisco. He is also co-founder of the HEAL Initiative, a global health training program.
PHOTO GALLERY
Ebola in West Africa
Calling all HuffPost superfans!
Sign up for membership to become a founding member and help shape HuffPost's next chapter