Co-authored by Dr. Chethan Sathya, a freelance journalist and surgical resident at the University of Toronto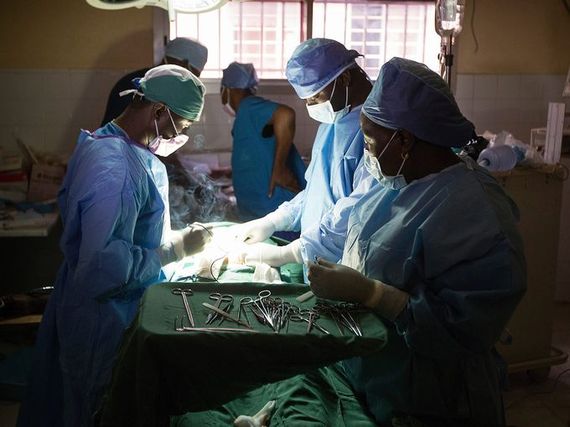 Dr. Martin Salia, a general surgeon who died from Ebola in November 2014, is pictured on the left operating at Kissy United Methodist Hospital in Freetown, Sierra Leone. Photo credit: United Methodist Church.
This article originally appeared here on ScientificAmerican.com.
Thaim Kamara is 60 years old and would like to retire this year. But he is one of only eight remaining surgeons in Sierra Leone, a west African country of about 6 million people. Kamara lost two friends to Ebola in 2014 -- Martin Salia and Thomas Rogers, fellow surgeons at Connaught Hospital in the capital, Freetown. In light of the dire circumstances, Kamara has postponed his plan to retire.
Although the rate of new Ebola infections in Sierra Leone, along with neighboring countries Guinea and Liberia, is finally falling, more than 800 health care personnel have been infected with Ebola in the hot zone and nearly 500 have died since the epidemic began, according to a January report by the World Health Organization. And the toll, along with the continuing deaths of health care workers will have devastating implications for the long-term health of these nations.
Salia's death in November was especially devastating for Sierra Leone. The talented surgeon was not only a precious commodity, he was an innovator. The 44-year-old was at the forefront of a campaign to revitalize surgery in that nation via a partnership with King's College London. Surgical care in Sierra Leone is now at a standstill, says Andy Leather, director of the King's Centre for Global Health at the college and a surgeon who worked with Salia in Freetown. There are nearly no elective or emergency surgeries in the country because of a lack of surgeons, he says. And some surgeons -- aware that their risk of contracting Ebola is 100 times higher than that for the general population -- are scared to operate.
Surgery is a critical element of any health care system, but it is often a forgotten one. WHO calls it the "neglected component" of health care and estimates that surgery can be used to treat 11 percent of the global disease burden. The standard of surgical care in Sierra Leone was lacking even before Ebola arrived, according to research by Surgeons OverSeas, a U.S. nonprofit that works to improve such care around the world. It found that 25 percent of deaths in Sierra Leone could be prevented with surgery and estimated that 1.5 million Sierra Leoneans need surgical consultations, mostly for burn injuries and wounds.
Decades of civil war devastated Sierra Leone's public health and medical infrastructure, leaving it vulnerable to epidemics like this one. A lack of health care workers exacerbated the problem. Although the U.S. has 245 doctors for every 100,000 people, Sierra Leone has around two. Of the eight remaining surgeons in the country, only one is below the age of 60.
Short-term solutions to the surgeon shortage include volunteer surgeons who practice in Sierra Leone for a few months at a time. They can help perform some of the vitally needed surgeries such as emergency operations and C-sections. "But that doesn't really help us in the long-term," Kamara says. "What we really need is to train surgeons, and that's not an easy affair because it takes many years."
Training time is not the only challenge. Retaining surgeons in Sierra Leone is an even bigger hurdle, says Anna Dare, a researcher at King's College who was working with Salia to study the state of surgical care in the nation. Brain drain, or the emigration of doctors from the developing to the developed world, is a concern for all countries in the Ebola hot zone. Emigration of doctors from sub-Saharan Africa to the U.S. increased by nearly 40 percent over the last decade. Salia was a rare example of the opposite: He trained overseas but returned to Sierra Leone to work in a local hospital. Before his death Salia was leading efforts to recruit and retain health care professionals, Dare says. "Medical students were starting to warm up to the idea of staying in Sierra Leone and working," she says. "However, now that everyone is dying, they all want to leave as soon as possible."
Even as health officials cautiously declare a decline in the rate of Ebola infections, the epidemic has exacted a new assault against health care workers in the region. Kamara, who has delayed his own retirement plans, worries about his sick mother who recently suffered a stroke and needs his help. "I want to retire soon," he says, "but I don't think I can. Some of the eight [remaining surgeons] have actually retired but they come back to work because we desperately need them."
An operating room at Connaught Hospital in Freetown, Sierra Leone. Two surgeons who worked at the hospital have died from Ebola. Photo credit: Anna Dare.