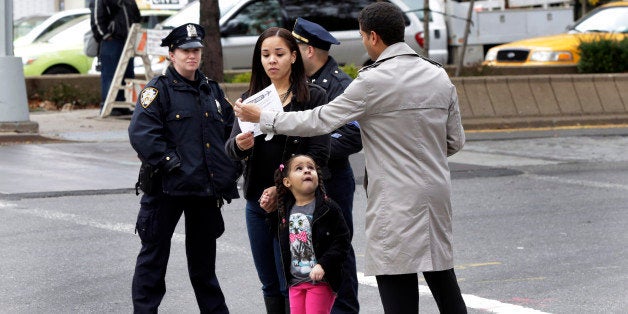 NEW YORK -- As news of New York City's first confirmed Ebola case spreads through the city, New Yorkers -- even those at the hospital where the patient is being treated, who rode the same subway lines he traveled on and who live in his building -- are remaining markedly calm.
"I'm not really scared," Neil Bridges, an architectural surveyor riding the A train Friday morning, told The Huffington Post. He held up his backpack, which contained a package of wet wipes in the side pocket. "I've worked in a lot of dirty buildings. I always keep clean."
Zachary Hasselbring, a New York University student also on the A train, agreed. "I think everybody's overreacting a bit," he said. "It's blown out of proportion."
Meanwhile, it was business as usual at Bellevue Hospital, where the patient, Dr. Craig Spencer, is currently being treated. People milled about, talking and laughing, while doctors and nurses discussed their lunch and weekend plans.
"I worked here for 35 years," Robert Berger, the former director of the hospital's forensic psychology department, told HuffPost. "It doesn't make me nervous. This health institution is really on top. You can't get better medical treatment."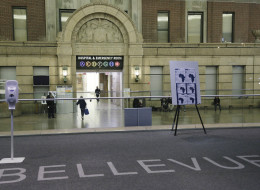 The lobby of Bellevue Hospital.
Ayesha Hossain, who was admitting her mother for a medical procedure, didn't know about the Ebola case until receiving a text message from her daughter on the way in. "I'm not worried," she said. "Just because somebody came here doesn't mean I'll get it."
On Thursday night, Spencer, a Doctors Without Borders physician who had recently returned home to New York after treating Ebola patients in Guinea, tested positive for the disease. Spencer, 33, reported a 100.3 degree fever and gastrointestinal problems that morning, after which he was rushed to Bellevue. He is the fourth person in the U.S. to have been diagnosed with Ebola and is currently being held in isolation.
Officials have been retracing Spencer's steps in an effort to determine whether other New Yorkers could have been exposed to the virus, which is transmittable only through bodily fluids and when patients are exhibiting symptoms. Earlier this week, Spencer reportedly went on a 3-mile jog, visited the High Line park in Chelsea and a bowling alley in Williamsburg, took the A, 1 and L subway lines, and rode in a taxi through Uber.
Despite these reports, many New Yorkers remained undeterred. "I am as nervous as a prudent concern would make me," Davis Marcey-Neil, a writer riding the A train Friday morning, told HuffPost. "I'm a New Yorker. We can handle it."
Riqui Lawrence, a makeup artist who lives in the same Upper Manhattan apartment building as Spencer and his fiancée, said he isn't scared of contracting the disease himself, though he added that other neighbors are nervous. "From my understanding, we have nothing to worry about," Lawrence said. "There are legitimate concerns, but you have to do your research and you have to get your facts straight. [Spencer] didn't throw up in the elevator; he didn't have an accident."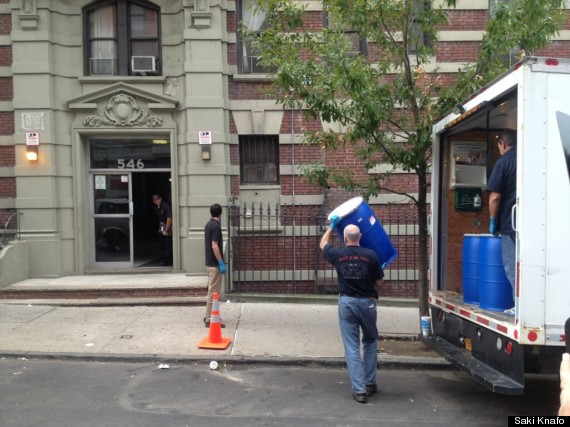 A cleanup crew enters Spencer's apartment building in Upper Manhattan Friday.
Lawrence added that he thought it wasn't smart for Spencer, who had knowingly been in contact with Ebola patients in Africa, to have spent time outside his apartment on Wednesday. "I think it was one small error of judgment," he said. "He's a good-hearted person."
Individuals who safely treat Ebola patients are typically told to monitor themselves for symptoms for 21 days following exposure, which is the maximum amount of time it can take for the virus to incubate. Authorities have been quick to defend Spencer's actions, emphasizing that he didn't exhibit any symptoms until Thursday morning.
At a press conference Friday, New York City Mayor Bill de Blasio said that Spencer's fiancée, Morgan Dixon, is currently being quarantined, and officials are monitoring Spencer's other contacts to see whether they, too, should be held.
De Blasio added that the response team has been adhering to strict protocols and that its execution thus far has been seamless. "We are fully prepared to handle Ebola," he said. "Our medical experts here in the city have been studying this disease intensively and working with our federal partners. ... We have the finest public health system not only in this country, but anywhere in the world."
At Columbia University Medical Center, where Spencer works as an emergency medicine fellow, researchers and hospital workers went about their days as usual. Groups of workers dressed in hospital scrubs chatted as they walked out on their lunch breaks, and a group of incoming medical students toured the facilities for orientation.
Spencer hasn't been back to work since returning from Guinea, but his case was clearly on people's minds. Medical students bantered about it in the lobby. The university sent an email out to students and staff explaining the situation. While doctors and students said they weren't worried about contracting the disease themselves, a few expressed concerns that officials have yet to explain how Spencer became infected in the first place.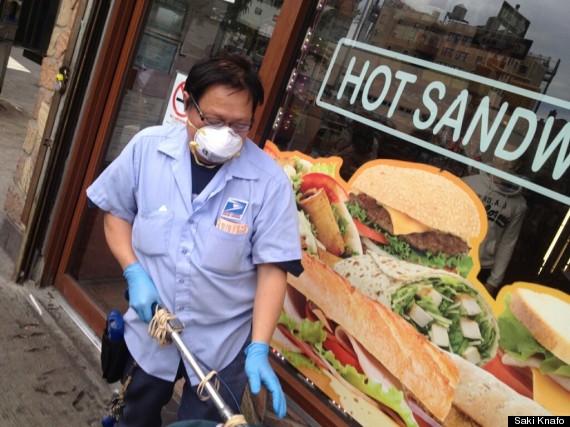 A masked and gloved mailman delivers mail in Spencer's neighborhood.
"It worries me that doctors who know the measures to take, who know what they're doing, are getting infected," said Tomás Casados, a postdoctoral student who researches breast cancer. "They say it's not so easy to get the disease. But you don't really know to what extent this is true."
Pascaline Aime, a research scientist studying Parkinson's, said she felt "safe" within the hospital, but still wanted to know how it was possible for Spencer to contract the disease. "He was a doctor, wearing protective gear," she said. "If they said, 'Oh, he messed up with his gloves' or something, I would feel better."
Officials are doing everything they can to squash rumors and quell unnecessary fear. Councilman Mark Levine, who represents the district that includes Spencer's apartment building, handed out informational leaflets to passersby Friday. "I'm trying to counter [the fear] with straight medical facts," he said, gesturing toward a mailman wearing a protective mask and gloves. "We have a lot of educating to do."
Indeed, a lack of awareness about Ebola and the way it's transmitted appears to be the driving force behind individuals' nervousness. Outside Bellevue, Jennie Gonzalez, a college counselor at the U.N. International School, said she wished authorities would provide more information about the measures they're taking to treat Spencer. "They're only saying that progress is going well, but a lot of people don't know how to prevent it," she said. "This is New York City. We have a lot of people spitting in the street."
A block away from Gutter, the bowling alley Spencer visited on Wednesday, Williamsburg resident Megan Dueno said she has been carrying hand sanitizer around with her, adding that she isn't sure if it will protect her. "It sucks," she added. "Now Williamsburg has Ebola."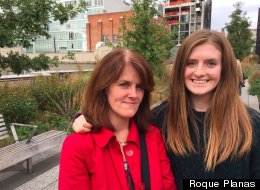 Sheila Woods with her daughter, Ali.
But despite isolated instances of worry, by Friday afternoon, things appeared to be returning to normal at nearly every business Spencer had visited over the past few days. Throngs of tourists and New Yorkers alike packed the High Line park, and Gutter, which shut down Thursday night after news of Spencer's diagnosis, prepared to reopen.
"I'm not concerned," said Sheila Woods, who was walking along the High Line on Friday afternoon with her daughter. "When I heard [Craig Spencer had been here earlier this week], I said, 'I'm still going.'"
Even out-of-towners remained calm. "We're not worried. It's not on my mind," said Jeppe Klausen, 32, a tourist from Denmark who was at the High Line with friends. "It's one guy. We didn't kiss him or anything."
Others added that the only things stoking their fears were incessant media reports.
"We were watching the news this morning and it was two hours of nonstop Ebola," Raquel Tello, who's visiting New York from Toronto, said on the A train Friday morning. "But we got our hand sanitizer."
Matt Sledge contributed reporting.