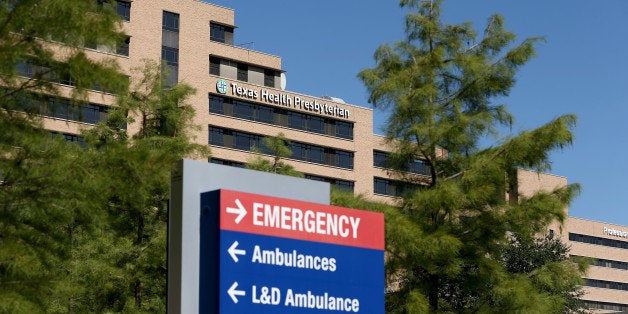 Ebola! The news media has focused attention on an outbreak of the Ebola virus in the past month. According to the CDC, ebola causes the disease with "symptoms ranging from fever (greater than 38.6°C or 101.5°F), severe headache, muscle pain, weakness, diarrhea, vomiting, abdominal (stomach) pain and unexplained hemorrhage (bleeding or bruising). Symptoms may appear 2 to 21 days after exposure to Ebola. People who recover from an Ebola infection will develop antibodies that last for 10 years."
The World Health Organization has reported more than 5,800 cases of Ebola causing more than 2,800 deaths in the current outbreak. However, as reported in the Washington Post, the United States Centers for Disease Control and Prevention "assumes the actual number of cases is 2.5 times higher than what is officially known." The CDC projects that 1.4 million people could be infected in Liberia and Sierra Leone by the end of January 2015.
The first person diagnosed with Ebola in the United States is Thomas Eric Duncan. On September 20, 2014, Duncan, a Liberian national, arrived in Dallas. Reports indicate he came to marry his girlfriend. The couple has a son together. Duncan's case has created anxiety, turmoil and discussion in this country.
Duncan fell ill a few days after arriving in Dallas. He went to the emergency room but he was sent home. Two days later he returned to the hospital with worsening symptoms. Many people are concerned by Duncan's condition; some are troubled about how he is being treated.
Duncan's case raises an ethical and moral question: Who gets treatment and why? The two American missionaries who contracted Ebola in West Africa were given access to an experimental drug cocktail called ZMapp. The drug has immune-boosting monoclonal antibodies that were extracted from mice exposed to Ebola DNA. This drug is not provided for the thousands of Africans who have the Ebola virus, including those who have died and might have been saved if given the experimental drug. Duncan is not being treated with the medication.
There is the question of the affordability of the drug and its efficacy. It is reported that doctors are not using the medication with Duncan for fear it might worsen his condition.
But there are also questions of giving the drug only to those whose cases will bring media attention -- like the two white missionaries. Use in such high-profile cases could increase the number of investors and the amount of government money for further research into the drug cocktail.

The use of ZMapp raises the question of privilege. Is it only those with better connections to positions of power who will get a fighting chance to receive this experimental drug?
When Thomas Eric Duncan first became sick and went to the hospital, he was treated with antibiotics and sent home.
Duncan did not receive screening tests for Ebola on this first visit. The question is, why did they not keep him in the hospital for further screening and treatment? Accounts differ, but apparently Duncan did tell the hospital staff that he had travelled from Africa. While the hospital staff reports he did not say he had come from Liberia, should not the combination of his symptoms and his travel from Africa raised further questions?
Duncan has a foreign accent, black skin, and no health insurance. From a theological perspective, Thomas Eric Duncan is one of our brothers described by Jesus as the "least of these." What role did his lack of privilege play in the treatment he received? He is being treated as a criminal rather than as a patient.
Duncan returned to the hospital when his symptoms became more severe. This time, he was admitted and is now in critical condition. And the question remains: Had the correct diagnosis been made on his first visit and he have received the appropriate treatment sooner, might he be better by now?
We are familiar with the stories of lepers during the time of Jesus. Jesus did not reject the lepers but rather touched and healed them. "Jesus reached out his hand and touched the man. 'I am willing,' he said, 'Be clean!' Immediately he was cleansed of his leprosy." (Matthew 8:3). On another instance, Jesus healed 10 lepers (Luke 17:11). Jesus even visited the house of Simon the Leper at Bethany where a woman anointed his head with a costly perfume (Matthew 26:6-13).
Rather than turning lepers away, Jesus had compassion for them. "Whatever you did not do for one of the least of these, you did not do for me." (Matthew 25:45). Jesus healed the sick, welcomed outcasts, and embraced the people living in poverty. He invites us and challenges us to do likewise.
As followers of Jesus, we are called to work for the day when those with privilege, most often white people, have greater access to better medical care than those whom Jesus calls "the least of our sisters and brothers." As we treat our brothers and sisters, Jesus reminds us, we treat him. We are called to work for the day when everyone receives equal access to medical care. We need to save Thomas Eric Duncan.
Popular in the Community