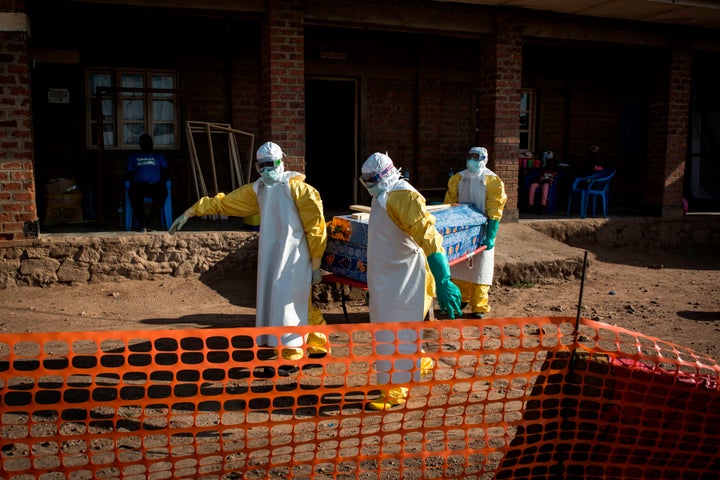 More than three weeks into the latest Ebola outbreak in the Democratic Republic of Congo, 61 people have died ― making this eruption among the nine largest Ebola outbreaks since the deadly hemorrhagic fever was first identified in the 1970s. And global health experts are concerned this may be just the beginning of the fight in an already embattled region.
The northeast region of North Kivu has now identified 105 cases of Ebola since Aug. 1 ― nearly double the count of the previous outbreak in Congo that made headlines this spring.
North Kivu is home to about 1 million displaced people due to the ongoing threats from armed rebel groups in the area. The United Nations has its largest peacekeeping mission there and considers the region a U.N. Security threat level 4 (on a five-level scale).
Global health experts are also worried about other factors contributing to the rapid spread of the disease, including a high infection rate among health care workers, porous international borders and other geographical difficulties, resistance from local communities to ceasing unsafe burial practices and an impending rainy season that could hamper logistical efforts.
"We are on an epidemiological precipice," Peter Salama, the World Health Organization's emergency response chief, warned last week.
Citing Salama's comments, Dr. Thomas Inglesby, director of the Johns Hopkins Center for Health Security, told HuffPost, "We don't know how this is going to go."
While the current public health risk posed by the Ebola outbreak at the regional and national levels is high, according to the WHO, the global risk is low. The latter may be thanks to the international community's swift intervention and investment, which could cost up to $43.8 million.
And yet experts say this battle is far from over.
"We are truly at the crossroads," Salama said at a WHO briefing on Friday. "On one hand, the response is scaling up really well. ... However, due to the trajectory of the initial set of cases and the likely amplification from health care facilities, we're very likely to continue to see at least one additional wave of cases."
Local Clinics Could Become Transmission Hotspots
Infection among health care workers is always a concern in major outbreaks because those people come into close contact with many others, easily passing along the infection. With 14 health care workers infected so far, local clinics in North Kivu are at risk of becoming transmission hotspots and expanding the outbreak, Salama said Friday.
"Health care facilities and workers seem to be driving the epidemiology and its amplification," Salama said.
The infections among health care workers may be due to two factors, said Dr. Mesfin Tessema, senior director of health for the International Rescue Committee.
Since most of the region in northeast Congo where this outbreak is taking place had never seen Ebola before, many health workers were not equipped to recognize the symptoms and protect themselves and others, Tessema told HuffPost. In addition, the vast majority of health care clinics in the area do not have electricity or running water, which meant instruments and hands were being washed in a common bucket ― a recipe for further infection.
"The stories that we're hearing about potential exposure in the health care settings and people having extended periods of illness in their home make us concerned that we will see another wave of infection," said Dr. Inger Damon, the director of the Division of High-Consequence Pathogens and Pathology at the Centers for Disease Control and Prevention.
When It's Dangerous Even To Track Cases
In order to track people who might be exposed to Ebola, health teams need to go deep into a community to find potential cases ― and then monitor them twice a day for three weeks over the possible incubation period. That can be difficult in places where an armed escort is needed for even the simplest travel.
Salama called the "red zones" ― the areas of highest security concern where health workers are now required to travel with armed military escorts ― blindspots for the Ebola response.
"I don't believe ... that we are likely to be missing a large cluster of cases [in the red zones] ― that's highly unlikely," he said at the WHO briefing. "But what I cannot rule out is that there are a small number of cases in those security blindspots that we are missing or perhaps will be delayed picking up for a few days because of security issues."
Salama detailed how his worst fears were realized when a doctor in the town of Oicha, whose access road is controlled by the Allied Democratic Forces (ADF), was confirmed to have Ebola. The violent rebel group has a practice of taking hostages ― including priests, nonprofit workers and government personnel ― which amplifies the security risk.
The threat that health care workers could be kidnapped for ransom or to treat insurgent members was one of the reasons that many community health care workers don't identify themselves as such publicly, said Tessema, who was in the North Kivu city of Beni last month for a separate health project.
"Despite the fact that WHO and others have appealed to fighting forces for access for health care workers to resume their work, we haven't heard from any groups that they have welcomed anyone," Tessema said. WHO Director General Tedros Adhanom Ghebreyesus called for free and secure access on Aug. 12.
Salama said that while there had been no direct contact between the ADF and the WHO, indirect contact had been made.
Meanwhile, the start of the rainy season is throwing a wrench in some of the preparations for Doctors Without Borders' second Ebola treatment center in the outbreak zones in North Kivu, experts said. It's also making travel more challenging as the rain floods dirt roads.
The Threat of Community Pushback
Another great concern for Inglesby and Tessema was the news that people in Mangina ― which is considered the epicenter of the outbreak ― have been resistant to adopting safe burial practices. That kind of community pushback can be deadly, Tessema warned, and led to some of the more severe outbreaks during the 2014-2016 Ebola epidemic, which killed 11,300 and infected 28,600 more in West Africa.
"The success in all Ebola outbreak response is dependent on identifying cases and isolating them and preventing the spread to their close contacts either in the hospital or in their communities," Inglesby explained. "If unsafe burial practices are going on, then family members or friends of victims of Ebola are going to be exposed and potentially spread it further in the community."
Authorities were alerted to the current outbreak after the July 25 death of a 65-year-old woman with hemorrhagic fever symptoms and the subsequent deaths of seven of her family members after her burial.
"Despite our best intention, people might decide to hide bodies, which is an epic risk," Tessema told HuffPost.
Community pushback hasn't been limited to burial practices, either. A group of youth burned down a health center and slightly injured an Ebola vaccinator in the village of Manbango, which is outside Beni, after learning of the death of a villager, Salama said.
A 'New Normal'
For Inglesby, the occurrence of Ebola outbreaks so close to each other is highly concerning, especially at a time when the world is seeing a rising number of outbreaks of the worst kinds of pathogens.
"If you track major international outbreaks, there's a real staccato," he said. "And I think we should presume that this is the new normal given the pattern of the last 5 to 10 years."
"Never before has Ebola struck in an area with [such] a scale of chronic insecurity and humanitarian crisis."
Global health experts were heartened to see WHO Director General Ghebreyesus and CDC Director Robert Redfield in Congo last week alongside that country's health minister, Dr. Oly Ilunga. Their presence indicated high-level investment in combating the outbreak.
Redfield could be key in lobbying for higher U.S. engagement if it's needed, Inglesby said. He credited then-CDC Director Tom Frieden's firsthand visit to West Africa in August 2014 as critical to influencing heavy American involvement in fighting that epidemic.
As for U.S. aid in the current outbreak, eight experts from the CDC have been deployed to Congo, while nine more have been sent to Uganda to monitor the situation at the two nations' border. The U.S. Agency for International Development has sent 20,000 personal protection equipment kits (which include full-body coverage, heavy-duty gloves and goggles) and 50,000 universal care kits (which include surgical masks, face shields, gloves and disinfection materials).
"Never before has Ebola struck in an area with [such] a scale of chronic insecurity and humanitarian crisis," a spokesperson for the White House's National Security Council told HuffPost. "We recognize that insecurity and access constraints and continued population displacement ― and movement across nearby international borders ― will make this outbreak challenging to control."
Support HuffPost
The Stakes Have Never Been Higher
Popular in the Community