WASHINGTON -- One person in the United States has died from Ebola. And that person, so far, has infected just two people -- both health care workers tending to him in a Dallas hospital. And yet, a large chunk of the country is fearful over the possibility of this disease spreading uncontrollably, which has resulted in the disruption of some basic societal functions.
Flights have been delayed. Kids have been forced to stay home. Businesses are shuttering their doors. Travel agencies are revising their itineraries. Speeches have been canceled and conferences rearranged.
The Huffington Post reviewed dozens of news articles from all 50 states to get a good sense of how prevalent Ebola-panic is on the local level. The results show a country struggling to come to grips not just with a potentially deadly disease, but also with the wave of fear and (at times) paranoia it's inspired. As the associate director for Rocky Mountain Laboratories in Hamilton, Montana, recently bemoaned, "I can't deal with this 'Fearbola' that's become a second epidemic."
Schools:

Teachers and students across the country have stayed home in response to concerns over Ebola. In Maine, an elementary school teacher was recently put on paid leave for up to three weeks after parents complained that the teacher had traveled to Dallas, where there have been a few Ebola cases. On Sunday, a similar precaution was taken at a high school in Phenix, Alabama, after an employee flew on the same plane as a person who contracted Ebola -- even though the employee flew a day later, long after the aircraft had been cleaned.
Last week, kids were asked to stay home from school in Shaker Heights and Solon, Ohio, over Ebola fears. A New Jersey elementary school reported on Saturday that two students from Rwanda -- a country not hit by Ebola -- would stay home for three weeks after parents complained that they may spread the virus. In Pennsylvania, a high school soccer team allegedly chanted offensive "Ebola" taunts to a teenager from Guinea.
In Oklahoma, a school district told parents that it planned to pull students out of school who had traveled on a cruise ship with a hospital worker who may have been exposed to Ebola, The Washington Post reported.
Speeches and Visits:

Universities also haven't been immune to Ebola panic. Three schools -- the University of Georgia, the University of South Florida at St. Petersburg and Syracuse University -- have canceled visits over Ebola fears, Poynter notes. The canceled speakers include a Pulitzer Prize-winning reporter and a Liberian journalist who planned to discuss the Ebola crisis. The University of New Mexico has canceled student trips to countries in Africa, putting the kibosh on a student volunteer trip to Kenya.
In Boca Raton, a delegation from West Africa pulled out of a "millennium campus conference" meeting over Ebola fears.
Some Businesses Are Struggling:

The World Bank estimates that Ebola could cost West Africa tens of billions of dollars by the end of 2015. U.S. businesses are feeling the damage, too. In Brooklyn Park, Minnesota, Ebola is killing business at a local Liberian restaurant. "We have had customers coming in and actually standing in front of us at the counter saying, 'do you have Ebola?'" a restaurant spokesperson told KARE/NBC. The restaurant usually sells 160 pounds of chicken every five days. That's dropped to 80 pounds.
A bridal shop in Ohio shut down last week after an Ebola-infected nurse shopped there. The store's owner told The Akron Beacon Journal, "This is getting blown out of proportion."
In Baltimore, a ship bound for West Africa was briefly delayed after longshoremen initially refused to load it over Ebola concerns, while a Louisiana waste facility has refused to accept an Ebola victim's incinerated bedding. A Colorado-based safari travel agency reported that Ebola is hurting business.
Protective Gear Business is BOOMING:

On the upside, the business of protective gear is booming. David Scott, president of LifeSecure, told The Chicago Sun-Times that his business recently sold out of a kit that includes "disposable eyeshields, biohazard bags, protective masks, vinyl gloves and hand sanitizer," the paper reported. An Idaho-based store reported selling out of almost all respirator masks. And in Arvada, Colorado, gas mask sales have "tripled" in recent weeks, 7News Denver reports.
Travel Delays:

Flights have been delayed or grounded in North Carolina, Texas and Alabama over Ebola fears. At Birmingham Shuttlesworth International Airport, passengers were detained after "someone may have mistakenly thought that Istanbul, Turkey, was an 'Ebola hotspot,'" AL.com reported. At Portland International Airport, a child examined over Ebola concerns turned out to have eaten "too much junk food," The Oregonian reported.
False Alarms:

In Georgia, an inmate was charged with making false statements after he reportedly claimed he had recently traveled to a country in Africa, igniting Ebola fears. Another prisoner is said to have pulled a similar stunt in Las Vegas. A man in Ohio was charged with a felony for causing panic after he allegedly joked in a casino that he was dodging his Ebola-infected ex-wife.
At Southwestern College, in Chula Vista, California, a student said she might have Ebola in order to get out of class. In Jefferson Parish, Louisiana, a woman reportedly lied to health officials about having contact with a person who may have been exposed to Ebola. In Franklin County, Kentucky, a prankster posted a fake "Ebola safety" flier, prompting law enforcement concerns. And the AARP Idaho is warning seniors to stay away from scammers exploiting Ebola panic.
For all the panic, however, the collective psyche of the country may be turning a corner. That bridal shop in Ohio that was visited by the nurse infected with Ebola saw a loss of business because of that association. But on Friday, the Cleveland Plain Dealer caught up with a man who spent a good 20 minutes in there getting fitted for a tux for his friend's wedding. He wasn't all that scared.
"I didn't exchange any bodily fluids with anyone, so I'm not worried about it," attorney Peter Pattakos, 36, told the Plain Dealer. "I'm much more likely to be mistakenly killed by a police officer in this country than to be killed by Ebola, even if you were in the same bridal shop."
Before You Go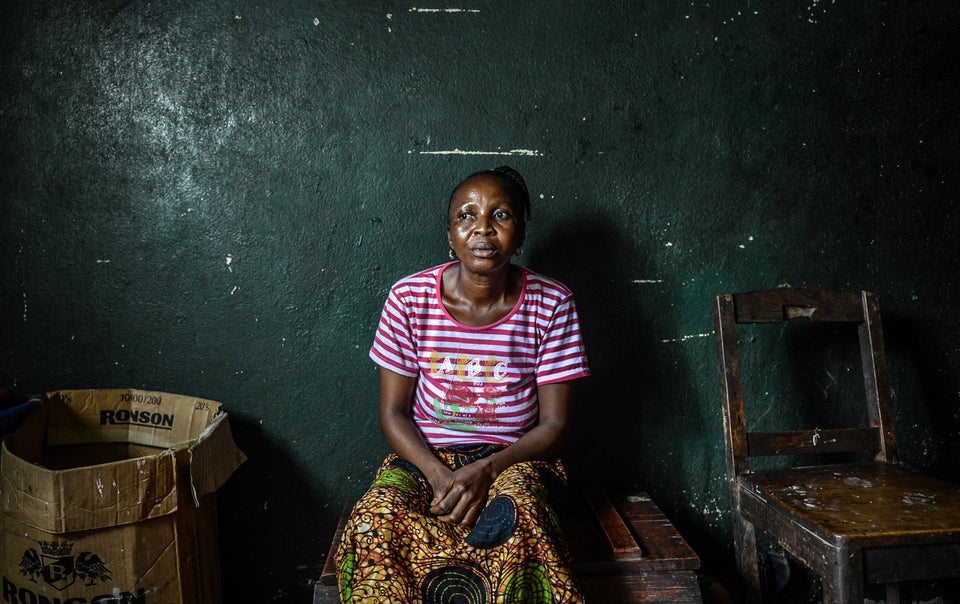 Ebola in West Africa
Popular in the Community