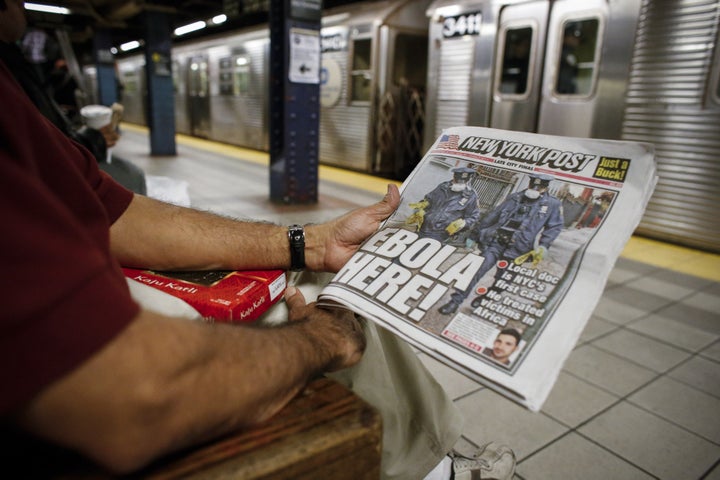 Tuesday was a big milestone in the global fight against the Ebola epidemic. While the outbreak is still ongoing in parts of West Africa, the World Health Organization declared that the virus is no longer an international health emergency.
"Ebola transmission in West Africa no longer constitutes an extraordinary event," the organization's emergency committee said. "The risk of international spread is now low, and... countries currently have the capacity to respond rapidly to new virus emergencies." 
It's a major and welcome development in a health care crisis that has killed more than 11,000 people worldwide and infected more than 28,000, almost all of them in the West African nations of Liberia, Guinea and Sierra Leone. But it will almost assuredly not register strongly among the U.S. press corps. Reporters have long since moved off the story.
Which is odd, considering how completely panicked the country was for a period of time. Though Ebola killed just one person on U.S. soil -- and though that person hadn't even contracted the disease in America -- there was a collective freakout that the disease would bring about an apocalyptic nightmare here.
Travel bans were demanded, talk of Ebola becoming suddenly airborne was rampant and people started worrying about eating certain kinds of chocolate. Some schools closed their doors because of the presence of children from Africa (not any of the affected countries, mind you -- just the continent). This, despite repeated assurances from public health officials that while the disease was very deadly, it was not very contagious in a country like ours. (Also, like, where was all the concern and alarm about Ebola when it was decimating communities in Africa but hadn't yet arrived in the U.S.?)
Anyway, in light of Tuesday's good news, we thought it would be helpful to offer a reminder of those frantic, harrowing months before the 2014 campaign. So we are re-posting this timeline we created for the one-year anniversary of the day America lost its mind over Ebola.
REAL LIFE. REAL NEWS. REAL VOICES.
Help us tell more of the stories that matter from voices that too often remain unheard.