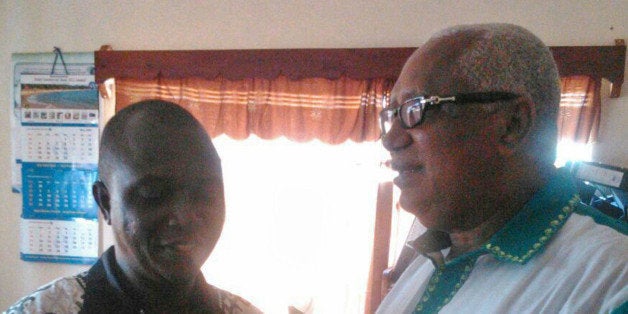 Caregivers at the front lines of the Ebola virus outbreak are at particularly high risk for contracting the disease -- a sobering fact recently underscored by the news that five co-authors of an ebola genome study died of the virus before its publication.
The research project, published in the journal Science, sequenced ebola virus genomes from 78 different patients. Mapping out the genetic sequences of what turned out to be 99 different "isolates" of the disease enabled scientists to plot its mutations over time and trace how it arrived in Sierra Leone and spread from person to person.
The collaborative effort between scientists at Kenema Government Hospital in Sierra Leone, Harvard University, Tulane University and others was groundbreaking in many ways, explained first co-author Stephen Gire, a research scientist at Harvard University and the Broad Institute.
Most importantly, this is the first time researchers are getting a genetic picture of what ebola looks like during a human outbreak. The study also provides more data on how the disease operates among humans versus animals, gives doctors a tool to validate whether the ebola virus diagnostic tests are working, and will hopefully help develop vaccines and therapeutics for the disease.
And none of it would have been possible without the vital contributions of the researchers lost to Ebola virus, said a grieving Gire in a phone interview with The Huffington Post.
"I'm continuing to use that emotion to honor the memories of these people by continuing to work hard and push forward in our efforts," said Gire. "Hopefully [we'll] bring something to the field that can help in this outbreak right now, as well as future outbreaks."
The names of the co-authors who lost their lives to ebola are Mbalu Fonnie, Alex Moigboi, Alice Kovoma, Mohamed Fullah and Sheik Humarr Khan. Sidiki Saffa, a sixth co-author, died of an unrelated condition, reports Gretchen Vogel of Inside Science. The co-authors had contracted the disease from colleagues or family members, Inside Science reports, and Gire confirmed to HuffPost that there have been no laboratory-acquired cases of ebola virus associated with this research.
Gire was in Sierra Leone working alongside Khan and his team in July, and recalled how difficult the working conditions were for his team, who collected the samples. But even more difficult were the workloads of his Sierra Leone colleagues, who were all simultaneously trying to treat patients, conduct public health campaigns about the virus and contribute to the genetic research.
"Being on the ground is really intense and chaotic and you're working around the clock," said Gire. "It's really draining physically and emotionally." After the trip, Gire and others returned to their home countries to process the samples they had collected, but the feeling of urgency never let up because of the pressing need to get the word out about what they had found in the blood samples. It was during that time that Gire started to get word about his colleagues in the field contracting, and then eventually dying, from ebola virus.
"It's really difficult because you don't have time to feel it -- there's such an urgency in this outbreak to offer some kind of information and support," said Gire. "Then all of a sudden it builds up, and you have start dealing with it; it's very, very heartbreaking."
But in addition to grief, Gire is also in awe of the global scientific collaboration he witnessed in the field, as well as Sierra Leone's groundbreaking approach to real-time research alongside an outbreak.
"The fact that they were willing to allow genomic sequencing as part of their emergency response was a huge leap forward as far as what we can do for the outbreak of any disease, not just ebola," said Gire. "It really does give us new tools to use in validating epidemiological models for infectious diseases, or tracking transmission that we may not have been able to do prior to efforts like this."
Currently, the ebola virus has infected 3,069 and killed 1,552 in Guinea, Liberia, Sierra Leone and Nigeria, according to the World Health Organization. WHO also predicts that the disease could infect up to 20,000 people before the outbreak stops.
Below, Gire offered a few thoughts on his colleagues who died in Sierra Leone. To learn more about their lives, head over to Inside Science.
"Dr. Sheik Humarr Khan really did an amazing job of pushing this science of data forward. He was such a proponent of making sure that data was being given to the Ministry of Health, which was then disseminated to the public. He knew how integral it was to understand this outbreak and provide information for scientists. He was the guy on the ground that made it happen. Without him, we wouldn't have had any of this data."
Mbalu Fonnie: "She was head nurse of the Lassa ward. Before ebola came, the ward was specifically designed for Lassa fever, which is another hemorraghic fever similar to ebola. She had tons of experience dealing with patients with hemorrhagic fever. She was definitely the mother of the operation. She was a pillar in the community and so was her husband. Her husband [who died a year ago] was involved in the research an the outreach for Lassa Fever. They both were just highly regarded in the community for their work on Lassa Fever."
Alex Moigboi & Alice Kovoma: "Alex and Alice were both nurses in the ward, and they were both involved with the first several cases [of ebola virus] that entered into the county. They played an integral role in the beginning outbreak. They were all so brilliant and great people and they worked so hard and they made such a huge impact in their country for disease efforts."
"Mohamed Fullah was a lab technician and he was a hematologist as well. He ran his own practice outside of the hospital. He was one of the funniest people I've ever known. He always joking and laughing, and when he was outside the lab he always had his headphones blasting. Just a really great spirit and has done really great work with lassa fever. He played a huge role in diagnostic capability to diagnose lassa fever, and played a similar role in the ebola effort as well."
Related