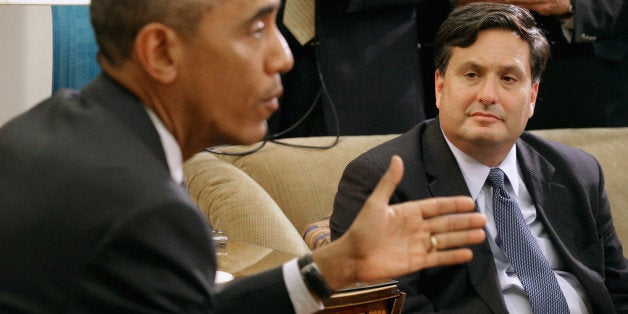 The World Health Organization's announcement has been discussed just four times on CNN, according a HuffPost review of TV transcripts. Fox News ran four segments, MSNBC just two, CNBC and Fox Business ran none and Headline News ran five. None of the segments took place after the weekend.
That the public's attention toward Ebola has waned as the news about the disease has become far less apocalyptical isn't a surprise to those who worked on combatting the epidemic.
"One of the privileges of living in a wealthy, great country is your ability not to have to worry about things. And I don't begrudge anybody for moving on," Ron Klain, who led President Barack Obama's Ebola response, said in an interview with The Huffington Post last week.
Klain spoke for over 40 minutes with HuffPost. Listen to the full conversation above.
This audio interview was edited by Ibrahim Balkhy.
What worries Klain is that some fundamental lessons could be lost thanks to the public's short attention span -- mainly that in moments of crisis, government can do remarkable work. When he started, Klain noted, estimates were that West Africa would experience 1 million deaths by the end of January 2015. The fact that so many fewer people actually died was not a chance or accident, Klain said.
"I hope it stands as an example of what our government can do, and I hope it stands as an example of why we need a government," Klain said, citing things like federally funded scientific research, a robust public health system and airport screenings. "All these pieces were there that, yes we had to assemble, yes we had to activate, yes we had to train up, yes we had to get the right procedures in place, but they had to be there in the first place. Hopefully, it's an example of the good things our government can do when we need it."
Klain was tapped by the president on Oct. 17 to help coordinate the government's response to the Ebola crisis. The day before, the head of the Centers for Diseases Control and Prevention admitted during a congressional hearing that the agency had allowed a nurse to board a commercial flight even though she'd tended to a sick Ebola patient.
"Everyone from the president on down would have liked that all these questions, all these practices and procedures in place before this thing happened, but this was a case of first impression," Klain said, noting that the mistake wasn't repeated.
His appointment was immediately criticized by those who wanted someone with public health experience to lead the effort. The administration insisted that the crisis called for someone who could coordinate different federal agencies as they spearheaded an international medical response and tried to prevent Ebola from cropping up at home. Klain, a longtime Democratic operative, fit that bill.
One of the most frightening things he discovered upon entering the job, he recalled, was not only how difficult it would be to mobilize care in West Africa -- where a modern medical infrastructure was virtually nonexistent -- but also the lack of resources at home.
"What we found was we had three hospitals ready to treat patients with Ebola, with probably a grand total of six beds, maybe seven, maybe eight," Klain said.
A shortage of hospital beds wouldn't ultimately be huge hurdle, as the instances of Ebola within the United States ended up being relatively minor. But even as the disease remained contained within the nation, the public's anxiety was not. Several governors defied the administration's protocol and implemented travel bans from West Africa -- a policy that Klain described as odd since there were no direct flights to the U.S. from the countries dealing with the outbreak. Still, he recognized the legitimacy of the panic.
Part of Obama's strategy to counteract the heightened concern was to embrace health care workers coming back from service in West Africa -- literally. Klain said the president wanted to be hands-on with volunteers, giving them hugs, so that other people would continue signing up to fight the epidemic.
"He understood that one thing he could do to try to encourage people to continue to volunteer, one thing he could do to try to reassure the American people that sending folks to West Africa and bringing them home was safe, was to be physically demonstrative in doing that," Klain said. "And both lauding the heroism of the folks who were going and demonstrating to people that it's OK when they come back to shake their hands, hug them. That was his instinct of the right thing to do, and he did it."
Klain said the American people were right to be somewhat anxious about Ebola, given its lethality. But he also expressed confidence that with the right procedures in place, it could be contained. For that reason alone, Klain said the administration actually saw opportunity in the late October news that Craig Spencer, a doctor in New York City who returned from Guinea, had contracted the virus.
"Obviously [it was] anxiety-inducing to have a highly infectious disease in our most populous city, no question about that," recalled Klain. "But on the other hand, we also knew that if we did it right, if we got Dr. Spencer into treatment and isolation quickly, if that treatment resulted in no one else getting sick, no one in the civilian population getting sick, no one who treated him getting sick, it would also be the most scrutinized place in America, and the word would go forth from New York City that in fact the policies and practices we had in place were keeping the American people safe."
Calling all HuffPost superfans!
Sign up for membership to become a founding member and help shape HuffPost's next chapter
BEFORE YOU GO