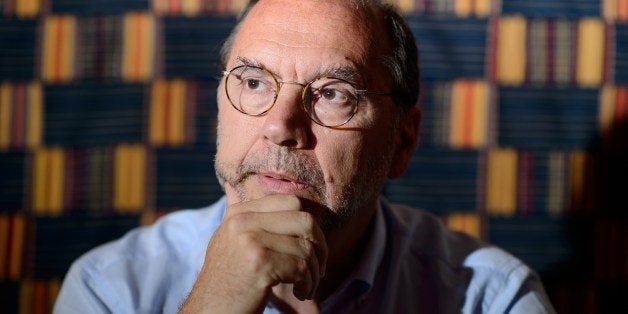 The following post is adapted from the book No Time To Lose: A Life in Pursuit of Deadly Viruses by Peter Piot. (Copyright 2012 by Peter Piot; with permission of the publisher, W. W. Norton & Company, Inc. All rights reserved. UK readers can get more information here.) Prof. Piot is director of the London School of Hygiene & Tropical Medicine, and former Executive Director of UNAIDS and Under Secretary-General of the United Nations. He co-discovered Ebola in 1976. Prof. Piot introduces his post with new observations from this week.
The current Ebola epidemic is unprecedented. Over 7,000 cases and more than 3,300 deaths so far. It's the first time that entire nations are affected; it's the first time that capital cities with huge urban populations are involved. And it's the first time the virus has been diagnosed outside of Africa.
In the 38 years since I worked with Ebola, I never thought that the virus would take this kind of dimension, turning from a small outbreak into a horrifying humanitarian crisis.
Thinking back to the initial work of our international team in 1976 in Yambuku, Democratic Republic of the Congo (what was then Zaire), all the lessons we learnt as we pieced together how this devastating virus was being spread are still applicable today. How the virus spreads is no longer a mystery, and we knew exactly how to prevent previous Ebola outbreaks. However, such measures have not succeeded in stopping the current epidemic in West Africa -- to a large extent because they were initiated too slowly and at an insufficient scale.
We urgently need to scale up the provision of skills and resources to bring the humanitarian catastrophe under control. We must build field hospitals and Ebola care units, send health-care staff, medical supplies and logistical coordination, as well as supporting governments and NGOs to stop Ebola transmission through community mobilization to avoid risky funeral and care practices. -- London, October 2014
YAMBUKU, 1976 -- For the next two days we toured villages every morning, taking blood where we could, jotting down every potentially telling detail and piece of data we could muster.
In every village we organized a meeting with the chief and elders. We asked them to describe their experience of the new illness, the number of cases and deaths, the dates, whether they had knowledge of any people currently sick. We questioned every villager we came across about day-to-day practices -- unusual contact with animals, new areas of forest cleared, food and drink, travel, contact with traders.
We heard of entire families who had been wiped out by the swift-moving virus. In one case, a woman in Yambuku had died days after giving birth, swiftly followed by her newborn. Her thirteen-year-old daughter, who had traveled to Yambuku to take charge of the child, fell ill once she returned to her home village and died days later; followed by her uncle's wife, who had cared for her; then her uncle; and then another female relative who had come to care for him. This extremely virulent interhuman transmission was frightening.
Two elements linked almost every victim of the mystery epidemic. One factor was funerals: many of the dead had been present at the funeral of a sick person or had close contact with someone who had. What made those funerals so lethal, apart from this prolonged and intense contact, was the preparation of the cadaver. The body was thoroughly cleaned, and the process often involved several family members, working bare-handed. Since the bodies were usually covered in blood, feces, and vomit, exposure to Ebola virus was enormous -- particularly since the usual custom was to clean all the orifices: mouth, eyes, nose, vagina, anus.
The other factor was presence at the Yambuku Mission Hospital. Just about every early victim of the virus had attended the outpatient clinic a few days before falling ill.
It seemed likely by this point that aerosol contact was not enough to transmit the disease. But particularly in the 18- to 25-year age group, at least twice as many women had died as men. We knew that there was something fishy about the hospital, but this was the real clue. What's different in men and women at that age? Women get pregnant. And indeed, almost all of the women who had died had been pregnant, particularly in that age-group, and they had attended the antenatal clinic at the Yambuku mission.
We politely interviewed the nuns. Sister Genoveva told us quite freely that the few glass syringes were reused for every patient; every morning, she told us, they were quickly (and far too summarily) boiled, like the obstetric instruments employed in the maternity room. Then all day long they were employed and re-employed; they were simply rinsed out with sterile water.
She confirmed that the nuns dosed all the pregnant women in their care with injections of vitamin B and calcium gluconate. Calcium gluconate is a salt of calcium and gluconic acid; it has basically no medical value in pregnancy, but it delivers a shot of energy, and this temporary "high" made it very popular among patients.
In other words, the nurses were systematically injecting a useless product to every woman in antenatal care, as well as to many of the other patients who came to them for help. To do so, they used unsterilized syringes that freely passed on infection.
It was very hard to formulate the words that would inform the sisters that the virus had in all likelihood been amplified and spread by their own practices and lack of proper training. In the end I think we were far too polite about it: I'm not certain at all that it really sank in when we told them our preliminary conclusions.
This post is part of a special series produced by The Huffington Post in recognition of the threats posed by Ebola, particularly to West Africa. To see all the posts in the series, read here.
Calling all HuffPost superfans!
Sign up for membership to become a founding member and help shape HuffPost's next chapter