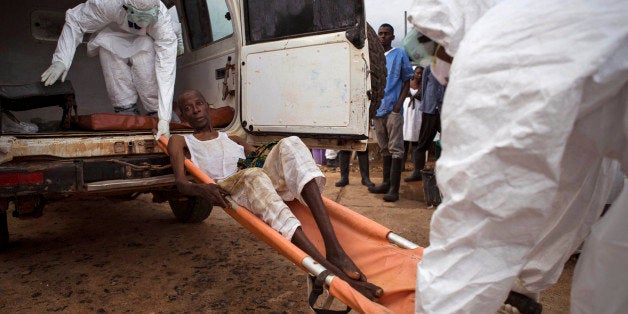 A shipment worth $140,000 in medical equipment to fight Ebola arrived in Sierra Leone on Aug. 9. But not a single life-saving resource from the supply has been used to combat the virus, even as hundreds of people have died in the weeks since.
The shipment -- containing 100 bags and boxes of hospital linens, 80 cases of face masks, 100 cases of protective suits, and other items -- has gone untouched due to corrupt politics in the region, The New York Times reported.
The donation, which came from both individuals and organizations in the U.S., was orchestrated by Chernoh Alpha Bah, an opposition politician in the country. A government official told The New York Times that the shipment has been delayed under President Ernest Bai Koroma in order to avoid giving Bah positive publicity regarding the outbreak. Authorities have refused to pay the $6,500 fee to the shipper, despite the country receiving $40 million for counter-Ebola efforts.
Three other shipments of similar value are in the U.S. waiting to be sent, but the shipper does not want to move forward without receiving the initial payment.
According to the World Health Organization there have been 7,492 confirmed cases of Ebola in West Africa, and 3,439 deaths, The Wall Street Journal reported on Saturday.
Corruption in Africa is not rare. According to Transparency International's 2013 Global Corruption Barometer, more than half of respondents in 14 countries around the world admitted to paying off officials, and 11 of them were in Africa. In Liberia, one of the countries hit hardest by the outbreak, 75 percent said they'd slipped money to officials before.
Corruption in affected countries has furthered West Africans' mistrust in their institutions throughout the epidemic. As the Guardian reported last month, many Sierra Leoneans, Guineans and Liberians even believe the viral epidemic is a result of their governments trying to harm them.
Support UNICEF's efforts to combat Ebola through the fundraising widget below.
BEFORE YOU GO