A patient was diagnosed with Ebola in the United States for the first time, CNBC reported, citing the U.S. Centers for Disease Control and Prevention (CDC).
Until Tuesday, Ebola patients had only been treated in the U.S. after being diagnosed elsewhere.
The CDC gave more details about the case in a Tuesday press conference.
Dr. Thomas Frieden, Director of the CDC, reported that the infected patient was traveling from Liberia and left on September 19th, arrived in the U.S. on September 20th, but had no symptoms of the disease during that timeframe. On September 24th, the patient developed symptoms, and then sought care on September 25th. On September 28th, the patient was admitted to the hospital in Dallas.
When asked why the patient was sent home after his initial visit, Frieden explained that the beginnings of Ebola virus can very often appear similar to common illnesses, adding that his office has encouraged emergency department physicians to be particularly careful to take travel histories and conduct rapid testing on anything resembling the illness. Despite complications in care, he stated that he had "no doubt that we'll stop this in its tracks in the U.S."
Frieden didn't disclose much information about the patient beyond the fact that he is visiting family in the U.S. Doctors didn't reveal his nationality -- or whether he resides in the U.S. or is a tourist. Officials did confirm that he was critically ill and that the hospital was discussing experimental therapies with the patient's family and drug providers.
Zachary Thompson, director of Dallas County Health And Human Services, is leading the public health effort to reach out and interview anyone the patient may have been in contact with in the time that he was showing symptoms, but had not yet been checked into the hospital. It's estimated that only a "handful" of people -- several family members, with whom he was staying, and one to three community members, had direct contact with him during that time, and they'll all be assessed and monitored for 21 days to see if symptoms develop. If they do, their diagnosis triggers the same public health effort: identify everyone they've been in contact with since symptoms started, and monitor them.
"We think, again, it's a small framework that we're looking at in terms of the number of people, but once we get additional information, we'll report out to the public," said Thompson. The CDC also has a support team en route to Dallas to help state, local and hospital officials monitor those who had direct contact with the patient.
While public health officials are casting a wide net to err on the side of caution, Frieden re-emphasized that the Ebola virus was not a significant threat to the general U.S. population, and that any hospital with an isolation unit is equipped to isolate and care for someone who has been diagnosed with Ebola.
"It's a virus that's easy to kill by washing your hands, and easy to stop by using gloves and barrier precautions," said Frieden. For instance, he said, the U.S. has seen several patients with viral hemorrhagic fever in the past, and standard hygiene practices prevented its spread -- even in the case of one patient with Marburg virus who was hospitalized and underwent surgery before being diagnosed.
Currently, the CDC has 130 staffers spread throughout West African countries to help support public health efforts to contain the virus. On the call, Frieden mentioned that the CDC was working with airlines to screen "100 percent" of passengers in Liberia, Sierra Leone, Guinea and Lagos, Nigeria for fever before they get on the plane. Frieden emphasized means that no one exhibiting symptoms is allowed on planes.
"Remember: Ebola doesn't spread before someone gets sick, and [the U.S. patient] didn't get sick until four days after he got off the airplane," said Frieden. "So we do not believe there is any risk to anyone who was on the flight at that time."
"I have no doubt that we'll stop this in its tracks in the U.S.," Frieden concluded. "But I also have no doubt that as long as the outbreak continues in Africa, we need to be on our guard."
Related
Before You Go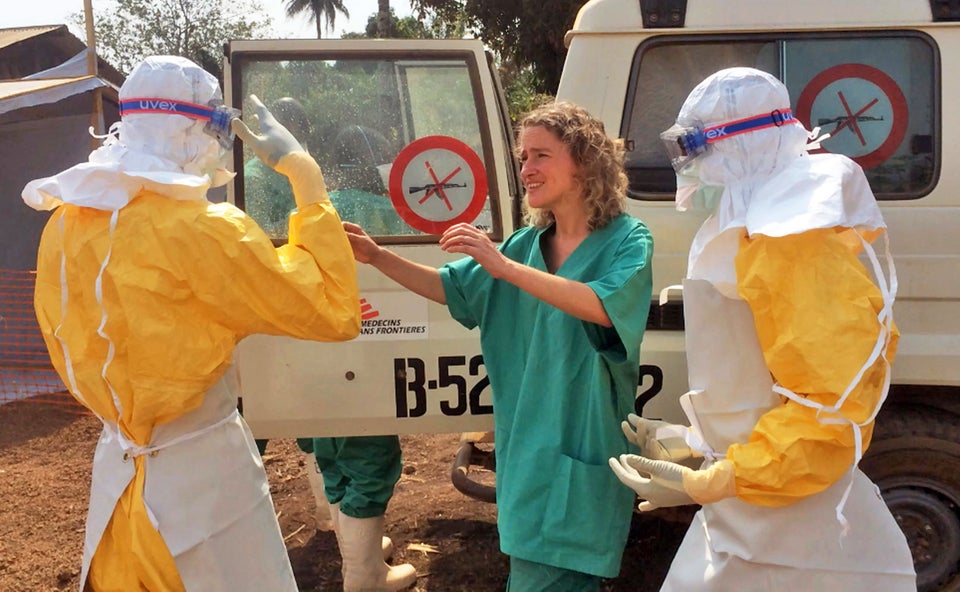 Ebola Outbreak