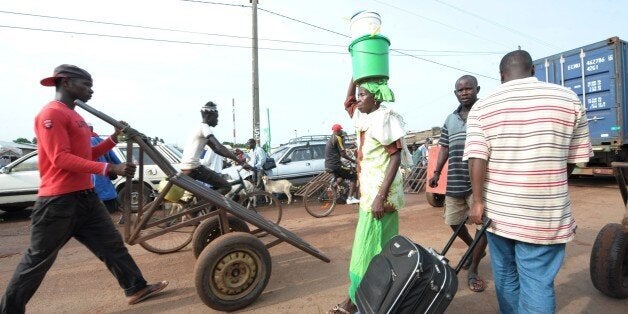 Ebola's deadly spread reinforces Africa's popular image as a hopeless continent. But Africa is rising. Over the last decade, the continent has accomplished an impressive pace of human and economic development.
The naturally alarmist reaction to Ebola obscures African progress and could have pernicious effects on continued growth by weakening investor confidence and foreign direct investment (FDI). Foreign investors should understand that while Ebola has exposed some African weaknesses it is not the African rule and the continent holds great opportunity.
Ebola has captured a global audience, likely because the virus is lethal -- killing 7 out of 10 people it touches. There is neither a vaccine nor a cure for the disease. And while Ebola can only be passed through bodily fluids, it remains highly infectious.
The disease is suspected to have transferred from wild animals to humans through the consumption of bushmeat or non-domesticated animals like monkeys and fruit bats. The practice might seem shocking, but is similar to consuming deer, rabbit and even squirrel as is done in the Western world.
The Ebola epidemic has surfaced in only four of Africa's 53 countries: Liberia, Guinea, Sierra Leone and Nigeria (which appears to have contained its outbreak). Media coverage of Ebola has been quite responsible in explaining the West African nature of the Ebola outbreak. But, almost inevitably, Ebola's apparition in Guinea has exposed broad-based African weaknesses.
The elements that allowed Ebola to spread like wildfire are not uniquely Guinean or West African. A lack of economic and physical infrastructure, low incomes, limited education and insufficient health care systems trouble most African -- and most developing -- nations.
Unfortunately, Ebola's morbidity highlights these weaknesses and censors the great progress of African development by resurfacing images of dying Africans on television screens and in newspapers around the world.
The world should not be fooled -- Africa is rising.
In 2001, The Economist published an article titled 'Africa's Elusive Dawn,' which focused on war, ethnic conflict and Africans getting poorer. However, twelve years later the newspaper published a much more optimistic perspective on Africa titled 'Africa Rising: A hopeful continent.' The report raved about Africa as the world's fastest growing continent, highlighting increased life expectancy, economic growth and political stability, among others.
To use numbers from the newspaper's enthusiastic 2013 assessment, sub-Saharan African secondary-school enrollment grew by 48 per cent between 2000 and 2008. Malaria deaths declined by 30 per cent, and HIV infections declined by almost 74 per cent. Life expectancy rose by 10 per cent and child mortality is falling steeply.
In addition, real income per capita increased by more than 30 per cent in the past ten years, compared to the previous 20 years where it shrank by nearly 10 per cent. And Africa remains the world's fastest-growing continent.
FDI into Africa was an important driver of these improvements, rising from $15 billion in 2002 to $46 billion in 2012.
FDI helps developing nations improve existing technical processes by importing expertise rather than funding costly research and development. This allows them to improve the quality of their products and processes, and can even improve the overall competitiveness of a country's economy. FDI therefore helps to reduce unemployment through providing jobs and skills.
In addition to directly stimulating economic development, FDI allows nations to collect tax revenues, which can cover the costs of public services like education and infrastructure development.
However, Ebola threatens to attack FDI into African nations by weakening investor confidence. Foreigners must trust the environment in which they invest, being assured they themselves and their investments are protected from things like political instability and epidemics.
Many non-Africans are already timid to invest in the continent. They are unfamiliar with the diverse political contexts, growth prospects and relationship-oriented nature of doing business. If potential investors see Ebola as a broad-based African challenge in addition to their initial reserves, they will unlikely make long-term investments in African nations.
Investors will miss a great opportunity if they react with hysteria to the contained epidemic. McKinsey and Company quotes studies demonstrating that US companies receive higher returns on African investments than in any other region, and surveys of several thousand manufacturing firms from around the world found that, at the margin, capital investment had a higher return in Africa.
If FDI flows into the continent cede, investors will not only be missing a great opportunity, African nations will have difficulty funding public services, slowing growth and making the continent even more vulnerable to an outbreak like Ebola.
Foreign investors should continue to pursue meaningful African investments to realize generally unmatchable returns and, most importantly, so African development can continue to thrive and the next Ebola can be avoided.
Africa is still open for business.
This post is part of a special series produced by The Huffington Post in recognition of the threats posed by Ebola, particularly to West Africa. To see all the posts in the series, read here.
Calling all HuffPost superfans!
Sign up for membership to become a founding member and help shape HuffPost's next chapter