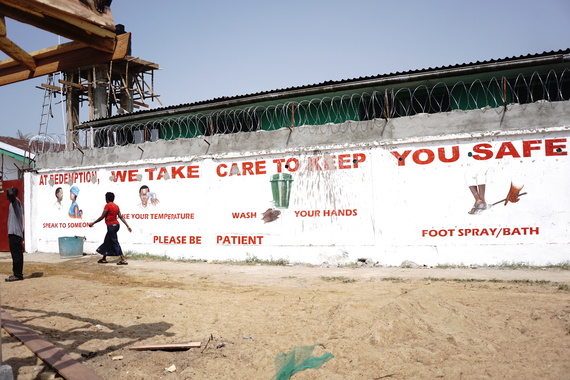 If you were to ask me what my lasting impression was of the people I met in Sierra Leone and Liberia, where I have just spent two weeks meeting with colleagues who have been leading the fight to combat the spread of Ebola it would be this:
Courage. Incredibly tenacious, indefatigable, compassionate courage. From health workers to community outreach workers to teachers, Sierra Leoneans and Liberians were all and continue to be steadfast in their goal to bring Ebola to zero, to protect their communities, and to ensure that once they see Ebola out the door, Ebola is gone for good.
Theresa Musa is a health care worker at Bo Government Hospital, in Bo District, Sierra Leone. She has been working there for the past four years and continued to work through the Ebola crisis. By all accounts it was complete chaos. There were not enough health care workers, not enough protective gear, insufficient safety measures in place and too many patients. "We used plastic to cover our boots," she said. "Patient care was not too good and we had no supplies. It was like that for a long time."

"We used plastic to cover our boots," Theresa said. "Patient care was not too good and we had no supplies. It was like that for a long time."
Theresa didn't tell her husband she was working with Ebola patients until November of last year - not until the Sierra Leonean ministry of health asked the International Rescue Committee to come in and manage the facility. She explained that people move away from you if you tell them you are working with Ebola patients.
"At times I was scared," she continued, "but I sympathize when patients come in. They needed help and that is why I stayed."
Like many healthcare workers on the frontlines of this Ebola fight she saw Ebola as the health care worker's war.
Aminata is a nurse at a health clinic in Levuma, a small community in Kenema District, Sierra Leone. "In the beginning there were so many challenges," she said. They didn't -- and still don't -- have a place to isolate suspected Ebola cases. They use a couch. People in her community didn't believe that Ebola was real. They thought that Aminata was being paid to spread lies.
Then Dr. Sheikh Umar Khan died. Dr. Khan was, by all accounts, an extraordinary man, a lassa fever specialist, who led Kenema Hospital's fight against Ebola. He inspired confidence in his colleagues, and gave them the courage to confront the disease. When he himself succumbed to Ebola it was like the bottom had fallen out of their world.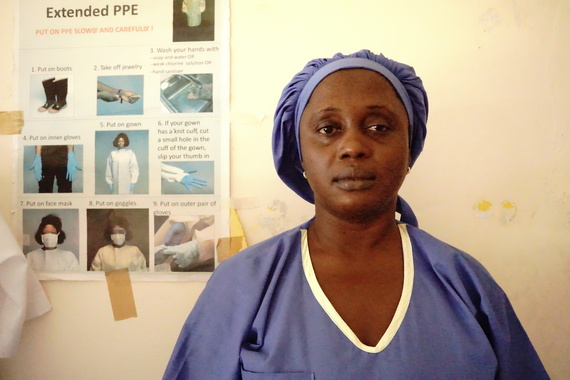 "Sometimes, I regretted being a health worker," Aminata said. "I was discouraged. I thought I was going to die also."

Aminata's parents tried to persuade her not to go to work but she refused to listen to them. "If it is my destiny to die of Ebola, so that is how I will die."
Mafata is the acting officer in charge at a health care clinic in Lofa County, Liberia - which is where Ebola first made its devastating presence known in Liberia. She is one of the many health care workers who chose to stay when those around her were fleeing or dying because of the disease. When asked why she chose to stay she said, "I love my profession. This is what I do."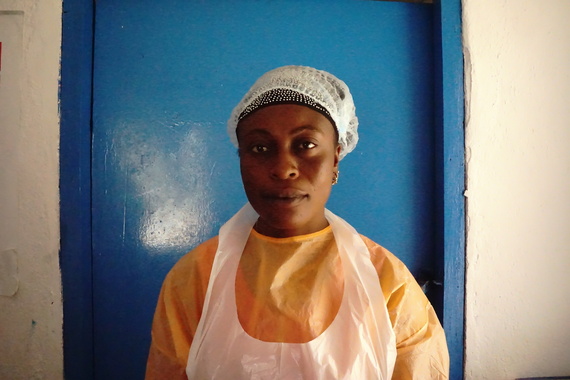 "I love my profession," Mafata said. "This is what I do."

Across Liberia and Sierra Leone in the districts where the International Rescue Committee works, stories like this are common. Brave people choosing to stay and fight -- to confront this deadly disease head on, regardless of the fact that, in those early days, they did not have the resources or the training to do so.
It would be nice to say that things are better now -- and there is no doubt that we have made headway. The IRC recognized early in the crisis that health care workers did not have the training or the resources they needed to protect themselves and treat their patients. In Sierra Leone, working closely with the ministry of health the IRC trained health care workers across several districts in effective infection prevention and control measures (chlorine stations at the entrance to each clinic, temperatures taken before anyone enters the minimal structures, the personal protection equipment -- PPE -- meticulous trainings in how to put it on and take it off). Those trainings have since been rolled out across the country.
But there are significant challenges. Some of the health care workers I spoke with have not been paid in over 3 months and yet they still come to work. Many schools, which are starting to re-open, do not have access to running water. How do they ensure that their children are adhering to proper hygiene protocols when such an essential element is missing? As health facilities, shuttered by Ebola, go back online, how do we ensure that they have sufficient infection prevention and control measures in place?
I heard a great analogy when I was in Sierra Leone. One of my colleagues was describing the amount of care that goes into putting on and taking off personal protective equipment -- the outfit that must be worn when treating a suspected or confirmed Ebola patient. It is done with meticulous attention and focus, a buddy system, where your partner watches you put it on and take it off and guides and counsels you through the process. When it's done right you are protected. When it is not, you are vulnerable.
The same thing applies when we think about how to support the government of Sierra Leone and Liberia as they build back from Ebola. We must be meticulous in our efforts. We must ensure that all of those who fought so hard, and continue to fight so hard, to bring Ebola to its knees have not done so in vain.
As Theresa Musa, the nurse at the Bo Government Hospital said of her colleagues: "once they are prepared they can go to the war front. If people are prepared, trained and equipped they can fight."
Read the International Rescue Committee's brief: Risking Repetition: Are We Ignoring Ebola's Lessons, at this link: www.rescue.org/EbolaLessons.
Calling all HuffPost superfans!
Sign up for membership to become a founding member and help shape HuffPost's next chapter