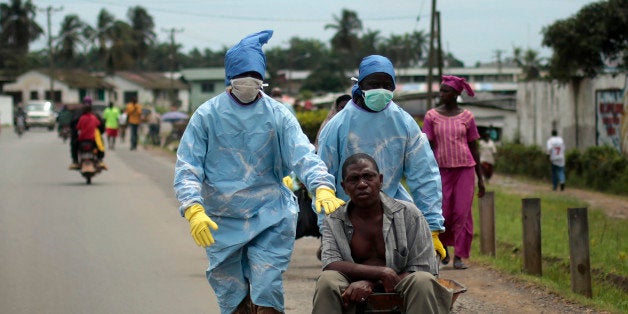 GENEVA, Oct 3 (Reuters) - Ebola's rapid spread through West Africa has been quickened by the difficulty of keeping track of the deadly disease, and filling in the huge gaps in knowledge about the epidemic is key to eventually containing it, health experts say.
U.N. and World Health Organization data show the number of cases across the region had reached 7,423 by Sept 29, including 3,355 deaths. That is widely agreed to be an underestimate.
Many patients are not counted because they never get medical help, perhaps hidden by fearful families or turned away by overwhelmed clinics. Some villages have turned into "shadow zones" where villagers' resistance or the remote location makes investigating numerous deaths impossible.
In Liberia, a surge of previously unknown patients who appear whenever a medical facility opens "suggests the existence of an invisible caseload of patients," the WHO said in August.
Last week the U.S. Centers for Disease Control estimated there would be 8,000 cases reported in Liberia and Sierra Leone by Sept. 30, but said the true figure would likely be 21,000 after correcting for under-reporting.
The WHO says its information is the best there is, but admits its figures are under-reported and says "substantial efforts" are going into cleaning up the data.
Recounts can make a huge difference, as shown by a revision of the number of health workers killed by the virus. Two weeks ago the WHO said 31 health care workers had died in Sierra Leone, but after a recount the figure more than doubled to 81.
Questions are now being asked about Sierra Leone's total death toll, which appears far too low, equivalent to 24 percent of the cases the country has suffered. In Liberia and Guinea the equivalent figures are 54 percent and 61 percent, respectively, closer to the traditionally high fatality rates for the disease.
One reason is that Sierra Leone's case numbers are largely laboratory-confirmed cases counted in health care facilities, WHO epidemiologists Eric Nilles and Stephane Hugonnet said in an emailed reply to a Reuters question.

By reporting almost exclusively the cases that can be quickly confirmed by lab tests, Sierra Leone is almost entirely ignoring "suspected" cases in the wider community, which account for a huge portion of cases reported by Liberia and Guinea.
Between Aug. 31 and Sept. 28, Sierra Leone's count of "suspected" and "probable" cases rose by 119, compared to a rise of 1,474 in Liberia. Over the same period, Sierra Leone only declared two deaths that were not laboratory-confirmed, suggesting a too narrow view of the real toll.
While a quarter of Sierra Leone's recorded cases are known to have died, it would be wrong to assume the rest had survived, WHO spokeswoman Nyka Alexander told a U.N. briefing on Sept. 30, since about 60 percent had "no confirmed outcome."
At a case fatality rate of around 70 percent, as estimated by experts writing in the New England Journal of Medicine, that would suggest at least 700 more deaths among the recorded cases, taking the country's toll from 575 to over 1,300.
The infectiousness of the disease means the mere handling of the paper record of a patient's history, which has followed them around during their treatment, may itself be a contamination risk, said Alexander.
"In some places somebody will read that information from inside the ward to somebody outside the ward and then that piece of paper is destroyed so you never get contamination. So it can be quite labor intensive to get all the information," she said.
The weak chain of data means even some known cases simply drop out of the records, and trying to recover the lost history of the disease is painstaking work that involves hunting down names and case stories in local communities.
"You have to go back into the communities and ask 'do you remember Amadou Diallo?' and 'Do you remember what happened to him?' and 'Is he still alive?' And how do you know for sure if their answer is right? He may have moved to another village. So it's very hard to go back and clean up," Alexander said. (Editing by Stephanie Nebehay and Alison Williams)