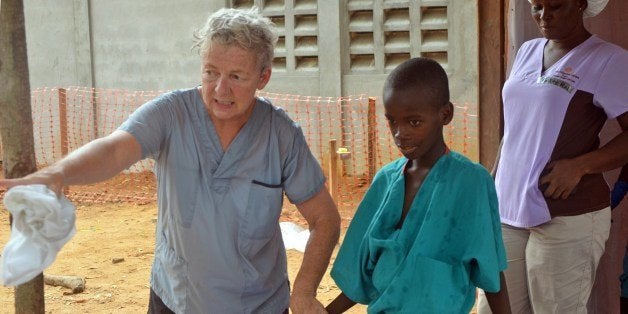 Health workers in Guinea, Sierra Leone, Nigeria and Liberia are racing to contain the largest Ebola virus outbreak in history, but in some areas they are facing a roadblock: A lack of cooperation from communities affected by the disease.
"There's a fair amount of distrust in the government in general and of the messages that are being delivered," said CDC spokesman Stephan Monroe, Ph.D., the deputy director at the National Center for Emerging and Zoonotic Infectious Diseases in a teleconference on Monday.
Reports from the New York Times and other outlets show certain communities in Guinea and Sierra Leone are blaming the spread of the virus on visiting medical teams, and some villages have blocked access to international aid groups like Doctors Without Borders or the Red Cross.
"It's leading some people to not have their family members go to the isolation facilities and it's just extending the outbreak," said Monroe. The CDC reported Monday that the virus has sickened 1,201 people and killed 672 people since March.
A patient can only pass Ebola onto others once he or she starts showing symptoms, which include fever, head and muscle aches and vomiting, as well as rash and bleeding from the orifices. Health workers want people to be vigilant about symptoms, bring in those suspected of infection and, perhaps most contentiously, not touch the bodies of the dead.
The disease is transmitted via bodily fluids like blood, sweat and urine. Health workers wear gloves, gowns, masks and other protective equipment to protect against the disease -- a practice not typically undertaken locally.

To help combat local resistance, the Centers for Disease Control are coordinating efforts throughout the region to disseminate information about the symptoms of Ebola, and what to do if they suspect a family member has those symptoms.
"What we're focusing on now is trying to identify in each one of the communities that are affected by this outbreak the trusted source -- whether it be a village elder or a religious leader -- somebody who we can work with to teach them first what the appropriate messages are, so that people can then accept the messages," said Monroe.
That's the right approach, according to Melissa Leach, Ph.D., the director of the Institute of Development Studies and leader of the Dynamic Drivers of Disease in Africa Consortium, who has lived and worked in Guinea, Sierra Leone and Liberia throughout her career.
"Education is important, but needs to be undertaken sensitively and involving trusted local figures," she said. "The cultural practices that outbreak control teams try to modify -- especially those involved with funerals and burial -- lie at the heart of local social life. Challenges to these practices are also challenges to local society and authority -- so, understandably resented."
Kalala Ngalamulume, Ph.D. is an associate professor of history and Africana studies at Bryn Mawr College, who specializes in the history of health and disease in West Africa. Ngalamulume agrees that a breakdown in communication is exacerbating the Ebola outbreak. But he argues that there are some "well-founded" reasons for mistrust of Western medicine in the region -- especially considering there is no cure for Ebola virus.
"The evidence suggests that what may appear as a mistrust of Western medicine has to do with the well-founded fear of a disease for which only contradictory information is available," wrote Ngalamulume in an email to HuffPost. "People are told that there is no treatment for the ebola virus, that the people who are taken to the medical centers will die, and that nobody survives after contracting an infection."
"It seems that communication that people are more likely to survive if given hospital treatment has not been very effective," wrote Leach. "And despite this, most people do die. It is thus not surprising that many villagers assume that people are being taken to hospital to die, or even that hospitals are killing them. Rumors fly."
Indeed, it's clear that Western medical hygiene practices aren't infallible. Dr. Sheik Umar Khan, the top doctor leading the fight against Ebola in Sierra Leone, died from the virus Tuesday, and dozens of local health workers have also died from the disease, reports Reuters. Two American health workers have also fallen ill, the CDC confirmed.
But despite high-profile cases in which hygienic protocols have failed, the best way to prevent the transmission of Ebola remains proper isolation of patients in clinics, protective gear for health workers and the prompt and safe burial of those who succumb to the disease, according to the World Health Organization.
Related