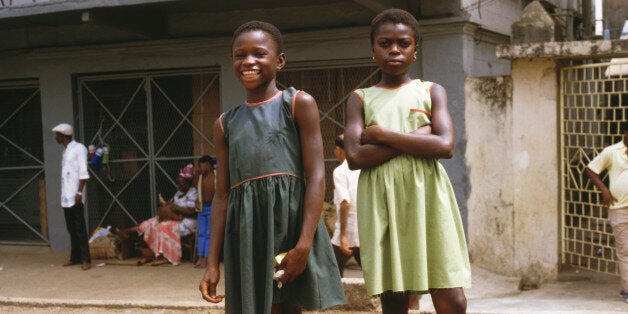 As in most emergencies, girls in Sierra Leone serve as primary care givers and providers in their families. They are at the frontline of the fight against the deadly Ebola outbreak but invisible in the national response -- receiving little or no protection, recognition or support. Youth programs, government policy and interventions -- under normal circumstances -- typically bury or exclude girls. This stark neglect of girls was one of the first things I noticed during my recent trip to Sierra Leone to assess how the outbreak was affecting adolescent girls and what interventions were needed to support them during this period.
As President Bai Koroma told me in a private conversation, the country has been shocked and overwhelmed by this epidemic and has been playing catch up ever since. In essence they were being driven by the crisis, not responding with strategic foresight. On my first day, I was able to review the Reproductive Health Strategy that was being proposed by the government and its partners to respond to the sharp decline in services during the outbreak. In some cases, there had been up to a 100% drop in the provision of basic contraceptive services for women and girls. The core concept was the creation of 17 dedicated Reproductive Health Service (RH) Centers in each of the districts across the country, but it barely referenced the unique needs of girls or had mechanisms to foster their use of these services. Thankfully, working with the partners, especially UNFPA, we were able to review the proposal to include a standalone Adolescent Girls pillar, which assigns dedicated girls experts in each center. This will increase girls' access to these services and also increase the access of the RH centers to the most vulnerable girls in the most remote areas.
If dedicated community based girl programs were a great idea before the outbreak, they are an absolutely essential one now. Even before the outbreak, adolescent girls in Sierra Leone essentially living in an emergency. A recent Save the Children report finds that majority of girls in Freetown use sex to access a range of goods and currency, including mobile phones. High levels of teenage pregnancy, high rates of dropouts, early marriage, sexual abuse and exploitation and some of the highest rates of female genital cutting are just a few of the roadblocks that a young girl in Sierra Leone had to contend with.
The Ebola Outbreak is certainly making it even worse not only by the chaos and fear it is causing on the ground but also because it has shut down already insufficient health, nutrition and skill building programs for girls. The partners in the Sierra Leone Adolescent Girls Network- a group of government, United Nations, international and local organizations providing dedicated services to girls across the country that I had helped set up- complained that the government and the donors basically instructed that all programs that were not directly dealing with Ebola be shut down and the funds all redirected to fighting the epidemic. These agencies with social mobilization capabilities that are crucial now have for the most part therefore been on the sidelines, watching helplessly even as they see their clients- the girls- falling further behind and being put in even more danger of the virus. Partners fear a spike in sexual violence and exploitation of young girls, increase in teenage pregnancy and forced marriages, increase in fistula, increase in maternal mortality and of course more girls will drop out of school permanently during this long unprecedented break. Schools are slated to remain closed for most of the academic year.
At a meeting with the Network partners I felt a sense of relief and excitement for them all to gather again and focus on what for them was always obvious: empowering girls is central to winning the war against the epidemic. It was morale boosting. They are keen to work through this network to repurpose and pull together their human, social and other assets to provide the girl-only places or platforms and services that are required to halt the spread of Ebola and to address its long-term effects. One way to do this is to make sure that existing funds in the country are re-directed to provide services to girls as a core part of the social response to the ongoing crisis.
I am often why should there be a focus on girls, especially in a humanitarian crisis like this. Many people even asked me this during my trip in Sierra Leone. Here's why. Dorcas is a 17-year-old girl. Her mom contracted Ebola by treating a patient in her clinic where she was a nurse. Dorcas naturally took care of her mom when she was sick at home. Dorcas, her dad, her elder sister and her mom were all infected and admitted. At the hospital, after the mom and elder sister died, Dorcas was helping to take care of her dad -- even in the ward where they were both admitted. The father eventually died. Dorcas survived. She is left with her two younger siblings who have become her primary responsibility. Without support, she might be forced to engage in risky behaviors to fend for herself and her family. Now she is unsure of returning to school, as there is no one to take care of her or pay her fees.
Unfortunately Dorcas' story is not unique. Many of the over 30 girl survivors of Ebola told me varying versions of this story. Girls in Sierra Leone are typically the primary caregivers in the home and in the community for especially sick relatives. Investing in girls -- making sure they have the right knowledge, food, emotional support, a place to meet each other -- has to be at the core of the social response to this epidemic. Despite being primary care givers, girls typically have less education and even lesser access to scientifically based information. And despite carrying provisioning responsibility, they have less access to public services. On top of that, if they are not serving their families in the public space, they are often confined at home.
I noticed during my trip that when emergency distributions are done in quarantined communities, they are given through traditional power structures and to "heads of households." Girls, who bear the biggest burden, are the last to get anything. Making sure that they are targeted, with clearly branded, designated assets and services is the key in my view to ultimately defeating this virus and other ills in our society. If we don't begin with the girls we will never get to them. What they have and control will trickle up and out whereas there is no trickle down to them.
Finally, very little attention has been paid to the fact that the virus survives in the male semen for up to 100 days after recovery. This is an area of real concern. When I was in Freetown, there were beginning to emerge reports in the papers of males who had survived the virus, returned to their homes and infected their wives and girlfriends through sexual intercourse.
Unfortunately, this information is either buried or only being mumbled at this time. It does not show up in a number of the billboards and prevention materials that are being distributed. This put girls in greater risk as the virus could plausibly create a second wave of deadly infection as primarily a sexually transmitted disease. At least one public official, the mayor of Kailahun, the Eastern District where the virus first broke out, has floated an interesting proposal: for men who survive the disease to be kept in a transitional center for two months or until such a time when- he believes -- they can no longer infect their sexual partners.
I think there needs to be a much more public debate both In Sierra Leone and in the international media on these issues. We are urged to exercise an "abundance of caution" around the returning nurse -- but no so much around recovered males. Ultimately, I think equipping girls with this information and the right assets to protect themselves and their families is the most powerful weapon to defeating Ebola.
This post is part of a special series produced by The Huffington Post in recognition of the threats posed by Ebola, particularly to West Africa. To see all the posts in the series, read here.
Related