Last year, Angolan model Maria Borges made history when she walked in the Victoria's Secret fashion show with her natural hair. Ebonee Davis, who recently appeared in the 2016 Sports Illustrated Swimsuit issue, has joined the ranks of black women who are embracing their natural hair and expanding society's beauty standards.
After years of extension adding and consistent hair straightening, the NYC model decided to focus more on the health of her hair and go completely natural. In addition to wanting to undo the years of chemical and heat abuse that she'd inflicted on her tresses, Davis wanted how she wore her hair to be her choice.

"I love my afro but sometimes I want 32-inch wavy Brazilian weave and I'm no less 'woke' than I was before I got it."

Now, less than a year after the decision to switch up her look, Davis is currently the only black, natural-haired model who you'll see on Victoria Secret's website. This year, you can also catch the 23-year-old beauty posing for Calvin Klein, Urban Outfitters, and Teen Vogue sporting her natural curls.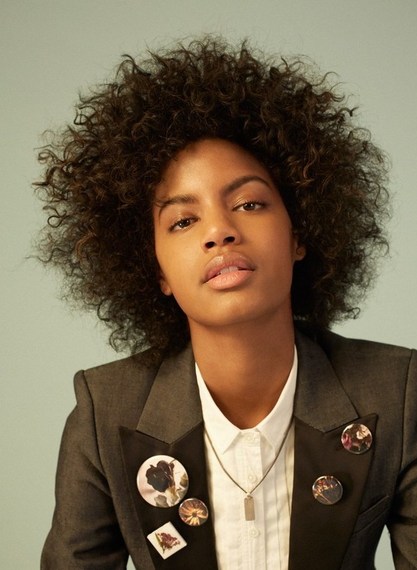 GC: When you decided to go natural, were you met with any resistance from your agency?
ED: I was, initially. I'd been represented a certain way for three years--with my straight hair. I don't think my agency was prepared to market me in a new way. They worried it would make me less appealing.
GC: Did you ever worry that you'd lose clients?
ED: Honestly, no. I truly believed the opposite. I think the industry is opening its doors to different looks. None of the decisions that I make are arbitrary. Deciding to go natural was something that I thought about. I did research. And then I made my decision, and I stuck with it.
GC: Is there a reason that this transition was especially important to you?
ED: It's really all about feeling like you having choice, in every aspect of life. It's not just hair.
GC: So, this wasn't about making a statement for you?
ED: I don't think my natural hair says anything about me other than that I want to have control over my image. A lot of people associate not wearing weave or straightening your hair with being more enlightened but I don't agree with that. I've straightened my hair and added pieces a few times since I went natural. I've said before, I love my afro but sometimes I want 32-inch wavy Brazilian weave and I'm no less "woke" than I was before I got it.
GC: Do you have any specific style influences, right now?
ED: I follow a lot of stylists on Instagram and editors of magazines. Two in particular are Julia Sarr Jamois, the senior fashion editor at ID magazine, she dresses really funky and Samira Nasr, she's a fashion director for Elle. They're both daring, bold, influential women of color, both natural-haired.
GC: Is being a role model important to you?
ED: I want to be a role model for girls but I don't want it to be about image. I'd modeled my image after so many models in the industry who I looked up to, but my success came when I started doing what felt comfortable for me. I think it's important for people to find their own identities.
GC: You'd want to be a role model more in terms of character?
ED: I want to be someone who encourages people to risks and stick to what you believe in. Be your own person.
GC: What are some of your goals outside of modeling?
ED: As I get older, I'm starting to feel the urge to get involved more in the community. I'd really love to work with children, specifically young girls, possibly in the area of literacy.
Calling all HuffPost superfans!
Sign up for membership to become a founding member and help shape HuffPost's next chapter