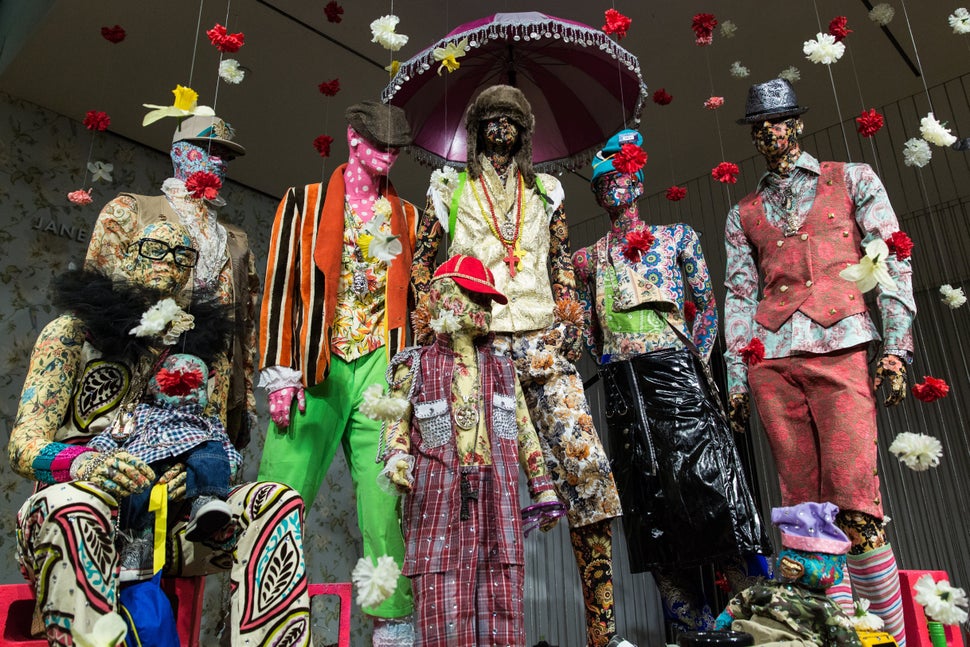 Step into a Jamaican dancehall and prepare to encounter peacocking. That is, men, expressing machismo through flamboyance, be it in bright colors, bold patterns or lots of bling.
To a more conservative Western audience, displaying an attention to the glittery surface of clothing might be considered traditionally effeminate, but in the contemporary dancehall, individuals channel their conception of masculinity through impeccable and outlandish tastes. According to Jamaican artist Ebony G. Patterson, this new breed of macho fashionistos is not simply the result of a consumerist age. Every gold chain, patterned pantaloon and furry vest is hardly just a fashion statement but an intimation of something more direct: the simple yet implausible desire to be seen.
For her newest exhibition "Dead Treez," now on view at the Museum of Arts and Design, Patterson presents a blinged-out deluge of colors, patterns, sparkles and pop, in the forms of hand-embroidered tapestries, sculptures and a site-specific installations. Incorporating jewelry culled from MAD's permanent collection, Patterson conjures the vibrancy and swagger of an entire bustling nightclub, concentrated into a single, dizzying vision. Nodding to the flamboyant masculinity of Kehinde Wiley, the unapologetic glamor of Mickalene Thomas and the hip hop reverence of Rashaad Newsome, Patterson seduces her viewers into confronting difficult questions about race, gender and identity.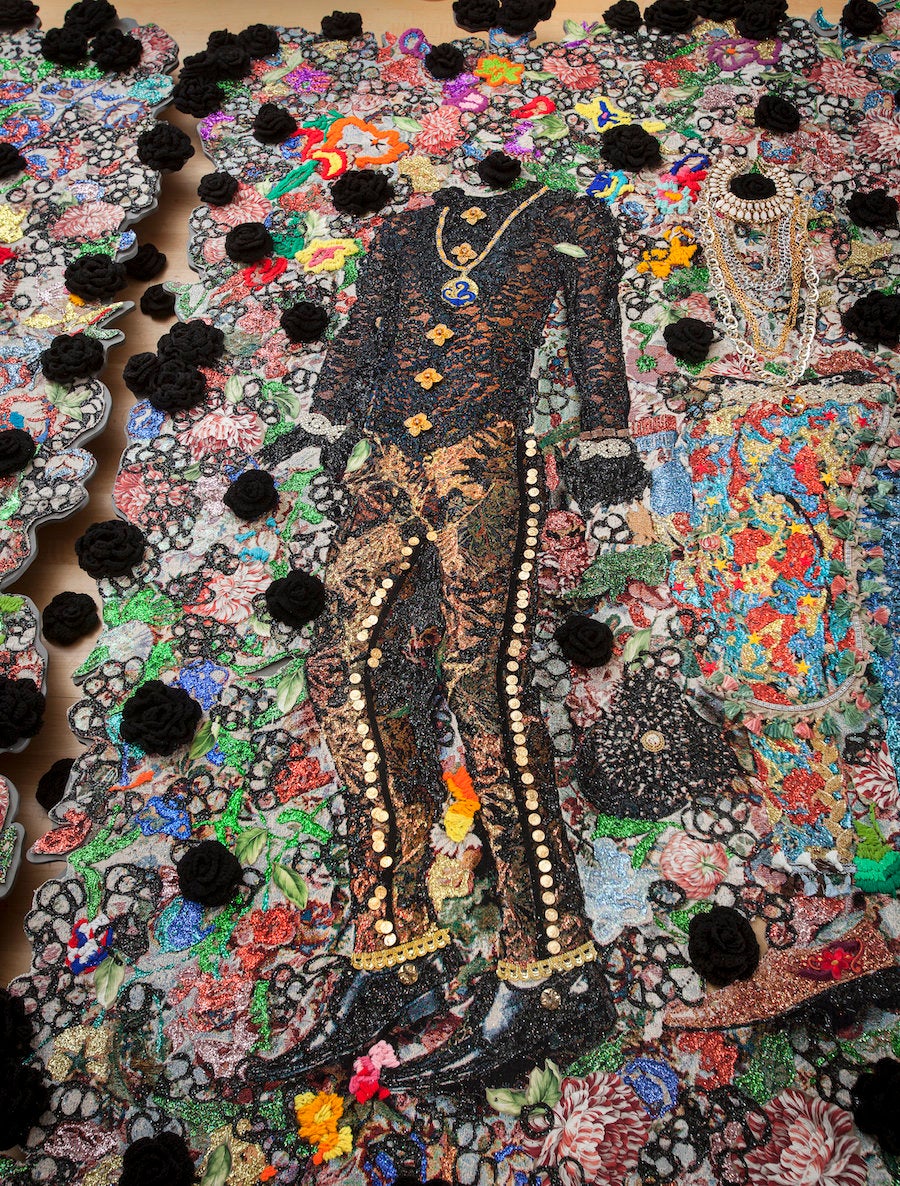 "I grew up in Jamaica so I guess I can say Jamaican dance hall is something that's been with me ever since I was a child," Patterson explained in an interview with The Huffington Post. "As a teenager, having gone to a school that was located within the vicinity of downtown Kingston, a lot of the girls came from varied socioeconomic backgrounds and what connected us was this interest in popular cultural music. This was in the early '90s, which was when dancehall for me was really at its height in terms of its creativity and inventiveness." 
Although Patterson bonded with her female classmates over a love of dancehall music, the scene at large was, and remains, predominately male. "Women do participate but they are very male-dominated," Patterson said. "It's interesting because Jamaica is a very matriarchal society, but the dancehalls are patriarchal."
In a sense, the dancehall acts as a sort of carnival, where norms are reversed, magnified and put on display. Although dancehall offers an opportunity to present gender on stage, front and center, Patterson believes that gender is always performative, whether in the club, on the street or in the home.
"There is definitely a sense of pageantry and a lot of performance when it comes to masculinity. In Jamaica there is a term that we use [meaning] braggadocious, or bombastic, which was popular in the '90s because of Shaggy," Patterson continued. "There are all of these expectations about what it may or may not mean about what it is to be masculine or feminine and we're trying to negotiate what those thing are. These popular cultural spaces provide an opportunity to expand upon these preconceived ideas and also build a kind of self-identity outside of the larger expectations of what that should be. Popular culture provides an opportunity to demonstrate uniqueness and individuality."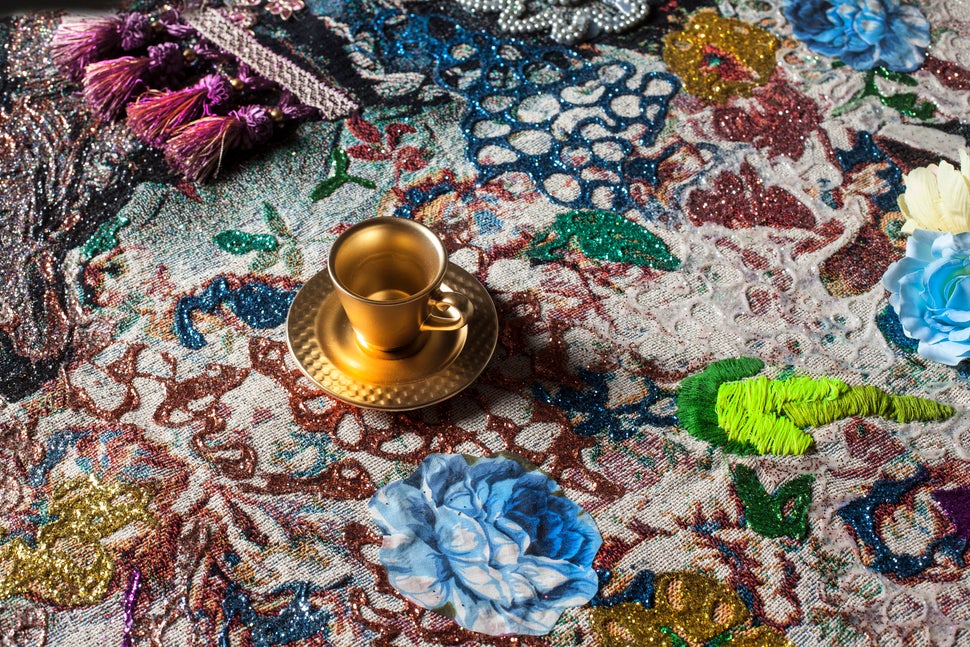 Patterson pays homage to the dancehall as a palace of bling through a pack of pattern-covered mannequins, squeezed together like a squad rolling up to the club for a group photo. Their masculine power emanates from every unlikely sequin, sparkle and pom-pom. Although she is interested in the pervasive performance of gendered identity, her artwork also addresses how the desire to "dress to impress" stems from the will to survive.
"The need to peacock is not only about showing off. It's very much about creating a sense of presence," she says, "creating a moment of encounter where one has to acknowledge the person. The fashion and the garments become an entryway in seeing that individual."
Just as rappers and hip hop stars are often dripping with designer goods, diamonds and gold, so dancehall attendees don bright colors and sparkly goods in order to demand the attention they've so long been denied. "In order to force one's way out of invisibility one has to create a reason to be seen," Patterson cautions.
Another trend permeating the dancehall scene as of late is skin lightening, a practice that dates back to Antebellum plantations, when slaves with lighter skin were given preferential treatment. Decades later, light skin is still seen as desirable. "I cast no judgment," Patterson expressed. "I have a personal position, of course I think skin lightening is really problematic. You're corroding your skin from a medical perspective. But as to understanding why people do it, if you think about the plantation, the darker-skinned slaves were the ones who worked the fields and the lighter-skinned slaves worked in the house. Lighter meant better opportunities, better clothes, better quality of food. A lot of the associations around color are around shade."
"The history of colorism in many ways impacts the reasons people lighten; there is a sense of de-value in being darker," Patterson continued. "And skin lightening is not unique to dancehall, it's really popular in countries in Africa and India and even in Japan and China. I refer to it as 'skin blinging,' because it also creates a moment of illumination. This idea of erasing oneself into presence. Erasing one's local pigmentation as a way of creating visibility, and skin becomes an extension of the garment."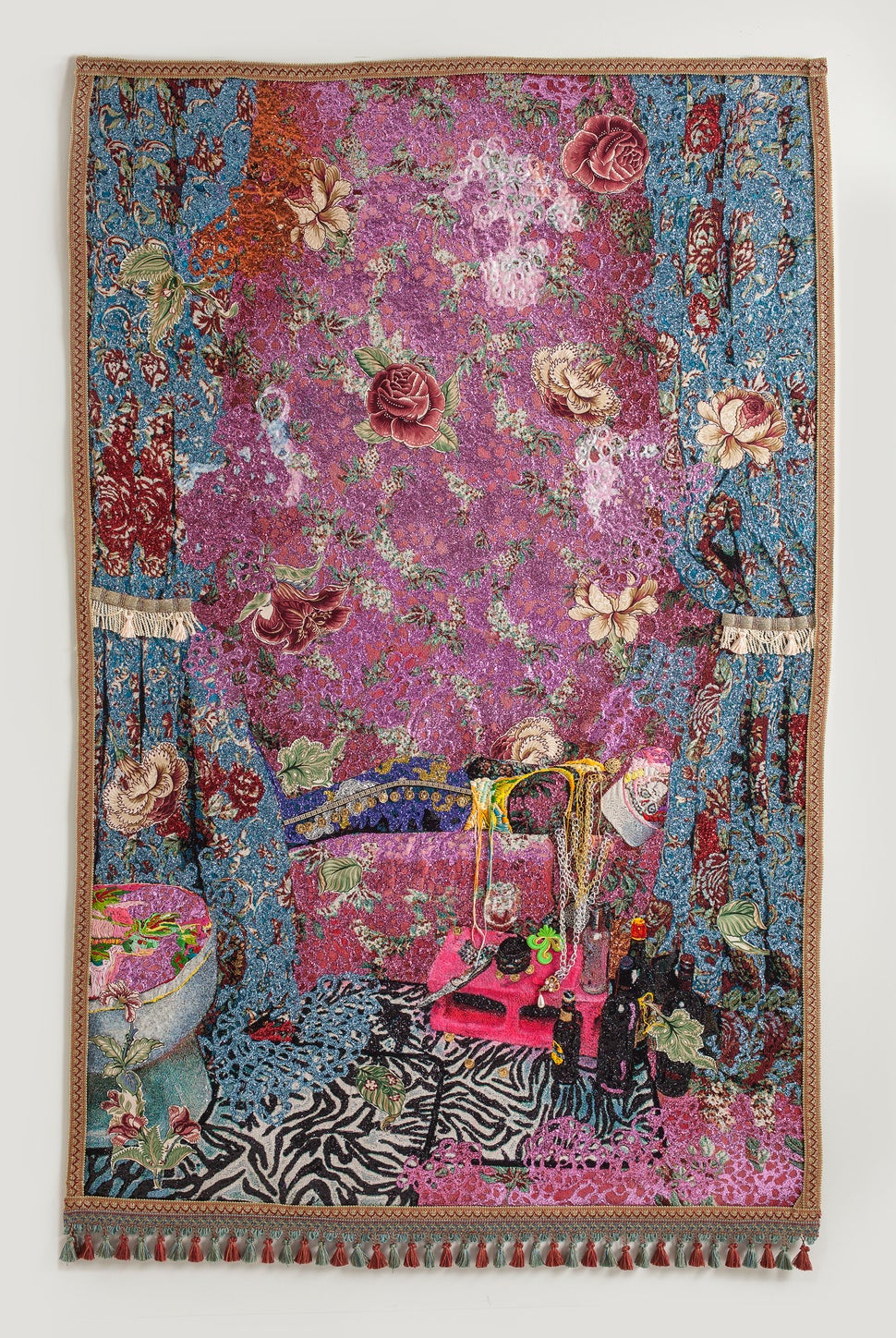 While Patterson's sculptures primarily revolve around gender identity, her tapestries tap into more disturbing questions of race. The tapestries, hypnotic in their indulgent use of neon hues and sparkly finishes, attract the viewer like a clickbait-y headline or an NSFW Instagram post. Upon closer look, the embroidered roses, lace and fringe disperse to reveal black bodies, lying prostrate amidst the excess. The tapestries, spread on the gallery floor, transform viewer into witness, approaching the lifeless human forms camouflaged within the surrounding environment.
Patterson sourced the bodies in her tapestries from social media, each of a specific person of color who had suffered a violent death. Although many cases of violence go unreported, the images of lifeless bodies often spread far and wide across social media platforms, detached from their origins, floating through cyberspace. 
"Social media creates an opportunity for visibility in the way larger popular culture does not," Patterson said. "But I was interested in the kind of visibility that was created. These images become spectacle, become object, and there is a disengagement with value. So many times the images are of people who are working class people and they're often black or brown people. If these people were of a higher echelon would we have as easy access to so many of these images?"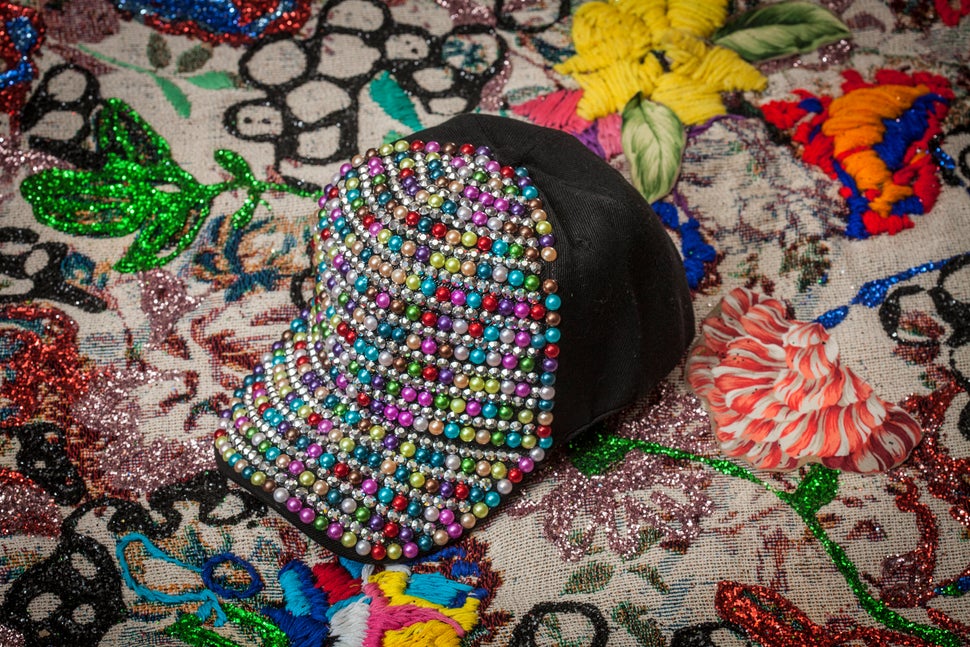 Through her decadent tapestries, Patterson hopes to recreate that moment of seduction that so many of us encounter on the Internet, the guilty pleasure of watching a violent YouTube video, clicking on a graphic photo for that momentary surge of attraction, repulsion and empty empathy that's soon forgotten with the closing of a browser window. 
"People comment on [photos] and share them. But there's an absence of engagement that this was someone," Patterson added. "How would you feel if a member of your family's image was passed down for random commentary? It's one of the pitfalls of social media -- we swallow it and we spit it out without engaging with the information."
The juxtaposition between Patterson's mannequins and tapestries illuminate a dismal realization: black bodies are denied visibility throughout their entire lives, only to have their images propagated thoughtlessly after death. 
This sentiment echoes Patterson's 2014 performance "Invisible Presence: Bling Memories," a spectacular procession of coffins decked out with feathers, tassels and sparkles, inspired by the funeral practices common in Jamaican, lower-income communities. 
"That tradition grows out of communities who feel neglected," Patterson explained. "There is a popular cultural anthropologist Donne Hope who wrote this essay called 'From the Stage to the Grave' about the bling funeral phenomenon. There's this statement she made that's always been with me, something like, 'You may not have noticed me when I was alive but you'll damn will notice me when I leave.' Taking absolute control of how she wants to be seen, even in death, is such a powerful sentiment."
 This interview has been edited and condensed for clarity.
PHOTO GALLERY
Locating Black History in the Museum of the City of New York's Collections Portal
Calling all HuffPost superfans!
Sign up for membership to become a founding member and help shape HuffPost's next chapter