Self-published ebook authors now have a powerful new merchandising tool to make their books more discoverable and desirable to readers: Preorders at Apple iBooks, Barnes & Noble and Kobo.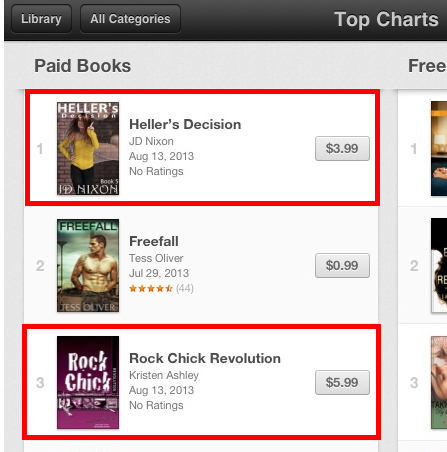 The authors' secrets, other than writing super-fabulous books their enthusiastic fans can't wait to read? Preorders and advance marketing.
How can I predict this with such certainty? All these titles are distributed as preorders by my ebook distribution company Smashwords, so I see how many preorders they've accumulated.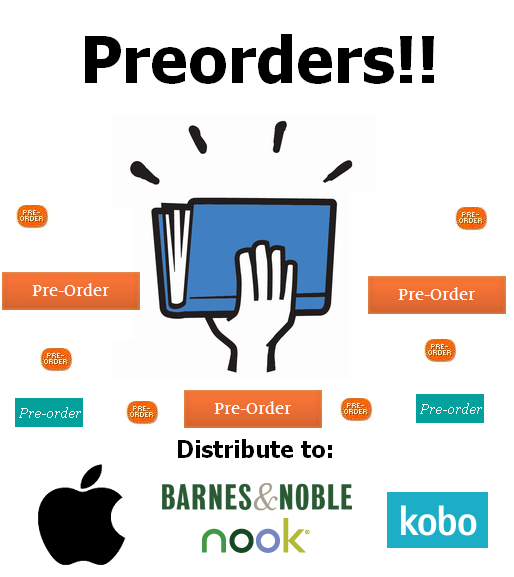 Each of these titles already has enough preorders to hit the top 10 at one or more iBooks territories if they were released today. Each continues to add orders daily as it approaches its release date. It's not out of the question a couple of these hit #1 in some stores.
With preorders, an author's ebook is listed in advance of the official "onsale" date. During the preorder period, customers can read a sample teaser of the book and place advance orders. The book accumulates orders leading up to the official release date. On the day the book officially goes on sale, the reader's credit card is charged and the book is released to the customer.
Let's take a closer look at how preorders work, and how indie authors can utilize preorders to boost ebook sales.
5 Reasons Why Preorders will Become The Next Best Practice for Professional Indie Authors
Higher placement in bestseller lists - Most retailer bestseller lists are weighted to measure unit sales over the most recent 24-72 hours, with sales made today generally weighted above sales made yesterday. At Apple and Kobo, accumulated preorders credit all at once on day one of the release, as if all the sales were made in a single day. This can cause the book to spike in the genre and store-wide bestseller charts. Since bestseller lists are used by readers to discover books, higher placement in the bestseller lists sparks a virtuous, self-reinforcing cycle of greater visibility, desirability and sales, which leads to more visibility and more sales.
Simultaneous availability - The author's book is available on sale at these major retailers on the same day. By distributing the book to retailers in advance of the release date, retailers are locked and loaded for simultaneous release. This makes readers happy. Nothing frustrates readers more than a book they want to read but can't buy at their favorite retailer.
Advance marketing - Authors can orchestrate strategic advance marketing campaigns to build buzz and accumulate orders leading up to their official release date. Marketing ideas: Do chapter reveals on your blog or Facebook page. Hold contests. Run price promotions on your other titles to build readership in advance of your big release. Offer preorder customers a special preorder price as a call to action to increase the urgency they reserve their copy today. Encourage readers to share news of the special promotional price with their friends. Do a blog tour in advance of the release, and make sure your blog posts link to where readers can reserve their preorder copy.
Existing titles help market your preorder - Most indie authors publish multiple books. At Smashwords, we represent 75,000 authors who collectively publish nearly 250,000 titles. It's an average 3.2 books per author. The author can put each backlist title to work to market the preorder.

Here's how

: The retailer will display preorder titles alongside the author's other books in their store. If the author has multiple titles on the market already, they should update their backlist's back-of-the-book "Other titles by" listings to advertise their upcoming release.
Capture the reader's interest at the moment you have their attention - It's one thing to tell the reader a new book is coming out in a month or two. Will they remember to come back then to find and purchase the book? Will they be as excited about the release next month as they are right now? A preorder enables you to capture the reader's order at that moment you have the reader's attention and interest. Maybe they just finished another of your books, or stumbled across your blog or social media mention. Capture the order!
Increased on-store merchandising - Preorder listings increase the odds that a retailer will slot the book into special preorder promotions or genre-related merchandising promotions. At Apple, for example, both JD Nixon and Kristen Ashley enjoyed advance promotion at several iBooks stores around the world. Most ebook retailers run merchandising features to promote preorders. For an author, it's an opportunity to be placed on an additional virtual shelf, and often it's a promotional shelf. If a retailer sees that your book is experiencing a high rate of preorders, they're more likely to select the book for increased merchandising love.
Advance staging of book releases has always been a common best practice in traditional print publishing. Now indie ebook authors can utilize the same tools and proven best practices for successful book launches.
Five Tips to Maximize the Success of an Ebook Preorder:
Budget an extra 4-6 weeks into your release schedule - As you plan your release date, budget extra time so you can have a preorder runway of at least four to six weeks. The longer the runway, the more time you have to promote your preorder to fans and accumulate orders for that all-important first-day pop. A longer runway provides ample time for your distributor and retailer to process and list the book, and gives you time to carefully orchestrate a multi-faceted advance marketing campaign.
The book should be final or near-final - Don't upload your preorder until the book is edited or near-final. Although a final final is preferable, a book that's the equivalent of what traditional print publishers send out to reviewers, such as an Advance Reader Copy or an Uncorrected Proof, is acceptable. Remember that the first 10% or so of the book will be downloadable as a teaser sample, so make sure the book is solid. At least two weeks before the book's official onsale date, upload a final final if you haven't already. Don't try to update your book at the last minute because you don't want fans reading a version that isn't the latest and greatest. We and our retailers typically process updates much quicker than two weeks, but it's always good for you to budget in a buffer in case you run into unexpected delays with your editors or proof readers.
Make each Preorder Listing a Marketing Event - Your preorder listings will likely appear at each retailer at different times, depending on shipment schedules (we ship daily, five days per week to Apple, B&N and Kobo) and vary by the processing speed of each retailer. As each preorder page appears at each retailer, make it a reason for celebration with your fans. Once you have the direct hyperlink to your preorder page at a given retailer, promote the link to your fans on your blog, website and on social media.
Preorders Increase Odds of Merchandising Love - All ebook stores have merchandising teams that select books for extra home-page promotion. Preorders can increase your odds that a retailer might slot your book into their ongoing promotions, especially if your book is accumulating a lot of advance orders.
Preorders work best for established indie authors, but can also work well for new authors - Established authors with strong social media platforms, and multiple books already on the market that are selling regularly (especially if these books are updated to mention their upcoming preorder), will do the best with preorders. However, even less established authors can and should use preorders to increase their visibility. If you can accumulate even a few orders a day over a one or two month preorder period at a retailer, at some retailers you're likely to land in the top 10 or top 20 of your genre's bestseller list . All indie authors start as unknowns. Even well-established indies are still unknown to the vast majority of readers. Smart platform-building requires consistent and methodical ongoing effort. With each well-orchestrated preorder, you'll be able to make the next release all the more successful.
I expect preorders to become an essential best practice for all professional indie authors. Although preorders represent a powerful new tool for every indie author's toolbox, like all tools they work best in the hands of a talented craftsperson - and that's you, the writer. Preorders are just one of the myriad professional best practices that indie authors must employ, such as writing a super-fabulous book and giving it a super-fabulous cover. For a summary of other recommended best practices, check out my free ebook, The Secrets to Ebook Publishing Success, available for download at all major retailers.
Related
Popular in the Community