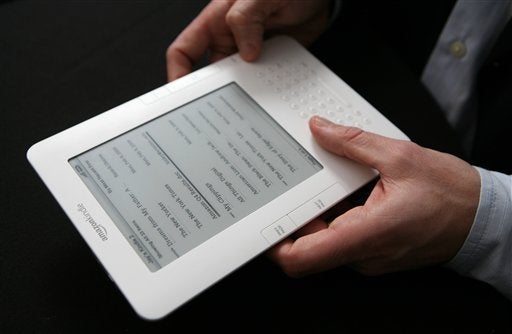 Book publishers' eBook deals with Apple and Amazon may violate competition laws, the Wall Street Journal reported Monday. Connecticut Attorney General Richard Blumenthal has expressed his concerns over the "agency model" agreements publishers have made with eBook sellers which ensure that the publishers can determine the minimum prices for eBooks.
In letters to both Amazon and Apple (embedded below), Blumenthal refers to a March New York Times piece which details the ongoing battle between Amazon and book publishers in the wake of Apple's debut of its iBookstore. The Attorney General says that he has been following the issue "with great interest" as it has developed, and that he fears that Apple's and Amazon's deals may be an example of a "most favored nation" (MFN) clause, which is "not per se legal." When publishers made deals with Apple for the launch of the iBookstore, Apple asked them to guarantee that they would not allow any other eBook seller to maintain lower prices than Apple's. This was a major stipulation in Apple's agreement to use the "agency model" for eBook pricing, wherein the publishers would set the minimum price for all eBooks sold.
Amazon initially fought back when publishers demanded they re-negotiate their eBook deals, though in the end, they grudgingly agreed. The biggest battles were with publishers Macmillan and Penguin, both of which were big supporters of Apple from the beginning of the controversy. During negotiations, things got ugly. Amazon removed the "Buy" buttons from all books from Macmillan and Penguin, and also briefly cut prices dramatically on Penguin hardcovers to push the company towards an eBook agreement. ("Buy" buttons were also briefly removed for some Hachette titles.) When Amazon finally capitulated based on the threat of not being able to compete with Apple, they kept disclaimers indicating the following for agency model books: "this price was set by the publisher."
The only publisher that will not be affected by the Attorney General's investigation is giant Random House. Random House remains the only large publisher not to have made an agreement with Apple -- their books are currently not available in the iBookstore. Random House has decided not to use the agency model with its retailers at this point -- likely because of the large amount of revenue they receive from Amazon under their current agreement.
The Attorney General found that eBook prices for a number of bestselling books were identical at all four major eBook retailers -- Apple, Amazon, Barnes & Noble, and Borders -- and that this was "potentially depriving consumers of competitive prices." No word yet about whether Apple and Amazon have agreed to meet with Blumenthal, but the Attorney General will likely also reach out to the publishers in question.
Calling all HuffPost superfans!
Sign up for membership to become a founding member and help shape HuffPost's next chapter