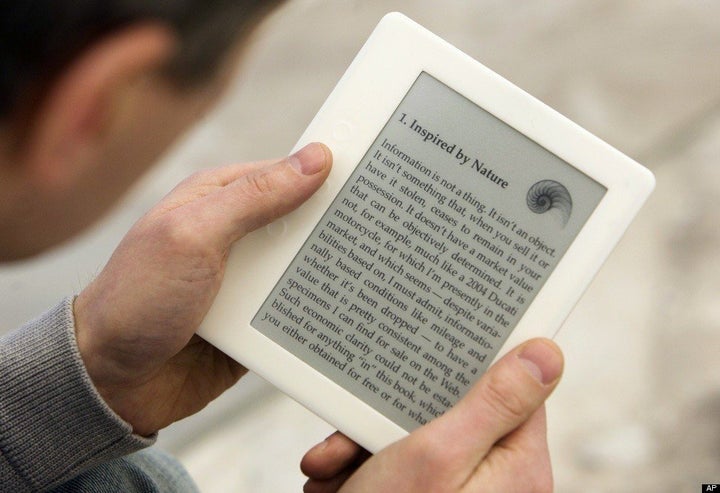 It's not all that shocking that TIME recently listed Apple's iPad as the most sought-after tech gadget in 2010. The capabilities of the iPad, as well as other tablets like Samsung's Galaxy Tab and HP's Slate, are virtually endless -- you can watch movies, play video games, catch up on the day's news, or read a novel. Much of what you need is right there in front of you, whenever you need it.
E-books are just one industry of many that has exploded partly due to the growth of tablet sales. Gartner Research predicted that the worldwide sale of electronic e-book readers (like the iPad, the Amazon Kindle, the Barnes and Noble Nook) has increased by 79 percent since 2009, with 6.6 million units in 2010 compared to 3.6 units in 2009. So many people are jumping on the e-book bandwagon because of the simplicity it presents. In most cases, you download an e-book and it's there at your disposal in minutes or even seconds. Another plus is that e-books are usually cheaper than print books, and some are even free.
It's not only readers who have joined in on the e-book phenomenon. Best-selling authors are switching gears and publishing their books more directly through digital publishers. The benefit of publishing a book in weeks rather than years across all formats is a huge incentive.
My company FastPencil's newest venture, FastPencil Premiere, is a next-generation publishing imprint designed for best-selling, established authors. Authors selected see faster publishing times, access to wide distribution channels including bookstores and ebooks, more content control and higher royalties. Some of the top-selling authors who have recently signed to FastPencil's Premiere include Mark Victor Hansen (Chicken Soup for Soul series co-founder) who just launched his latest book "U R The Solution" with co-author Bill Froehlich, Steven Pressfield ("The War of Art" and "Legend of Bagger Vance") and Guy Gilchrist (The Muppet Babies co-creator and classic newspaper strip "Nancy" cartoonist.)
Pressfield, for example, signed with FastPencil after many of his The War of Art fans kept asking him why the e-book version of the book (not with FastPencil) wasn't working correctly. He teamed up with FastPencil and saw immediate success with his new The War of Art" e-book. Now his e-book is on a variety of platforms.
Major traditional publishers have also taken notice of the significant change, and some are even taking steps to adapt to the shift.
Seth Godin, a best-selling author who has been in the publishing industry for more than two decades, announced this past summer that he was dropping his publishing house and instead planned to sell his future books directly to his audience. He later announced his newest publishing vision with Amazon, the Domino Project, which will change many of the rules traditionally tied with publishing trade non-fiction. In a recent blog post, Godin writes about getting rid of what he calls the "middleman," also known as bookstores, which have a limited amount of shelf space.
The creation of e-books has forever changed the publishing landscape. Rather than be at the will of those major publishing fees or product placement, authors have a choice in how they want to market and sell their e-books. Readers have the option of downloading a book for much cheaper than a print version and receiving it in a matter of moments.

REAL LIFE. REAL NEWS. REAL VOICES.
Help us tell more of the stories that matter from voices that too often remain unheard.