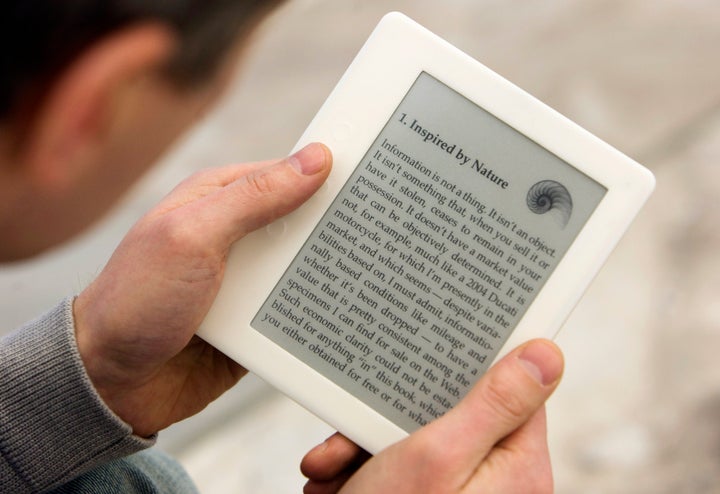 Strange how generational consciousness changes and we don't even notice. When Sixties' economist Paul Sweezy wrote the classic book, Monopoly Capital, we were suddenly filled with a impending sense of doom. Economists created charts showing how monopolies could charge consumers any price they liked, and in 1974 the U.S. Justice Department began breaking up AT&T, "Ma Bell," into regional pieces.
By the year 2000, just a generation later, a friend teaching at UC Berkeley was shocked to find her undergraduate students did not know what monopoly or oligopoly was, let alone why either might be bad for us.
AT&T is back and stronger than ever. AT&T is part of a U.S. telecommunications (telephone, cable TV and Internet) oligopoly. Clearly antitrust laws have languished on dusty shelves for decades. So why is the Justice Department dusting them off to sue Apple and five book publishers?
The oligopoly behind book publishing in the 21st century
What you need to know is that an oligopoly of six giant multinational media companies now control the market for published books in the US. These companies include CBS, Rupert Murdoch's empire, and four other conglomerates located in Great Britain, France, and Germany. (For details, see my free report on Brucenomics.com)
Apple is alleged to have made deals with five imprints, i.e., subsidiaries, of these media empires: HarperCollins (News Corp.); Hachette Book Group (Hachette Livre); Macmillan (Verlagsgruppe Georg von Holzbrinck Publishing); Penguin Books (Pearson PLC ), and Simon & Schuster (CBS). Of the big six conglomerates, only Bertelsmann is absent.
The alleged result of these deals is that Apple and the publishers can price e-books higher than the $9.99 maximum Amazon sets. Why did Apple do this? Because unlike Amazon, which sells millions of e-book titles, Apple sells only 100,000 or so e-book titles. To grow, Apple's iBookstore needs to collect more money per e-book copy than Amazon gets. So Apple raised prices of its e-books instead of raising author fees.
Amazon can afford to collect less per e-book title because it sells over 10,000% more titles and tens of millions more copies of e-books than Apple. Even Barnes & Noble can't compete on Amazon's price terms. B&N was considering selling its Nook division. Microsoft just bailed out B&N with a big cash infusion.
But which kind of price-fixing?
Amazon was the first to price-fix books. In 2007 it limited new e-books and bestsellers to $9.99. Three-quarters of U.S. books each year are by novice self-publishers who get an Amazon incentive to price their books between 99 cents and $4.99 and have no idea how few copies they will sell at that price.
The truth of book pricing is that very few published authors have ever made more than expenses on a book. That's because the chief cost is the content of the book. Production and distribution are small in comparison and costs are similar for either an e-book or a POD print book.
But books are not mass-produced items like toothbrushes. By U.S. copyright law, every single one of the 1,000,000 book titles published each year must contain unique content. The DOJ may be following the letter of the law, but not its spirit, by assisting Amazon to destroy its closest competitors with its maximum price for e-books now, so it can charge any price it wishes in the future.
This is why the UK, France, and other countries use minimum fixed book price agreements. They want to prevent the kind of downward price competition that encourages publishers to focus only on blockbuster books. These agreements fix a minimum price on retail sales of books in order to promote a variety of books by lesser-known authors.
If the Justice Department prevails over Apple on behalf of Amazon, it will mark the end of books as we now love them, and it will mark the beginning of monopoly for Amazon, Walmart, and every other megastore that undercuts its competitors by lowball pricing.
Which kind of price-fixing do you prefer? Low-cost books with lower quality sold by one bookstore until its competitors die off and it can charge as much as it wants? Or higher-cost books with higher quality that foster competition among e-bookstores?
Related
Popular in the Community