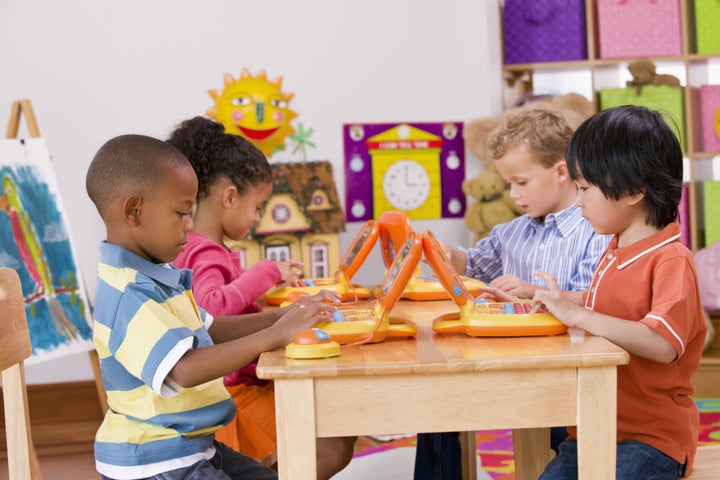 A few cases stick out to Walter Gilliam from his time as a mental health consultant in preschools over a decade ago. Gilliam, now a professor at Yale University, used to work with preschool teachers to assess the needs of misbehaving children. He remembers one instance in which a young boy had difficulties interacting with his teacher. Sometimes the boy would curl up into a ball on his teacher's lap and fall asleep. On other days, he would crawl into his teacher's lap and violently punch her in the face.
Gilliam met with the child's guardians to try to figure out the problem. Like in so many cases, the issue seemed to start at home. The boy was struggling with intense feelings of abandonment. It was only recently that his mother had dropped him off at his father's house and never returned. The child saw his teacher as a mother figure, and in her presence, he wavered between feelings of intense affection and anger.
Once teachers became aware of his story, they set to work to try to solve the issue. They started taking the boy into a "cozy corner" about 30 minutes before the time of day he typically misbehaved. They worked to relax the boy.
"We started understanding what this child was needing and looking for, and giving it to that child in a more pro-social, positive way, instead of waiting for this child to fall apart and demand it on his own terms," said Gilliam.
Had it not been for the intervention, the child likely would have been expelled from school, says Gilliam. After getting sent to another preschool, he might have been expelled again and again, "until everybody became convinced his child would never be able to succeed in school."
Gilliam has long known about the promise of partnering mental health professionals with preschool teachers. Indeed, officials have also been praising the benefits of such partnerships for years, but with little quantitative proof.
This week, Gilliam and his colleagues at the Yale Child Study Center released an unprecedented study outlining the benefits of programs that pair mental health consultants with preschools. These partnerships, study authors surmise, could help reduce teachers' troubling reliance on suspensions and expulsions as a means to deal with problem children.
"Integrating mental health professionals into early childcare programs is a really viable option to support the healthy social-emotional development of young children and perhaps prevent harmful expulsions and suspensions," Gilliam said in a press release.
The study specifically follows a statewide program in Connecticut called the Early Childhood Consultation Partnership (ECCP). This program, which is available for free to early childhood education classrooms throughout the state, pairs mental health professionals with preschool teachers for a three-month consultation.The professionals observe children, coach teachers, work with parents and help develop a relationship between classroom leaders and families. It's the type of comprehensive program that is relatively rare on the national level, said Samuel Moy, CEO of the nonprofit that manages ECCP.
The study compares a group of classrooms in ECCP with a control group of classrooms without access to the program. In classrooms where teachers worked with ECCP, there was "significant reduction in type of classroom classroom behaviors that often lead to suspensions and expulsions," said Gilliam. Misbehaving children became less aggressive and oppositional and more compliant.
And a preschooler who's aggressive can risk being suspended or expelled ― which in turn can lead to learning problems later in school, according to earlier research highlighted by the authors.
Modern-day preschool is not only a place for building blocks, play dough and jungle gyms. It's also place where discipline is taken seriously. During the 2013 - 2014 school year, over 6,700 preschool students were suspended more than once from early learning centers.
Not all types of students receive these punishments equally. Suspensions are disproportionately handed to black preschoolers, who are 3.6 times more likely than white children to receive out-of-school suspensions, according to the Civil Rights Data collection. This trend continues as students move through elementary, middle and high school, where students of color continue to receive disproportionately harsh punishments.
Gilliam has been studying issues related to preschool suspensions and expulsions for over a decade. In 2005, he authored a study documenting how preschool children are expelled at a rate three times greater than K-12 students. According to Gilliam, one of the most important thing ECCP consultants do is facilitate partnerships between parents and teachers, who do not usually get to know each other.
"I've been studying children in different pre-k programs for 15 years now, and I've seen a lot of cases of children being expelled," Gilliam said. "I've never seen or heard of a child suspended or expelled when the teacher and parent knew and liked each other."
Rebecca Klein covers the challenges faced in school discipline, school segregation and the achievement gap in K-12 education. In particular, she is drilling down into the programs and innovations that are trying to solve these problems. Tips? Email Rebecca.Klein@huffingtonpost.com.
Popular in the Community