It was MEA days here Minnesota (no idea what the letters represent), and every year, the third week in October, students get Thursday and Friday off from school, and most folks head up to the North Shore. We've now lived in MN for three years and since, I've felt the pull of the masses, beckoning our little truck containing two fighting kids and the third talking incessantly to herself because she's a bonafide Little Pony, up to a cozy cabin along the majestic North Shore.
I'd hoped that we'd finally head north over MEA days and revel in autumn's finest foliage. Nine calls later, every cabin sprawled out to Canada booked and the cheapest lodge room just under $400 nightly, I realized the North Shore and MEA days were not conducive to our modest Stoufis budget.
When I told Nikos the bad news, he feigned disappointment and replied, "Aww, too bad. Why don't we go to the movies?" Over eighteen years now and Nikos still hasn't grasped that I'm a map-stalker, and I've plans running from B to Z.
Three hours south on Route 52, is Spook Caves RV Camp and Resort, located near McGregor, Iowa. I booked two nights at a reasonably priced Amish-built cabin, equipped with a kitchenette, overlooking a lake.
I gathered up my rascals, scooped up clothes from the dryer and placed them directly into our ugly green suitcase, filled a couple of grocery bags with meal supplies and some good junk food, and made myself a strong cup of coffee for the drive. Nikos was driving his car directly from work, only a ninety-minute drive for him, and meeting us there.
The last half of the drive was lovely, passing quiet Amish towns and the blurred colors of fall. Nikolas was all gripey because I made him get off of screens after an hour. Elizabeth complained that her Pointe shoes were dead, and that we shouldn't be wasting money "on a stupid trip to IA", and instead buying her shoes that we couldn't afford. It was okay though, little Katerina played with her trains and My Little Ponies, just as pleasant as could be.
I didn't need to take along directions, because the route was super easy, even though Nikos marveled that I found the place without a cell phone or GPS. When you've never used either, they're unnecessary.
The sun was casting incredible orange and pink hues in its final hour as we arrived. Our cabin stood at the top of the hill, and we found Nikos, who'd made it five minutes prior, under the hood of his clunker, looking all manly working on his hissing car, with steam emanating from it.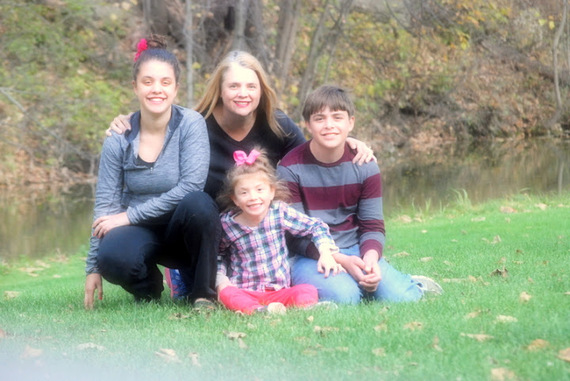 Nikos' car had broken down four times along the drive, and he remarked how nice Iowans were. Even women stopped to ask Nikos if he needed a ride or help.
Nikos momentarily abandoned his car and announced, "Let me give you a tour of our cabin!" It was just the cutest little place, pristine and wood-scented! Elizabeth and Nikolas began arguing on cue, who got which bed, Katerina jumped from one queen bed to the other, and I bounced around all excitedly, ready to play house.
Adirondack chairs were on the front covered porch, and the view of the lake with the last remnants of autumn clinging deftly to the trees was very simply, heart-stirring.
It was finally dark, and too late to cook, so we drove into the quaint historic town of McGregor. We bought some coffee cream and essentials (well nothing is quite as essential as coffee), and dined at the only open restaurant in town, Mexican fare.
Our low expectations of the food swiftly turned after the first taste of fresh salsa, tortilla chips and creamy guacamole. The food was excellent, but Nikolas' chiles rellenos were the best, and he held his tongue when I took my second bite.
I turned on the heater in our cozy cabin, and the kids didn't have to search too long to realize there wasn't a TV. The girls slept in the room adjacent to the rest of the cabin, the boys got the bunk beds, and our sleep was blissful.I awoke in the dark morning to make Nikos some coffee and Pop-tarts before he left for work. I didn't even mind being stuck without my car all day.
Once my little sleepyheads scrambled out of bed, we took our time until the morning chill wore off, and enjoyed the gorgeous weather for the rest of the day. We took a walk down to the lake which was more like a pond. Nikolas worked on his photography skills, and I hadn't the heart to tell him that the camera was automatic so he didn't need to manually adjust the lens.
The four of us enjoyed our lunch outside on the picnic table, and while the kids played outside, I took a brief nap. We walked down to the gameroom, and played arcades with faded screens, said our hellos to the ducks, and then headed to the playground. Katerina wanted me to catch her from the in-ground slide, and I wondered wistfully when would be the last time my little girl would need me to stand at the foot of the slide with my arms wide open.
It had been a peaceful and sunshiny afternoon. We walked over to the waterfall and I had to threaten Elizabeth and Nikolas with plenty if they tried to push each other one more time.
Eventually, Nikos pulled up and the kids clambered in the back of the truck, WV style. Nikos puttered around with his car, until it was time for the cave tour.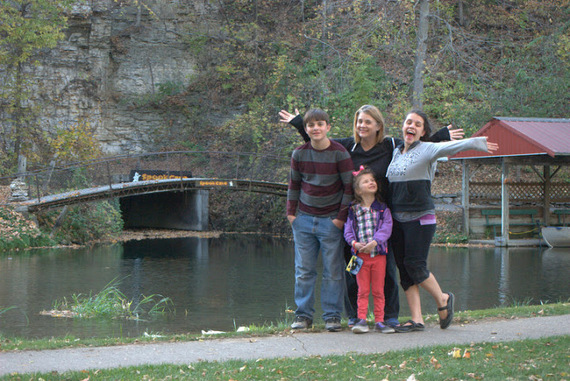 Our cave guide's name was Bryce, an all American, well-spoken and mannerly kid, headed soon to the Navy. The five of us sat in a small motor boat and Bryce led us into Spook Cave. What a treat! Touring a cave on a boat was cool enough, but Bryce led us into a story line, with legends and fun spooky tales. The clearance level was low, so we had to duck our heads some, but Nikos had the right idea to simply lie down on the third seat of the boat. Inappropriate Nikos kept aggravating me by rubbing his foot on my rear, and the more I hissed at him to cut it out, the more obnoxious he became.
The cave was discovered in the the 1950s, and tours have continued since. From a cynical standpoint, you could say it was all a bit hokey, yet from my cheesy grin, along with the rest of my goofy family's joy, we had a jolly time!
We showed Nikos the waterfall, and then walked back to our cabin.Nikos turned into Pa Ingalls, and I played right along, making breakfast for supper. Meanwhile, Nikos started his trademark caveman fire in the fire pit, and returned to fixing his car.
After we filled our bellies, and I'd set off the smoke detector twelve times, we sat outside under a brilliant abundance of stars against the clear dark sky. The kids roasted marshmallows and we enjoyed a rare few minutes of blissful harmony.
The following morning, I made Nikos an egg scramble with the leftovers from supper, and off he went in his repaired jalopy. I didn't want to leave. I went on a walk and inhaled the crisp morning air, until the inevitable check-out beckoned me to pack.
I knew we'd return to Spook Caves, perhaps it would become our annual MEA days gig.