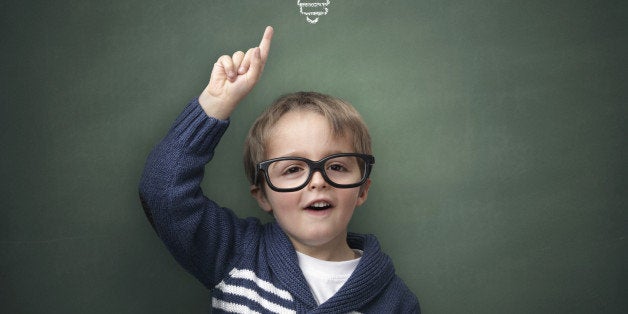 For National Foster Care Month, I interviewed Echoing Green Global Fellow Serita Cox, who is the Co-Founder and CEO of iFoster. iFoster developed an online platform that connects at-risk children and teens in foster care to the resources they need to become successful, independent adults. Before launching iFoster, Serita provided strategic counsel to some of the largest philanthropic foundations and non-profits service at-risk youth as a management consultant with the Bridgespan Group. She was also the Vice President of Strategy and Business Operations for 3Com Corporation, and previously a strategy consultant for Fortune 500 companies with Deloitte Consulting. Serita was a 2012 White House Office of Social Innovation Citizen Innovator and is a National Urban Fellows America's Leader of Change. Here's my interview with Serita:
Marquis Cabrera: What is iFoster? Where did you get the idea from?
Serita Cox: iFoster is a national non-profit with a mission of ensuring that every child growing up outside of their biological home has the resources and opportunities they need to become a successful, independent adult. The foster care community is highly fragmented, some of it is structural due to ensuring privacy and safety of the child, but this leads to few if any economies of scale and difficulty for the community to act or speak as one, let alone interact effectively with those outside of child welfare. iFoster brings together this fragmented population into a virtual community where they can access the resources they need and their collective voice can be heard. Our core competency: Bridging child welfare and the greater community because a single system, alone, cannot provide everything a kid needs to grow up and become a successful, independent adult.
Marquis Cabrera: What pain point is iFoster solving? Is it that child welfare is not engaged with the stakeholders outside of the child welfare community?
Serita Cox: Child welfare is not designed to engage with the outside world, by its very nature it is about the security and privacy of the child. iFoster is focused on is the resource deficit for our children and youth in care. According to the USDA, it costs $250,000 to raise a child from 0 - 17. This is what the child consumes in food, clothing, playing sports, hair cuts, computers, braces, tutoring, you name it, etc. If you compare that to foster care, reimbursement rates and entitlements in foster and kinship care are a fraction of this total amount, being focused on basic needs more so than higher level needs or what we call thriving needs like educational supports or recreational activities. No wonder our [foster children] are failing because we are not investing in those thriving resources.
Marquis Cabrera: Have you talked with folks in government about the aforementioned family financial pain points?
Serita Cox: I'm not sure it is a government issue per say, but a larger more societal issue since the very purpose of foster care is that it is a temporary solution for the safety and security of a child with the notion that it is a temporary until a permanency either through reunification or adoption is found. The sad reality is that children aren't in foster care temporarily. It has become the only solution for far too many children resulting in over 30,000 aging out of the system each year without permanency. So how can we expect a system that was never really set up to replace Mom and Dad, effectively nurture and raise a child? To me, it is not an issue of system change since technically the system is doing what it was designed to do, but rather a broader societal question of how do we as a society ensure that children growing up outside of their biological home get the resources, supports and opportunities they need to succeed. One system can't do it alone.
Marquis Cabrera: Can you tell me more about iFoster's core product? What is the example of use case? And, what has been the impact to display your impact to date?
Serita Cox: Currently we have over 30,000 members that use iFoster -- our digital platform -- on a daily basis. Through our platform, members can access 100s of products and services that we have sourced and vetted to meet their needs - 24/7 access via computer or mobile device. The platform is secure and user-personalized -- and free to users. An account is created and personalized based on type of member, type of resources looking for, and location. So when they're approved, they have a personalized account that is set up with tons of resources that meet their specific need. If a member lives in NYC, that user won't see resources in LA. If they don't have baby, they won't see resources related to babies. Caregivers can of course update or temporarily change their preference to see all of our resources, but we try to narrow them down to the ones that each of our members are most interested in and can use.
Our main goal is to go out and source products and services that our community says they need the most; then make them available through a digital platform. The number one requested resource needed is always laptops. Social workers, caregivers and youth tell us our kids are failing in school and not integrated into society because they are disconnected. To solve this problem, we partnered with Microsoft, who provided free licenses to Windows & office; then we partnered with largest refurbisher of computers, CDI, to provide families and youth with laptops with the full suite of productivity software they need and ongoing tech support for $200. That's one example. Another: If you break your glasses, it's really expensive to go and get a new pair; most foster youth do not have the money, so they wait a year to get another pair. So we partnered with VSP, who is the largest insurer of eyeglasses, to provide free eye exams and to replace eyeglasses for free. Also, we partnered with SmilesChangeLives to help youth get orthodontic care for 10% of the costs to get braces, ongoing treatment, and a retainer at the end of treatment. We have national and regional partners providing free tutoring, including phone and online one-on-one tutoring with no appointment necessary. Through iFoster, transition age youth can get a free cell phone with unlimited voice and unlimited text so that they can always be in communication with their support network, employers, teachers, family and friends. We also partner with companies to employ our youth through our iFoster Jobs Program, as well as providing scholarships or tuition reimbursement. So not just concrete resources, but services and opportunities as well.
Marquis Cabrera: How do you know what to provide to your community? Do you poll your community to figure out what needs they have?
Serita Cox: We constantly ask our community what they need most. We conduct focus groups in every new market we enter with agency staff, foster youth and caregivers. On our portal, we have a feedback button where we receive hundreds of requests and suggestions a month. We also collect analytics across our platform. Since it is a secure, user authenticated system, we know what every member does on our site - what they are looking at, what pattern they do their searches in, how long they stay on a page, what they download - through this we can begin to map the behavior and needs of different member types in different locations and better understand how to serve them.
Marquis Cabrera: How is the organization evolving? Are you working to develop new products?
Serita Cox: We evolve based on the demand from our community and whether what they are asking of us is in our wheelhouse - our core competency. For example, Transitioning youth have asked us for help on finding a place to store their vital documents. So - we launched a Digital Locker - it's available nationwide [and included in our free membership]. Youth can take a picture of medical card, birth certificate, or other essential documents, like their adoption certificates [and upload them into organized files in their individual locker]. These documents are hosted on a separate HIPAA compliant platform, which is all integrated into their account. Any transition age youth automatically gets a digital locker. [Each locker is integrated into our overall resource portal, so not only is this a safe and accessible place to store life documents, but youth can find and store the resources they most need from our hundreds of offers. We can also suggest resources to youth based on their geography and preferences, so we try to make it really easy for transition age youth to get all of the resources and services they are eligible for to help them be successful out there]. When s/he logs in as a transitioning youth, their account has those resources; locker section (save and download) and then it has a cases and contact section. There's a contact system to send encrypted documents to their contacts. We launched BETA last September and host an estimated 15,000 to 20,000 documents.
We have also launched a jobs program for transitioning youth. Access to jobs for our youth, like access to laptops, has been a constant request from the community. This past year, we devised a way to build a program that leverages our core competencies of working with companies (the outside world) and bridging into existing program and partnerships within child welfare to deliver a scalable, replicable jobs program for foster youth. In just under a year, we are now the biggest permanent jobs program for foster youth and with solid results - 100% hire rate and 90% retention through 6 months. We actually cannot meet demand from either child welfare or companies. Who knows what our community will ask of us next!
Marquis Cabrera: Do you have a big idea that would improve outcomes for children and families? Does providing concrete resources really matter?
Serita Cox: Give every foster kid a laptop! The UN said access to internet is a basic human right. Bangladesh and other countries have better access to the internet than our foster youth. We're only beating Uganda, that's it. Meanwhile 90% of US teens and 79% of low income US teens have access to a laptop in their home, compared with less than 20% of foster youth (5% for rural foster youth). This is why iFoster created and built out the One Laptop program for youth (it is only for kiddos to have laptops). We provided in 3-4 years, 7800 laptops to in college and college bound foster youth in almost every state but two. Most people say kids can go to libraries, it doesn't matter.
To understand if laptops made a difference in a kid's life, we conducted an external study and evaluation. We provided 3000 laptops across Placer, Madera/Fresno and Los Angeles counties. Once we gave these foster youth laptops and measured the impact on academic performance, social "connectiveness" and life satisfaction, 3 categories foster youth score dismally low on we found that grades went up, missed school days down and more foster youth were applying to and looking to go to college and find employment. On the social connected side, they had increased and higher quality communications with their biological families and were more in contact with their support networks (i.e. case workers, employers, teachers, attorneys). Also, self-esteem went up and depression and suicidality went down. In a population where 40% of transition-age youth will contemplate suicide and 25% will attempt it, clearly reliable, consistent access to a laptop matters. If a tiny nonprofit could provide solution to 7800 laptops, I think government and even better, a true public/private partnership with Silicon Valley can easily do ten times more and solve this problem. Just like we give clothes and food, provide kids with medical care, we should provide foster youth with a computer. There are less than 78,000 foster youth who are 16 -20. If you give each of them a laptop, it would cost $15-17M for all foster kids, which is .2 percent of the Children's Bureau budget, you allow more kids to beat the odds. So give a kid a laptop!