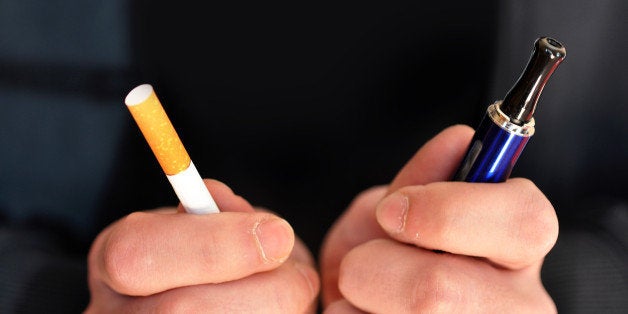 Health experts and organizations are calling the Food and Drug Administration's proposed rules to regulate electronic cigarettes, or e-cigarettes, a good "first step," but largely agree that more is needed in terms of regulating marketing to young people.
The FDA released the proposed rules Thursday, April 24, which would make additional tobacco products -- including e-cigarettes, as well as hookah tobacco, nicotine gels, cigars, pipe tobacco and dissolvables that aren't already being regulated by the FDA -- subject to regulation. The rules are available for public comment for 75 days; after the rules are finalized, companies would have two years to fulfill compliance. However, FDA Commissioner Dr. Margaret Hamburg, M.D., said in a media call that it would be hard to pinpoint the exact date -- or even a year -- that the rules will be finalized and go into effect.
According to the proposed rules, there would be a minimum age of 18 to purchase these products, a requirement to include health warnings on the products, and the prohibition of sales from vending machines (unless the machines are in a place where no youths are allowed).
Other rules for the makers of the products include not distributing free samples, only marketing the products after the FDA has reviewed them, registering the product with the FDA and reporting the ingredients in the product, and not making any claims -- direct or implied -- of a reduced risk or public health benefit, unless the FDA says there is enough scientific evidence for those claims to be made.
The proposed rules don't mention regulation of advertising of the products, nor regulation of flavorings of e-cigarettes. They also would not affect online sales of e-cigarettes (though online sales to minors would be illegal).
Health experts are largely calling the proposed rules at least a step in the right direction. "It's a first step, but a welcome step," Dr. Neil Schachter, M.D., medical director of the Respiratory Care Department at The Mount Sinai Hospital, told HuffPost. "A major thing that I see this doing is making it harder for children to get these products, and I think that's a very important issue because … most people start smoking before the age of 20. It's almost unheard of that I will find someone who starts when they're 40 years old."
But even though the direction is right, the proposed rules aren't perfect, he said.
"There are so many other issues that need to be addressed: the health issues, the transition issues [of] people who start with e-cigarettes and they wind up using other tobacco-containing products," he said. "All these things have to be looked at and regulated, but as the experience with cigarettes shows, you can't just come down and say, 'Boom, we are banning this product.'"
The rules also don't address marketing of the products, particularly marketing toward youth, said Amy Lukowski, Psy.D., clinical director of the Health Initiatives Programs at National Jewish Health. Lukowski said stricter regulations are needed that would control more of the marketing of the products, dose control of nicotine in the products, and the use of flavoring that could entice younger users.
Right now, electronic cigarettes are marketed on TV and given out as free products, she said.
"From regular cigarettes, we haven't had or seen those types of advertisements for many, many years, so in my opinion, we've taken a step back," Lukowski told HuffPost. "Because now, everyone is seeing those in mainstream TV spots all the time. So it's renormalizing the behavior."
Nancy Brown, the CEO of the American Heart Association, released an official statement applauding the FDA for taking action to release rules on electronic cigarettes, but saying the rule "falls short" because e-cigarette manufacturers would still be permitted to advertise the products with flavorings.
It "increases the risk that we will raise yet another generation addicted to nicotine, before we even fully understand the health dangers of these new nicotine-delivery products," the statement said. "We MUST increase the pace of research, and understand the full range of health consequences, before we allow this Trojan Horse of nicotine back into society."
Mitch Zeller, J.D., the director of the FDA's Center for Tobacco Products, noted that regulation on marketing and advertising of e-cigarettes is possible in the future, but that it would require a separate rule-making from this current proposed one.
"You have to have jurisdiction over the products, [and] in order to have jurisdiction over the products, this rule has to be final and go into effect," he said in the media call.
"That's why we call this rule foundational. There's this entire category of products out there that people think are safer than cigarettes," Zeller said. "And the whole point of being regulated ... is to bring a public health-based, evidence-based, regulatory approach to protecting consumers, protecting the public health."
The American Lung Association said it welcomes the release of these proposed rules (though it did point out that the proposed rules allow for potential exemptions of certain cigars, which they said would be "unacceptable").
"The years of delay have allowed e-cigarette use among youth to double," according to a statement from the organization. "We call upon the Obama Administration and the FDA to finalize this proposal by the end of this year and ensure that it applies to all tobacco products."
"At this point, we have far more questions than answers about who is using e-cigarettes and how they are being used," Zeller said. "If someone is a pack-a-day smoker, and they have no interest or ability to quit and they're going to continue to smoke a pack of cigarettes day for the rest of their lives, and that hypothetical smoker substituted all [cigarettes] for e-cigarettes," even with all the questions still present about safety, that "person will be reducing their risk."
But that's a hypothetical, he said, considering data is still lacking on all the possible uses for e-cigarettes. For instance, some smokers might use the products in situations where they can't light up -- in other words, they're using both e-cigarettes and conventional cigarettes.
So in this case, "this 'less harmful' product actually increases harm because it serves as a bridge for health-concerned smokers to get from the last cigarette to the next cigarette," he said.
Zeller noted that the FDA has several studies underway to investigate the safety of e-cigarette use. There have been a few studies conducted in the past: In 2012, for instance, a small study in the journal Chest showed that there were changes in lung functioning in smokers who used e-cigarettes for the study. And between March of last year and this year, there were more than 50 e-cigarette-related complaints received by the FDA (including injury, nicotine toxicity and burns).
Last year, the Centers for Disease Control and Prevention reported that the use of electronic cigarettes among middle- and high-schoolers has more than doubled from 2011 to 2012. Specifically, 4.7 percent of high-schoolers said they had ever used an e-cigarette in 2011, while 10 percent reported the same in 2012.
"Experts are concerned that once a kid experiments with e-cigarettes -- and any initiation of any nicotine-containing product is not good for public health -- it's especially damaging if those kids become tolerant to nicotine ... and begin seeking nicotine from combusting cigarettes," Zeller said. "In absence of this rule going final, there is no federal regulation or law that prohibits the sale of e-cigarettes to minors."
Related