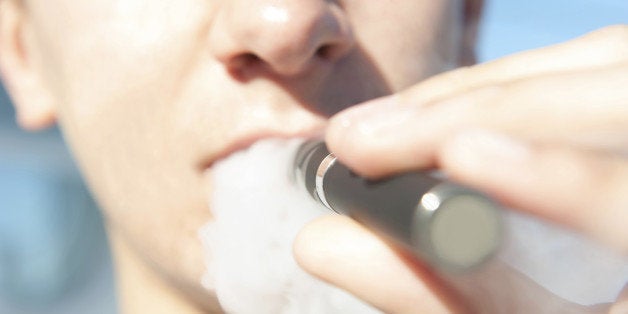 It doesn't matter how old you are, it's no secret that e-cigarettes are hot right now. In fact, Oxford dictionaries recently named "vape" as its word of the year for 2014. And while smokers-turned-vapers tout e-cigarettes as a safer alternative to cigarettes despite lacking medical data to back that up, there's a demographic being exposed to the liquid nicotine products for no good reason: children. I'm not just talking about the teenagers you hear about experimenting with vaping, I'm talking about toddlers getting into the stuff that isn't in a safe package or a safe place. This liquid nicotine that fills e-cigs smells sweet, tastes sweet and comes in candy-like wrappers.
Teens are exposed in unique ways, too. In my experience, teens are a key target market for e-cig advertisers and are perfect prey for nicotine addiction. Teens can get confused when hearing about the possible health benefits (harm reduction) in adults wanting to quit an old habit and they confuse or confer that for safety. Some teens have reported to me they have heard it will improve their sports and school performance. They think e-cigs may help them.
There is no data to show e-cigs are good for anything in teens -- in fact we know nicotine increases HR and BP which in the end could decrease sports skills. Just a teaspoon of liquid nicotine can be lethal to a young child and we know nicotine can have lasting adverse consequences on teen brain development. Becoming addicted to nicotine (the big worry in my mind when it comes to teen use) could have secondary health effects leading athletes to cigarettes which we know won't improve their talent on the field.
Rates of e-cig use in teens rose from 4.7 percent in 2011 to 10 percent in 2012. Now a recent Pediatrics study of 1900 young high-schoolers in Hawaii shows 29 percent have tried e-cigarettes. Only 15 percent of the same group reported trying a cigarette. These e-cigs are getting around.
But as I said above, it's not just use among teenagers that's cause for concern. Young children living with or near nicotine may be at highest risk from e-cigs due to their innate curiosity and lagging judgment. The first child death related to exposure of liquid nicotine was reported this month. A 1-year-old child in New York died from exposure to liquid nicotine after officials have been warning of the risks from sales lacking regulation. The risks are being felt everywhere as the rates of calls to poison control rose from one report in September of 2010 to 215 calls in February of 2014. In Washington State where I live, >80 percent of calls about pediatric exposure to liquid nicotine to the poison center in 2014 were for children between 1 and 3 years of age.
This New York death represents an enormous tragedy for this family but also for our ability to prioritize safety over sales. We can't forget that the flavored nicotine used in e-cigs appeals to many senses in a toddler exploring their environment. Dr Alexander Garrard, Clinical Managing Director of the Washington Poison Center said, "The products smell very sweet, akin to a Jolly Rancher, so they're enticing to a number of different senses in kids. The packaging is very colorful as well." All these things draw a child to experiment and possibly ingest an unwanted toxin.
Currently there is a bill sitting in congress, the Child Nicotine Poisoning Prevention Act of 2014. The bill would require the Consumer Product Safety Commission to enforce child safety packaging for liquid nicotine containers. This sounds like a great first step but right now the bill is being reported to only have a 20 percent chance of being enacted. Perhaps the recent death will change political inertia.
E-cigarettes represent an $11.7 billion industry (in 2013) and yet congress has yet to take action and ensure the safety of children within reach of liquid nicotine. Protecting children from this toxin, I would say, is a current failure of pediatric public health. This extends past individual responsibility of parents and caregivers to keep liquid nicotine up and out of reach and right into the lap of lawmakers to advocate for the safety of our children.