We keep waiting for this to be a dubbed an April Fool's Day joke, but we're four days in with no signs of letting up.
Ecko Unlimited, purveyors of t-shirts, denim, track jackets, polos, sneakers and more; best-known for its ad campaigns featuring Lindsay Lohan and Vanessa Hudgens, is offering a 20 percent discount off its wares for life to anyone who gets a tattoo of the label's rhino or shears logo.
Hold that tat machine...only 20 percent?
Lesson to be learned here: even if you go so far as to literally brand yourself, you'll spend the rest of your days buying $29.50 hoodies for $23.60 to cover up that bad decision on your arm.

But do let us know if you go through with it.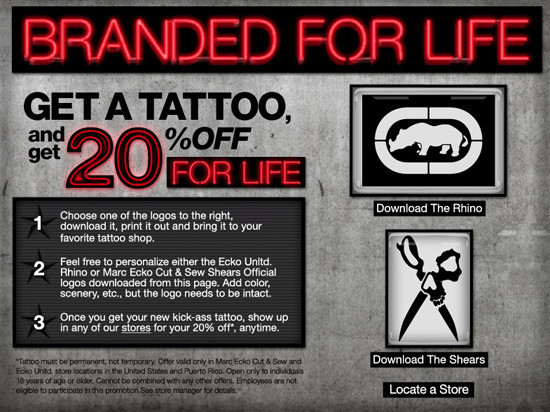 Popular in the Community