If you think about Tallahassee you probably think of the Florida Capitol; and if you've ever visited, you most likely remember arriving and initially only noticing the enormous trees winding the streets, and the prestigious historical buildings overlooking a picturesque old Florida. Well, Florida State University is a huge part of that history, and nestled in its southern charm are the brick walls of our beautiful and elegant campus.
When taking a tour or just strolling through campus you'll find a plethora of activities going on that differentiate all the students in the hustle and bustle of the lush green lawns. Personalities definitely do not run short here, as there's always a hum in the air from the guitars in the distance, someone handing out fliers for a charity or some passion, students studying in hammocks under a tree, and of course the classic frisbee flying over your head. While the fashion is definitely diverse and every style is essential and appreciated, a certain edgy and boho style has always interested me and seems to really capture the easy-going, artistic nature of many FSU students.
One thing you wouldn't notice on your first visit, what feeds this thriving culture and a vital part of FSU style is a little spot called Railroad Square. Right off Railroad Road, it's a park that strikes you immediately upon entrance with its industrial metal sculptures and lively artsy ambience. Within all the colorful garages and bright handmade signs are various locally owned shops and even artists' studios. This is a hidden gem as it showcases so many styles of the awe-inspiring local artwork, delicious food trucks, live music and some of the best thrifting in town. This is definitely a place I make sure to hit if I'm looking for some cool one-of-a-kind furniture, vintage clothes or jewelry or awesome artwork that you couldn't find anywhere else.
You'll find that a large amount of students make a living, or supplement their income through art that they create or sell. Many of the students I've gotten to know are extremely passionate about one hobby or another. Some have their own business through their photography, some create their own music, genres ranging from all over the spectrum, you might meet a fashion major knitting her way through college and you can find lots of great pieces from students selling DIY clothes at Market Wednesday on campus; there are so many interesting and creative outlets at our fingertips inspiring a varied and eclectic style.
This Fashionista embodies the artistic and bold FSU student; she's an art major who surrounds herself in beautiful art from her own hand-made wild art pieces and paintings, to creating incredible photos through her own art and photography. She made the campus her runway donning a floral bralet, black maxi skirt with a thrifted denim collared shirt tied around the waist, cream and camel boots and an olive-green beanie. While hobbies, music and more are never-ending muses; the weather obviously plays a huge role in anyone's ensemble for the day. Bralets, crop tops, and tank tops are common pieces seen throughout FSU, at least in the beginning of the year, as Florida's humidity definitely takes a toll -- which also explains her beanie. Humidity is not a friend to hair and beanies are a perfect, easy way to protect it and add a bit of edge to an outfit. Furthermore, the denim-collared shirt around her waist is a staple and a lightweight jacket for later in the day, if it starts getting cloudy. Tallahassee definitely sees the rain quite often, so walking through campus on an ordinarily gloomy day I'm always sure to see boots galore whether they are classic rain boots, Steve Maddens or thrifted. One of the most important parts of an outfit is the shoes, and this Fashionista went with a unique pair of white and camel boots that make quite the statement.
Florida State University is the home of the Seminoles, as well as some very fashionable students all year round. Walking through the scenic campus is always a guaranteed wave of inspiration no matter what your style is, and Tallahassee harbors that inspiration and vision for these students to feel motivated to wake up in the morning, pick an awesome outfit, and explore the diverse splendor of the city, and of course do some studying now and then. So if you ever do get a chance to explore FSU, take advantage, embrace the quirks and look in all our nooks and crannies, you never know what you'll find!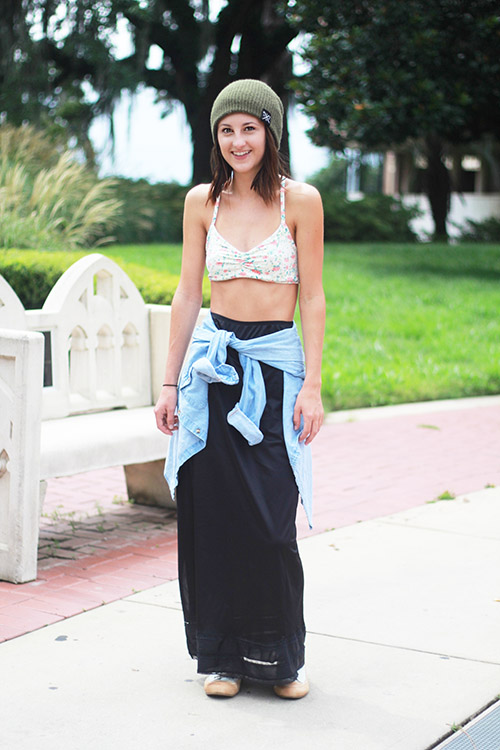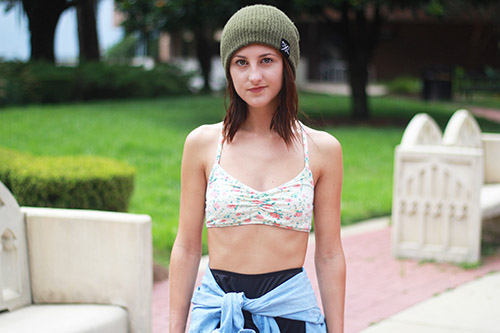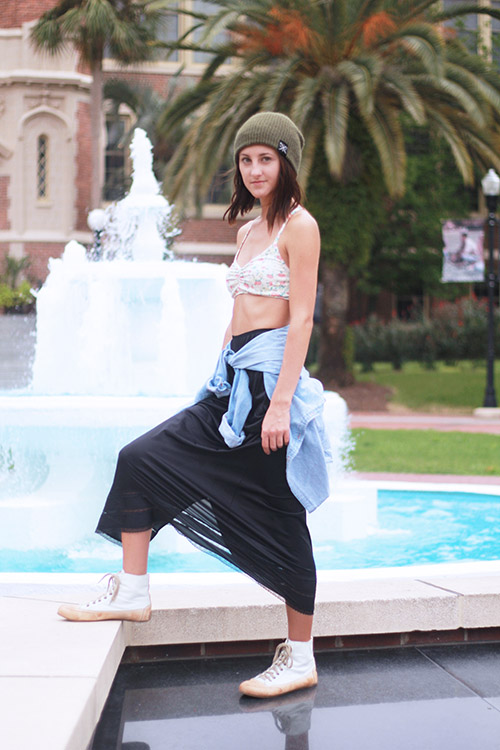 Kali Concepcion is a Retail Merchandising and product development student at FSU. Upon returning from Los Angeles interning with different sides of the fashion industry, she continues to be a style guru representing Florida State with CollegeFashionista and plans on studying Fashion PR and continuing to intern during these formative years.