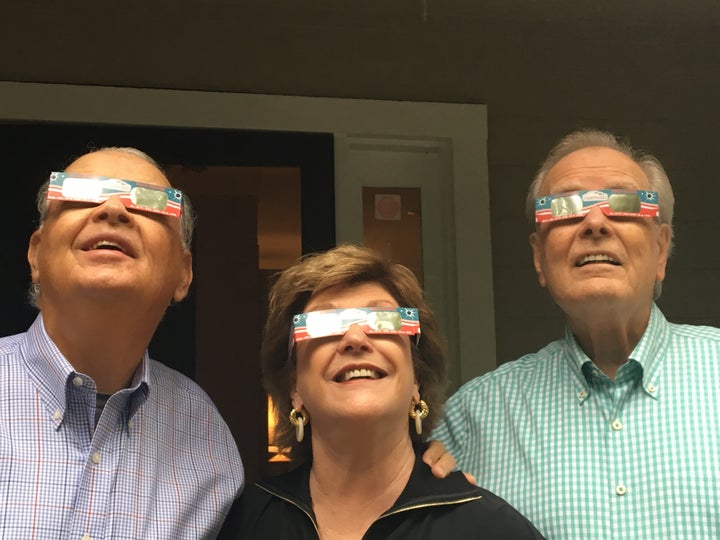 Cashiers, North Carolina is a tiny village tucked in the western part of the state, at a cool 3,400 feet above sea level. Its unofficial census is 3,500 permanent residents, but the part-time summer population is several thousand more, composed of Atlantans, Floridians, Texans and others fleeing the sweltering Southern temperatures. But even in August, make no mistake, this is small town America.
Until this year. Last time I checked, the state's official website informed me that the long-awaited eclipse was just 8 days, 4 hours, 27 minutes and 17 seconds away and a frenzy unlike anything since General Wade Hampton's last stand is in full swing. When the Great American Eclipse sweeps across the North American continent on August 21, beginning here at 1:07 p.m., Cashiers is expected to be one of the best places from which to view this phenomenon. The town will be shrouded in total darkness for two minutes and 23 seconds at 2:36 p.m. Preparations for this "blink of an eye" event have been underway for over a year.
"Gridlock," says Fire Chief Randy Dillard, when asked his greatest concern. Depending on who you ask, the town could be overrun with 30,000 to 100,000 starry-eyed tourists, to the point that those planning to come up the mountain on highways 64 or 107 have been cautioned to pack food and water should traffic be at a total standstill. Rumors abound that Homeland Security has been around, certifying that there are adequate emergency paths open should a situation demand.
Other rumors are overheard in Zoller Hardware where the proprietor tells me that astronaut Buzz Aldrin almost decided to attend.
I ask her if any other celebrities are expected.
"A lot of astrologers," Kim Ubertino acknowledges, as she stocks her shelves with eclipse tee-shirts, key chains, bracelets and decals, which read "Going Dark" and "We are Watching". Her store is hosting a Friday night big-screen showing of "E.T." on the parking lot the Saturday before the eclipse, to shore up an already enthusiastic base. Black-out glasses, sold at $1.99, are flying off the shelves here, as well as at the Chamber of Commerce and Ingles grocery store. She offers me a pair to try and my vision is restricted to one tiny white dot. Perfect!
The grocery store is recommending that local residents stock up on food and water as much as a week in advance, suggesting not so much a summer festival but a winter blizzard. Hotels in all of Jackson County are officially sold out and untold numbers of campers are expected throughout the area's many campgrounds. Jackson County Schools have elected to be closed that Monday, out of concern that a traffic stalemate could strand the children. Residents have been warned that internet and cellular towers may be overloaded and that outages and unusually slow service are to be expected.
Nick Breedlove, executive director of Tourism for Jackson County, North Carolina, recommends that people come early, before Sunday evening, stay put and leave late. He says that planning for the number of visitors is difficult because it is expected to vary, depending on the weather. (The past seven years have seen three clear days and four partly cloudy days on Aug. 21 around the time of the eclipse.) If the weather forecast looks especially good as August 21 nears, all bets are off because studies have shown that people will drive 8-10 hours to see a solar eclipse. Already, visitors from New York, Washington, D.C., Philadelphia and the United Kingdom have been confirmed. The Department of Transportation was instrumental in analyzing the potential congestion and aided in optimizing traffic signals throughout the area. Extra police officers will be brought in from around the state and message boards will alert drivers of potential travel difficulties. And, the local population has been cautioned to fill their gas tanks as early as Thursday or Friday before the Monday eclipse to ensure their mobility.
But, despite all these precautions, there is no mistaking that this is a party in the making. The Village Green, a 12-acre oasis at the main intersection of town, has a full slate of entertainment and events planned for August 21. Entertainment by Coconut Groove, a how-to-watch presentation and an array of food, beverages and commemorative tee-shirts are part of the mix.
In a local dress shop, a woman shops for not one, but two, eclipse party dresses. She found her "daytime party" dress, a black a-line with white circles, and a nighttime version with black embossed circles on black fabric. "I figure I won't be here for the next one," she says with a laugh, since it is not expected for decades.
Hundreds more are expected to sit on the driving range of a golf course in nearby Sapphire Valley, enjoying music and beverages and bringing picnics. Some have wondered how far ahead of time fried chicken should be picked up from the local deli. Like everyone else, they have been cautioned that in the moment of blackness the temperatures will drop as if it suddenly became nighttime, possibly confusing nocturnal wildlife.
What if it's cloudy? Nick Breedlove acknowledges that while the view might not be as ideal, all the carefully planned celebrations marking this extraordinary event will still happen.
He is not going there though, nor are those 3,500 stalwart souls who call Cashiers home. We will be watching!