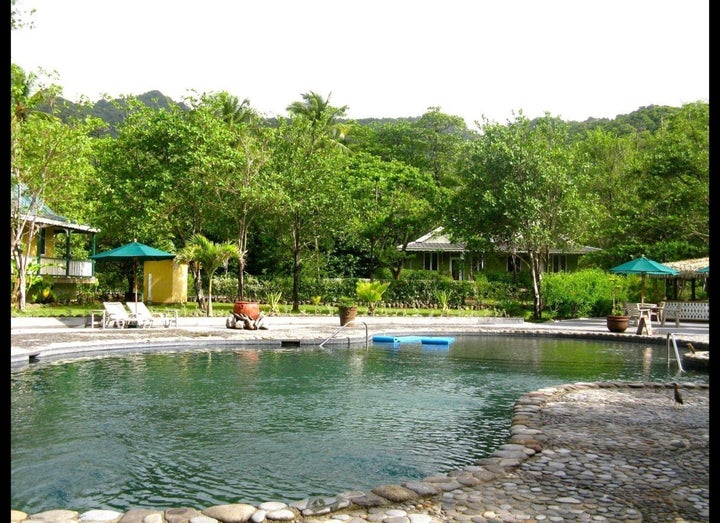 Green resorts come in all shapes, sizes and personalities. Some are so informal and free of embellishments that you might mistake 'em for a youth hostel. Others are so upmarket and saturated with fuss that wearing Manolo Blahniks by poolside is de rigueur.
Then there's the more uncommon green resort that combines a deep respect for nature with a low-key tranquility, a sense of authenticity, a touch of luxury and a commitment to keeping guests as active (both physically and spiritually) as they'd like.
Welcome to the Rosalie Bay Resort on the Atlantic side of Dominica where I just spent four days, enough time to tame my Type A tendencies while satisfying my foodie desires and my love of flora. Here's what I found:
Situated on 22 verdant seaside acres, this property gets the vast majority of its energy from solar and wind power. (The lone wind turbine, the first in Dominica, towers over the landscape that's dotted with pastel-painted cottages.)
Most of the furnishings in the guest rooms come from local wood. Adding to the sustainability factor: the resort replanted more trees than were cut down. And even the chez lounge chairs on the private decks are made from recycled milk jugs. Plus, local artists and crafts people and other Dominican citizens played a major role in the property's construction and its design ethic.
Rugged benches, stools and chairs -- all handcrafted from mostly almond wood as well as river rocks -- are snuggled under shade trees, sighted overlooking the turbulent ocean and the calm Rosalie River, or drenched in sunlight among native plants that include bougainvillea, hibiscus, ginger lilies and bird of paradise. One set of bar stools that rings a thick tree trunk reminded me of furniture I might find in one of my favorite books, The Hobbit.
The breezy Zamaan Restaurant -- aptly named for the twisted almond trees that rim the resort's black sand beach -- serves up cuisine that's relies on fruits, vegetables and herbs that are often sourced from the owner's hilltop organic garden. One morning, I walked a narrow trail along the terraced hillside passing guava, mango and red banana trees and even vanilla vines. At the top, I wandered through a 1.5-acre cornucopia of mint, okra, strong beans, sweet pepper, cabbage and whatever other foodstuffs the fertile soil can nourish.
The riverfront gazebo makes for a secluded, romantic dinner venue. With live reggae music blending with the myriad bird sounds, I dined on a multi-course meal that included shrimp with almonds drizzled with a basil sauce, Brie croquette served with guava jelly and a grilled local lobster topped with a Creole sauce.
The cuisine figures prominently in Rosalie Bay's sensory experience. And, since I'm always looking for local dishes, for breakfast I sampled shredded smoked marlin, Kalinago porridge made from cassava fiber (a dish I wish I could find in New York City) and a piece of fried bread (referred to as a bake) stuffed with spicy codfish. At dinner, I sipped a crisp white wine from the Penedes region of Spain and nibbled on sweet potato and pumpkin gnocchi. The big splurge -- and well worth it, I might add -- was a thin slice of tart lime cheesecake with a mango coulis.
At the resort's Kalinago Spa, the massage coconut oil is homemade. So is the body scrub concocted from sea salt, grated coconut, shredded pineapple and coffee grounds -- ingredients that are all locally sourced. While a ceiling fan whirred overhead, I luxuriated in their leg exfoliation treatment, followed by a lavender and shed butter wrap.
Those seeking the most upscale suites would be well satisfied with either #402 or #602. The former, one of two riverfront suites, is adorned with local art (including a tall woven basket and a wood sculpted fish) in the living room. Fronting the river, the bedroom, with its four-poster bed, has access to the patio where you can relax to the soothing sounds of frogs croaking as you swing in a hammock. Cottage #602, a premier oceanfront suite that's literally steps from the lapping waters, comes with a hot tub room, as well as a hand-carved wood bar area.
Once a week, at 5 p.m., the pool bar transforms into an open-air classroom where you can learn to make simple yet exotic-tasting recipes that are bound to be a hit at any party or at home. We made a tuna carpaccio topped with shredded ginger, chopped onions, soy sauce, capers, mustard and lime juice. The capers and mustard were unique additions to what could have otherwise been a pedestrian recipe.
There's no lack of active opportunities at Rosalie Bay. One afternoon I joined a silent meditation walk along the waterfront where I strolled while being mindful of the warm breeze against my palms, the crunch of the sand under my feet and the sound of the crashing waves. I started the next day with a 7 a.m. power walk on a steep road hemmed in by bamboo, heliconia and multitude ferns. On the climb, I watched kids in navy blue school uniforms walking down from Grand Fond, the petite village at the summit. Yoga in the riverside gazebo, swimming in the salt water pool, jogging or weight training in the fitness center and kayaking on the river were other options.
Another place to meditate is the labyrinth constructed of smooth river stones. After trying several times to negotiate the intersecting circular paths, I finally made it to the center where a plain wood bench beckoned. From here or just about anywhere on the lush property, you're bound to spot numerous bird species, including all five types of hummingbirds found on the island, as well as migratory and nesting species, like the forest thrush, yellow warbler and ruddy turnstone.
Probably the most notable accomplishment of the Rosalie Bay Resort is the protection of sea turtles that were once the subject of massive poaching. Three endangered turtle species, the Leatherback, Hawksbill and Green, now safely nest on the long swath of black sands, thanks to the efforts of owners Bev Deikel and her partner, Patris Oscar (aka Oscar). From March to October, guests may be able watch either the turtles digging a nest and laying eggs or the hatchlings making their way to the sea once the sun has long set.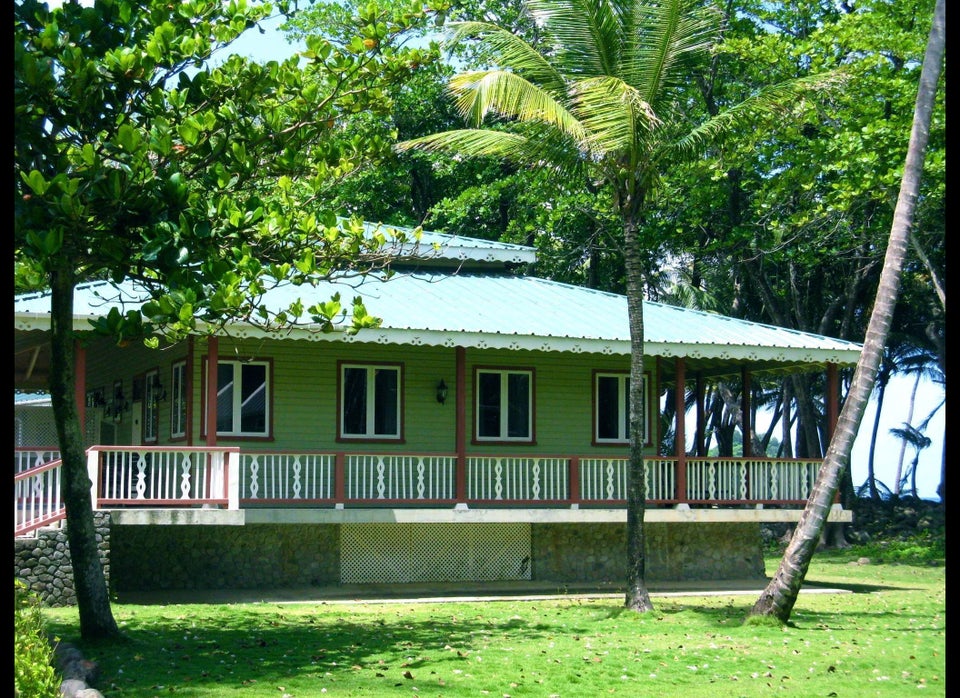 Rosalie Bay Resort
Related