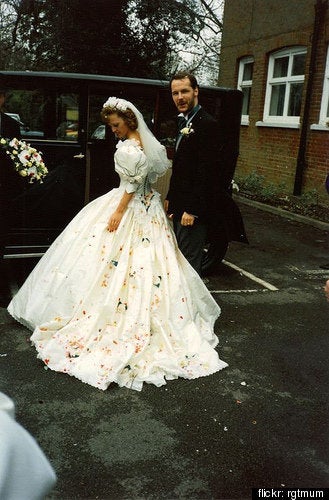 I just got engaged over Thanksgiving, and my fiance and I have already had our first wedding-related fight, about the invitations. We both want to have a green wedding, but he wants to send out our invites via email! I think this is going too far, and I shudder to think about my Nana opening our invitation online. Isn't sending wedding invitations via email considered tacky?
Tacky? Some may think so. Etiquette guru Peggy Post lists wedding invitations as a definite "e-mail no," making an exception only for members of the military who wish to marry before deployment. But many things that are beneficial to the environment may be considered in poor taste by others: hanging clothes to dry on a clothesline outside your house, for example, or raising egg-laying hens in your backyard as a source of local food, or -- my husband's not-so-favorite -- that I insist on rinsing and saving the used plastic drinking cups and little salsa containers from restaurants like Baja Fresh to recycle later like some sort of crazy bag lady, on the rare occasion we eat there.
This probably won't surprise you, but I disagree with Ms. Post. The pulp and paper industry is one of the largest industrial consumers of water in the world, and the fourth-largest emitter of greenhouse gases among US manufacturers. And while you could choose a 100 percent recycled or FSC-certified paper stock, you also have to consider the associated fuel costs of mailing your invitations around the country -- and of your guests mailing back their response cards.
Now, let me be clear: I am not saying that all brides- and grooms-to-be should stop sending out traditional hold-in-your-hand, save-in-your-scrapbook-forever wedding invitations. But if planning a truly green wedding is your goal, and you feel like sending invitations online, I say go for it! Why should a crusty old rulebook prevent you from saving trees? (May I mention, by the way, that while etiquette is defined as the requirements of conventional conduct regarding social behavior, it also encompasses the code of ethical behavior; I would argue that nothing is more ethical than putting your concern for the environment over appearance's sake.)
I will admit, however, that had I realized emailing wedding invites was even an option when I got married nearly five years ago, I probably would have balked at the idea. The aesthetics of most e-vites at the time were less than desirable (no tap-dancing cartoon characters for our wedding, thank you very much), and many of my older relatives didn't have email access. But the world has changed a lot in the past half-decade: Everyone and her grandmother is on Facebook, let alone email, and e-cards and online invitations for nearly all other occasions have become acceptable in our socially relaxed society. I have yet to receive one holiday card this year via traditional mail.
A lot has changed when it comes to design, too: There are now truly beautiful options out there for online invitations that I think rival what's available on paper. Paperless Post's Saint Germain design, for one, is so gorgeous that it would be suitable for the most elegant black-tie affair. The site's invitations even come in virtual envelopes that "open" for the recipient.
In the scheme of things, though, is saying I Do or I Don't to online wedding invitations a deal-breaker? Of course not. When it comes to the environmental footprint of weddings, printing and mailing invitations pales in comparison to, say, guests flying in from all over the country (or even the world) to attend your wedding. So if you absolutely can't budge on the invites, compromise with your husband-to-be: Send the formal invitations by snail mail, but send the save-the-dates and invites to other pre-wedding festivities via email (Ms. Post approves of this option, by the way). You can even make your wedding green in other ways to offset the paper invitations: Ask your guests to forgo the gift-wrap when they mail your presents, serve organic or vegetarian food at the reception, or travel somewhere local rather than exotic for your honeymoon.
Now, as for the thank-you notes after the wedding... I think it's telling that Paperless Post has yet to add those to its offerings: I'm not quite sure your family and friends will be so accepting of those sent via email. Better play it safe and send them on a small note card made from recycled paper.

Send all your eco-inquiries to Jennifer Grayson at eco.etiquette@gmail.com. Questions may be edited for length and clarity.
Related
Popular in the Community